Figgy Christmas Fruit Mince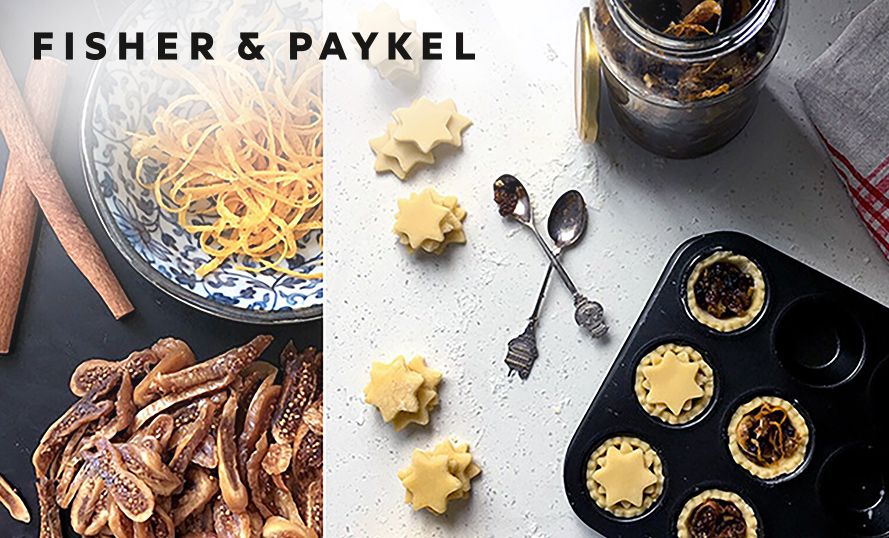 An easy recipe just in time for Christmas! Use straight away or store and keep for up to 4 months.
INGREDIENTS
500g apples, cored & grated, preferably braeburn
350g sultanas
250g currants
150g mixed citrus peel
2 large oranges – zest & juice
10 dried figs, thinly sliced
45g hazelnuts, roasted & finely chopped
150g soft brown sugar
2 tsp allspice ground
1 tsp cloves ground
½ tsp cinnamon ground
¼ tsp nutmeg ground
¼ cup Cointreau orange spirits
Makes 1.8kg or 3 large or 6 small jars of fruit mince
METHOD
Step 1.
Sterlise 3 large or 6 small jars and lids by placing them in a large pot with a folded tea-towel in the base and filled with hot water. Bring to the boil and simmer for 20 minutes with the lid on.
Step 2.
While the jars are sterlising mix all the fruit mince ingredients together in a large bowl. When the jars are ready, carefully lift out with tongs and spoon in the fruit mince and seal with lids immediately.
Step 3.
Figgy Christmas Fruit Mince can keep in sterilised jars for up to 4 months in the fridge.
Step 4.
When Santa comes a knocking, make 1 batch of sweet short pastry, roll out to ½ cm thickness, cut into rounds and mini stars and line a greased mini pie/muffin tin. Fill pies with Figgy Christmas fruit mince and place 2 small pastry stars on each pie top. Bake at 180°C for 12 minutes or until lightly golden. Enjoy with a glass of steaming Spiced Mulled Wine.
Recipe by Fisher & Paykel
View cooktop RANGE