Amazing Splashbacks That Will Have Your Kitchen Feeling Fresh & New In No Time
The practical reason for installing a splashback is to make cleaning easier, but really they are so much more. The statement of a stylish splashback can bring life to your kitchen and home.
You are limited only by your imagination in the design of your splashback. Think different materials – metal, glass, tiles, wood, bamboo, polished concrete, mirror and more – and try different colours.
The idea of using a splashback as a stylish addition to your kitchen or wet area is not to go crazy, but to help compliment the style you're after. A simple glass splashback with a pale olive colour background could be the perfect thing to make your kitchen pop. Consider the appliances you have or what you'll be installing and how they will be complimented by the type of splashback you choose.
We've found 8 of the most stylish splashbacks to give you that inspiration you need to take your kitchen to the next level. Our cooktop product reviews will enable you to find the best appliances to match to your new splashback.
1. Faux Finish
Guess what? It's not brick! This splashback is made of rough-hewn terracotta tile, going all the way up to the ceiling, giving it more impact than the typical splashback.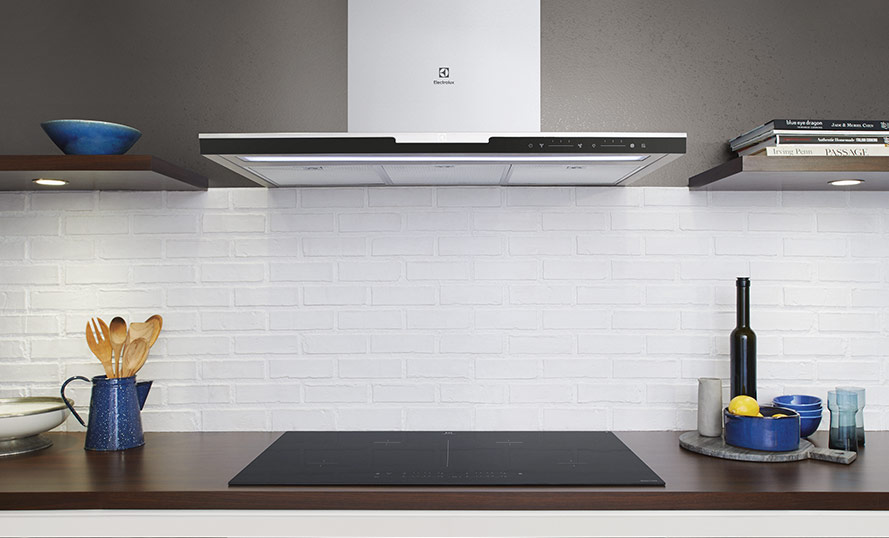 2. Almond Wood Laminate
There are some really great quality laminate materials on the market these days, which makes installing a wood laminate, the perfect solution to add warmth to your kitchen. The textured grain effect of this splashback is a great contrast for the all-white cabinetry and bench top.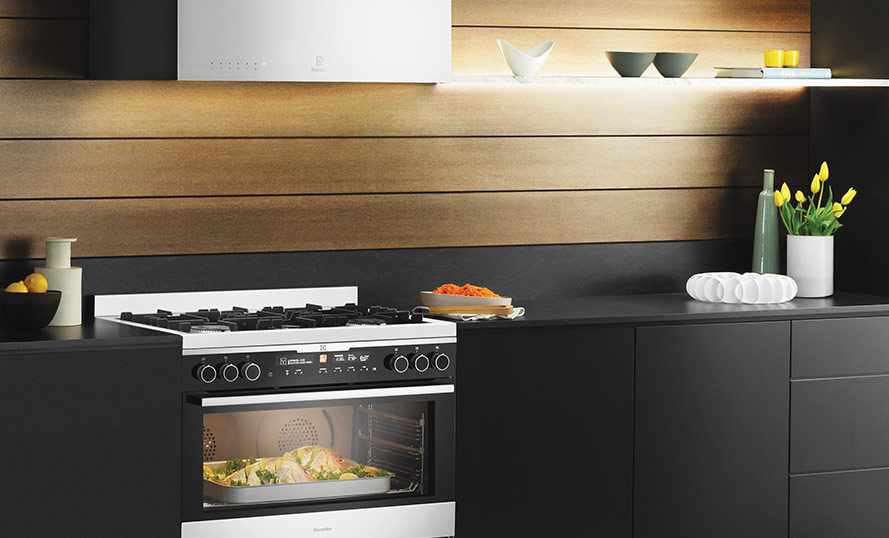 3. Mirror Mirror
The mirrored splashback gives additional depth to this kitchen, bringing the outside in with the reflection of natural light. The perfect solution to make a smaller space, seem much bigger.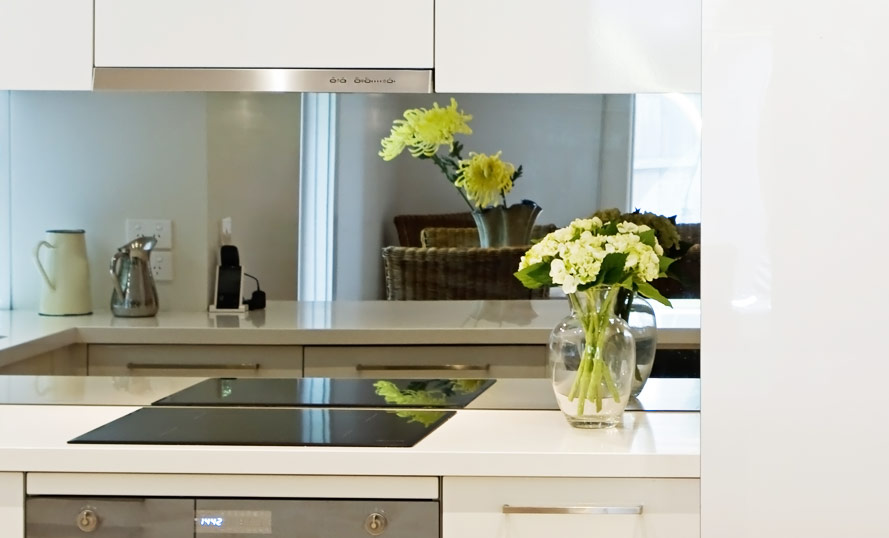 4. Coloured glass
Coloured glass is a very popular option for adding a bit of personal style to your kitchen. The versatility of being able to choose your own colour gives you the opportunity to tailor it specifically to your home, your appliances and the style of space you want to create.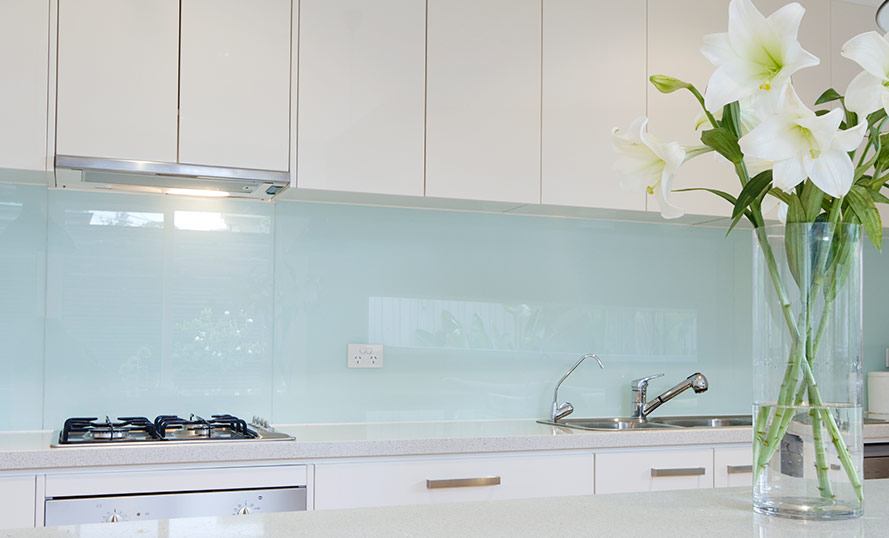 5. Plain coloured tiles
Tiles can add a new dimension to your cooking space. Different styles and colours create different effects. The horizontal tiles in this kitchen give a widening effect to the room. Colours can also effect the appearance of a room. The lighter the colour the bigger the space appears to be. Tiles tend to be less expensive than alternatives, especially if you choose ceramic.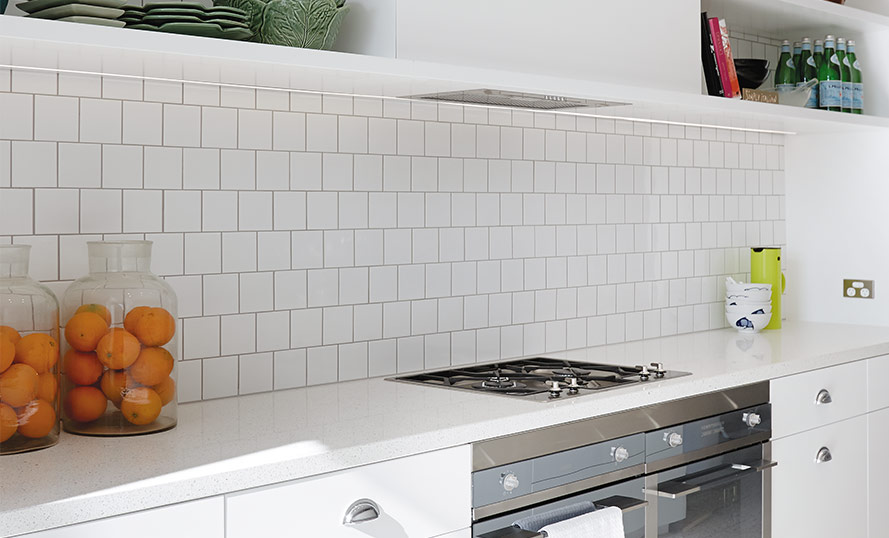 6. Patterned tiles
Patterned tiles deliver a dramatic effect to a kitchen. Like colours and shape, patterns also have an impact on the appearance of space. The smaller, more detailed the pattern the smaller the space. It's also important to note that the smaller the tile can mean greater labour needed to lay the tiles, so consider this in your budget.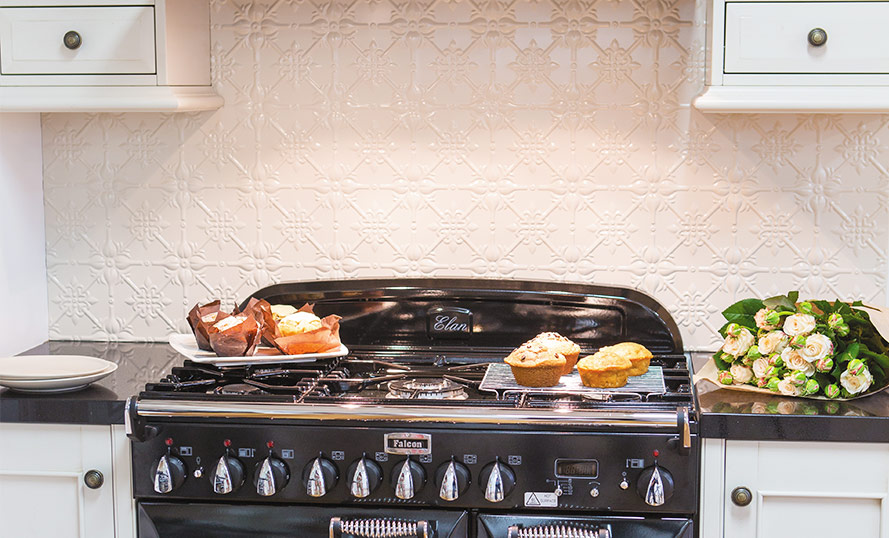 7. Frosted glass
Frosted glass is a stylish and contemporary addition to a kitchen. It has a similar effect of sparkle and reflected light as coloured glass, but has a more subtle clean effect (and easier to clean!).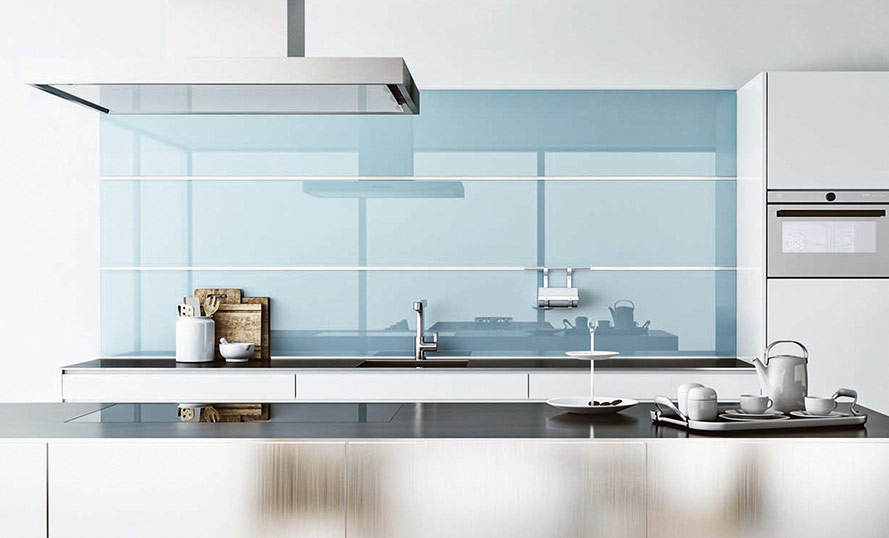 8. Herringbone Tiles
Classic subway tiles laid with a herringbone pattern add great visual effect to this stylish vintage kitchen. This eye catching design is in keeping with the black and white pallet and introduces a texture without overwhelming the space. Something simple, made into a stunning feature for your kitchen.