Hearty Winter Recipes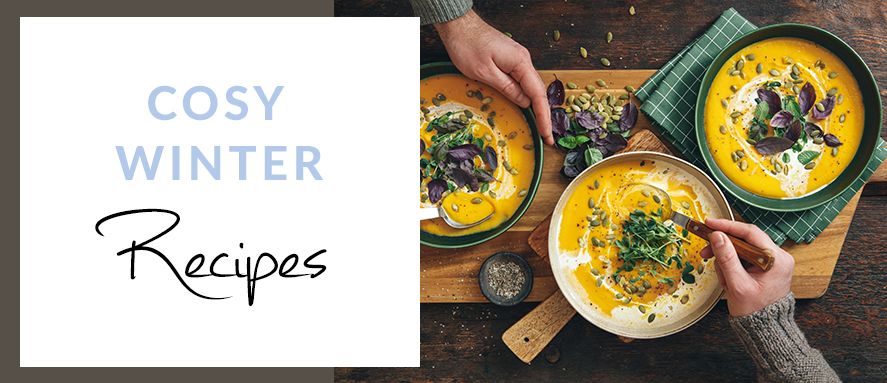 Winter is well and truly here. When you're not tucked in bed or on the couch in front of the heater, stay warm and toasty with these delicious recipes. With the help of some popular appliances from our favourite brands, you'll be able to devour these creations in next to no time.
Steamy Goodness
Enjoy the benefits of steam cooking with Smeg's 45cm Built-In Combi Steam Oven. Ideal for everyday cooking, this oven features 50L capacity with 18 cooking functions to meet all your needs. When you're stuck on what to make, SmartSense Plus guided cooking programs will please. With steam cooking options and Smeg's unique Thermoseal Technology, this Combi Steam Oven will help you whip up professional results, like some Beef Osso Bucco.
Beef Osso Bucco with Parmesan Polenta and Gremolata
Serves 4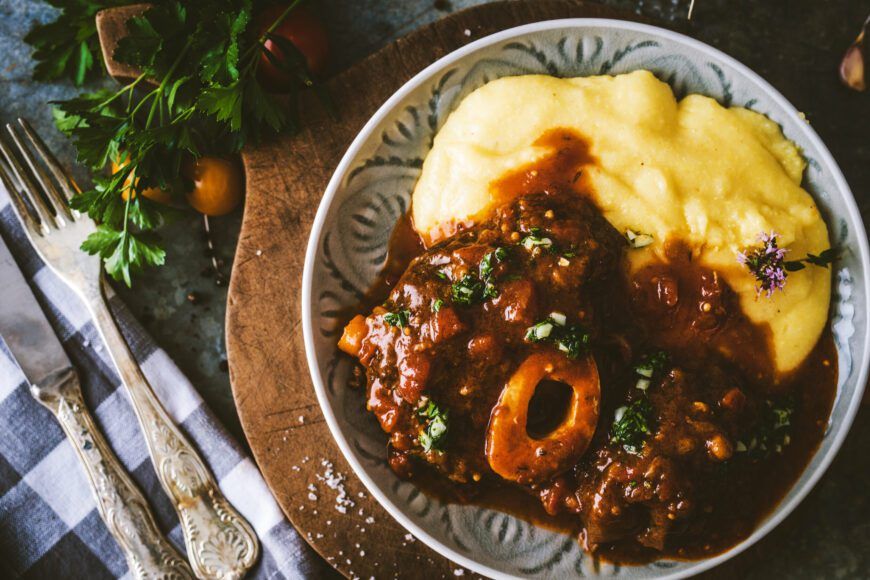 Ingredients:
1 tablespoon olive oil
1.4kg beef osso buco or 1kg gravy beef, sliced
1 onion, finely chopped
1 carrot, finely chopped
1 celery, finely chopped
1 tomato, skinned and diced
1 small bunch thyme
2 garlic cloves, finely chopped
100ml white wine
500ml beef stock
Salt & pepper
Parmesan polenta
500ml (2 cups) milk
½ cup instant fine polenta
50g finely grated parmesan
50g butter
Gremolata:
3 tablespoons finely chopped parsley
1 lemon, zested
1 garlic clove finely
Method
Set combi-steam oven to fan forced + steam and pre-heat to 190⁰C with 70% steam.
Heat olive oil in a large, ovenproof baking dish over high heat.  Add beef and cook to brown on all sides. 
Add onion, carrot, celery, tomato, thyme and garlic and cook for a few minutes until the vegetables soften.  Add wine, bring to the boil and simmer for a few minutes until reduced by half.  Add stock, season to taste with salt and pepper, return to the boil, cover, and place in combi-steam oven.  Cook for 1 hour 15 minutes, remove lid and cook for a further 15 minutes until the beef is very tender. For a thicker sauce, remove meat from the baking dish and set aside. Place baking dish on the cooktop and simmer for five to 10 minutes until reduced.  Return meat to sauce.
For polenta heat, bring milk to a simmer in a medium saucepan.  Add polenta slowly, whisking until smooth.  Continue to cook for five minutes until smooth, stirring frequently.  Stir through cheese and butter and season to taste with salt and pepper.
For gremolata, combine all ingredients.
Serve polenta topped with beef, sprinkled with gremolata.

Slow Cooking Simplicity

A convenient benchtop cooker that's easy to use, Russell Hobbs' Slow Cooker is the ideal, set-and-forget kitchen companion. The slow cooker's large 7L ceramic bowl can cook up to 8 servings so you can feed the family with extras for leftovers. Three cooking settings including Low, High and Keep Warm means you can manage the power level and how long your dish cooks for. Use Russell Hobbs' Slow Cooker to make some Self-Saucing Chocolate Pudding – why not cook it early so it's ready by dessert time.
Self-Saucing Chocolate Pudding
Serves 6
Ingredients:
1 cup plain flour
A pinch of salt
½ cup caster sugar
3 tsp baking powder
4 tbs cocoa powder
1 cup milk
100g butter, softened
2 eggs, lightly beaten
1 tsp vanilla
Butter for greasing
For the topping:
1 cup brown sugar
2 tbs cocoa powder
1 cup boiling water
Method:
Preheat slow cooker for 20 minutes on high.
Grease the slow cooker bowl.
In a separate bowl, combine butter, vanilla extract, caster sugar, flour, cocoa powder and egg. Pour evenly across base of slower cooker bowl.
Sift brown sugar and extra cocoa powder over mixture.
Using a spoon, gently and evenly pour the boiling water over the mixture.
Cook on high for 2 ½ hours, or until centre is firm.
Serve with sifted icing sugar and cream.
Smooth & Creamy Blending
Chop, mash, blend and more with Kenwood's Triblade Hand Blender. The Triblade system makes use of three angled blades to break down more food in less time, saving you time and effort. The Hand Blender comes with attachments like a plastic masher, metal balloon whisk and 750ml beaker, but it's the metal wand that's the star of the Spiced Sweet Potato Soup.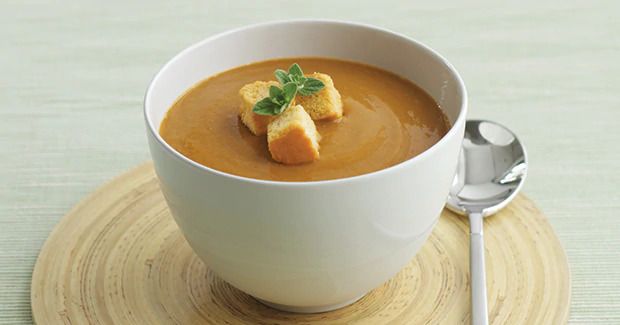 Spiced Sweet Potato Soup
Serves 4
Prep Time: 15 mins
Cook Time: 55 mins
Ingredients:
900g sweet potatoes, peeled and sliced thickly
1 clove garlic, chopped
45ml (3tbsp) olive oil
1 red onion, chopped
2 celery sticks, chopped
1 carrot, chopped
2 sprigs thyme
15ml (1tbsp) ground cumin
2.5ml (½tsp) hot pepper sauce
1.2L vegetable stock
Freshly ground black pepper
For the cream:
2.5ml (½tsp) paprika
2.5ml (½tsp) cayenne pepper
100ml creme fraiche
To garnish:
Sprig of coriander
Paprika
Black pepper
Method:
Preheat the oven to 200°C. Place the potatoes and garlic in a roasting tin and drizzle over 30ml (2tbsp) of the olive oil. Bake for 30 minutes, until potatoes are tender.
Meanwhile heat the remaining oil in a large deep saucepan and cook the onion, celery, carrot and thyme for 10 minutes, stirring occasionally.
Stir in the sweet potatoes and any pan juices. Add the cumin, hot pepper sauce, pepper and stock and bring to the boil. Cover and simmer for 20 minutes.
Remove the pan from the heat and using the Triblade Metal Wand attachment push into the mixture to submerge. Blend on the standard speed for approximately 2 minutes or until smoothly blended throughout. Return to the heat and warm through.
For the cream: lightly stir the spices into the crème fraiche. Pour the hot soup into warmed serving bowls and spoon cream into the centre. Garnish with sprigs of coriander and dust with paprika and freshly ground black pepper.
---
Air Fried Creations
An ultra-versatile benchtop cooking appliance, enjoy 4-in-1 cooking with Sunbeam's 4-in-1 Air Fryer and Oven. With functions including Air Fry, Bake, Roast and Dehydrate, your cooking options are endless! Whatever you're in the mood for, this Air Fryer Oven has you covered whether you're baking brownies, roasting a chicken, dehydrating fruits or air frying a steak. Try Sunbeam's 4-in-1 Air Fryer and Oven with this Steak with Chimichurri Dressing recipe.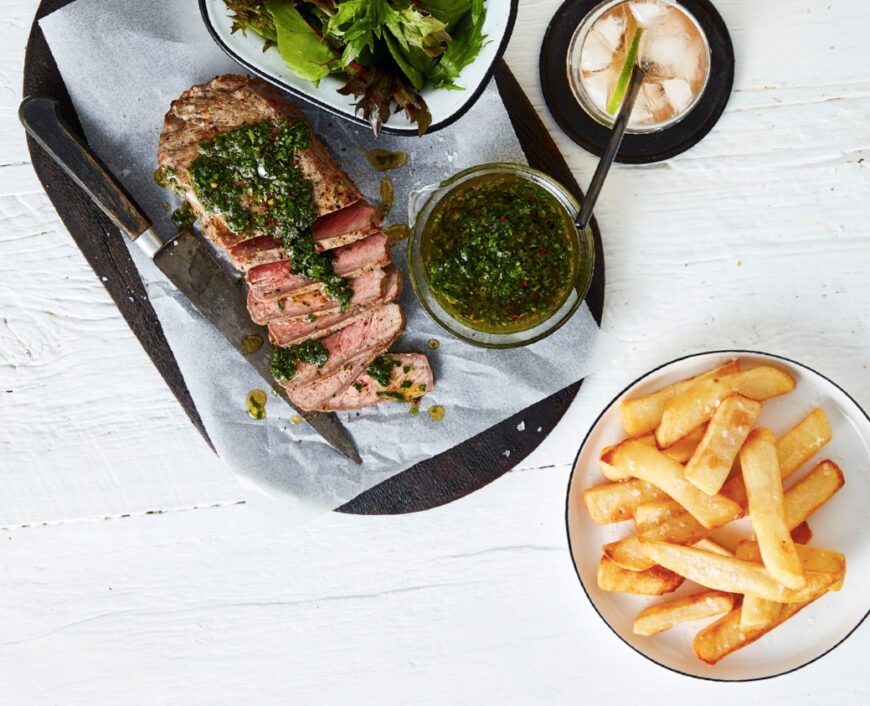 Steak with Chimichurri Dressing
Serves 2
Prep Time: 15 mins
Cook Time: 8 – 10 mins, medium rare
Accessories Required:
Ingredients:
2 sirloin steaks approx. 225-250g weight per steak
1 tsp olive oil
Dressing:
1 bunch of parsley leaves, stems removed
2 garlic cloves, peeled
½ tsp chili flakes
Sea salt & freshly ground black pepper
2 ½ Tbsp extra virgin olive oil
Juice of ½ lemon
2 tsp red wine vinegar
Method:
Remove the steak from its packaging and allow to sit at room temperature for about 30 minutes before cooking.
Press POWER. Press MEAT setting. Adjust temperature to 200°C. Adjust time to 10 minutes. Press START/STOP. Allow oven to pre heat. Oven will 'beep' when preheated.
Brush steak both sides with the oil and season with salt and black pepper.
Place both steaks onto one of the Air Flow Racks, ensuring the Drip Tray at the bottom of the oven is in place to catch any drips.
Insert the Air Flow Rack into the top position of the oven. Press START/STOP.
To make chimichurri – Place all the dressing ingredients into your mini food processor and blend until the parsley is chopped.
Oven will 'beep' when cooking is complete. Remove the steak from the oven, place onto a chopping board and allow to rest for about 5 minutes.
Slice the steak on the diagonal, serving with chimichurri.
Serve with a side salad and optional chips.
Stay cosy this winter and satisfy your taste buds with our winter warmer recipes. From a hearty soup to cuts of steak or some chocolate pudding to end your day, there's something for every appetite. To view more detail about our featured products, simply click on the links below.