Home Comfort with Reverse Cycle Air Conditioners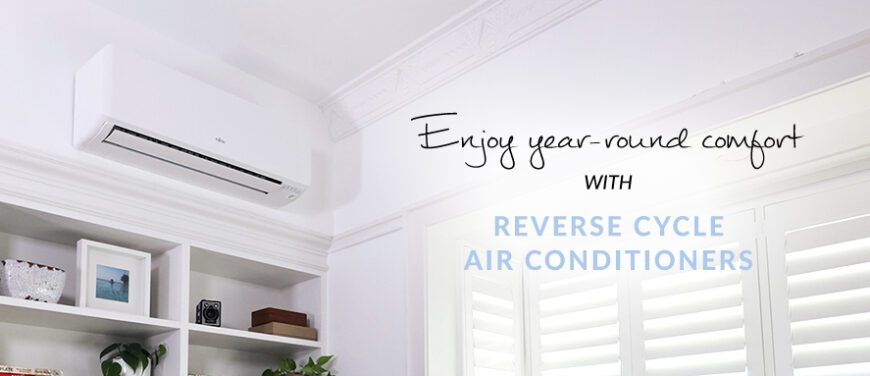 Are you in the market for a new air conditioner? Do you need year-round comfort to get you through the hot summers and chilly winters? This is where Reverse Cycle Air Conditioners will work wonders!
No matter how big or small your home, the room or space that needs attention, a Reverse Cycle Air Conditioner can deliver on any need, keeping you and your family comfortable. To help you get familiarised with Reverse Cycle Air Conditioners, we've created this comparative guide to kick start your purchasing journey!
What is a Reverse Cycle Air Conditioner?
A Reverse Cycle Air Conditioner can both heat and cool, giving you the ability to cool your house in summer and keep it warm in winter, all from the one unit.
How do I know if a Reverse Cycle Air Conditioner is right for me?
There are few considerations to make when it comes to a Reverse Cycle Air Conditioner, some of these factors include your budget, if you require both cooling and heating, space for installing an outdoor unit and the space that needs cooling or heating. For an in-depth exploration of Reverse Cycle Air Conditioners and other types of cooling appliances, our Heating/Cooling Buying Guide is a great place to start.
How do Reverse Cycle Air Conditioners differ from other appliances?
Reverse Cycle Air Conditioners have many characteristics which makes them different from other cooling and heating appliances, such as the below:
It's installed onto a wall in your home, with an external outdoor unit to move the flow of air
They may cost more than window/wall and portable air conditioners
They provide easier cooling and heating of larger spaces
Air purification modes may feature on Reverse Cycle Air Conditioners
Newer models are Wi-Fi enabled and can be remotely controlled by a smart device or by your voice
They're generally more energy efficient than other modes of cooling and heating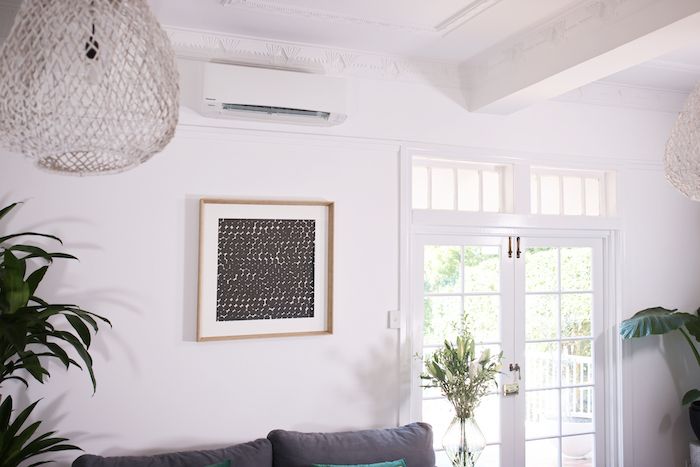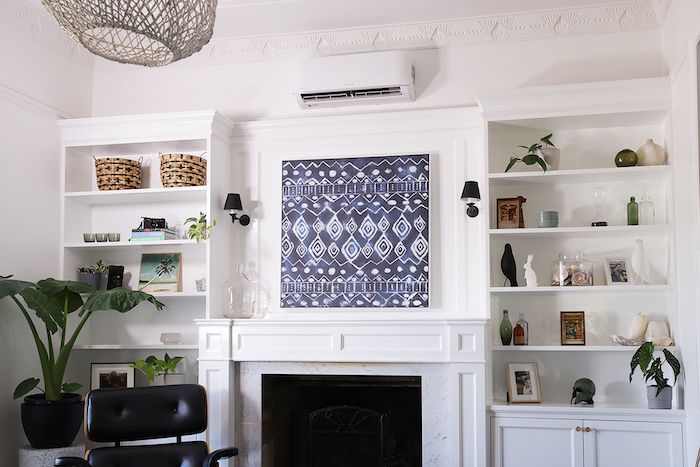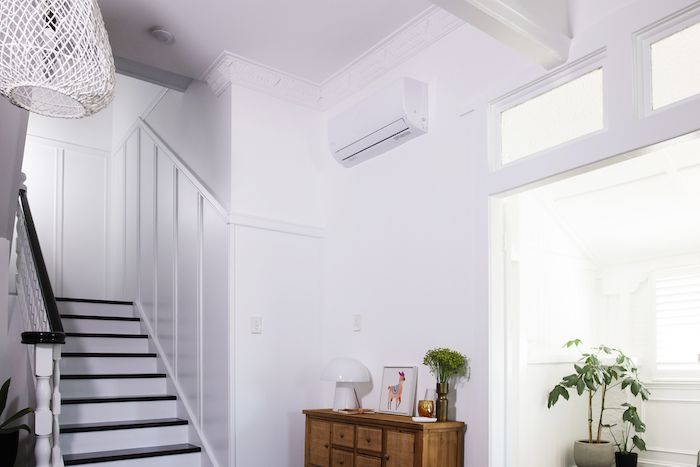 What should I consider when shopping for a Reverse Cycle Air Conditioner?
There are some vital factors to consider, these include:
Heating & Cooling Capacity: measured in kilowatts (kW), with a higher number indicating powerful operation, suitable for larger rooms
Filters & Purification: if clearing the air and removing harmful germs and particles is important to you, ensure the air conditioner has filters like the HEPA filter
Position: where will your air conditioner's indoor and outdoor unit be installed? Will the indoor unit effectively cool or heat the space where most of your household activity occurs?
User flexibility: does the air conditioner feature customisable settings like a timer, night mode and other modes to suit your needs?
Control: is there a remote control included? Is the air conditioner smart enabled, so it can be controlled remotely via a smart device, app or your voice?
How do I choose a Reverse Cycle Air Conditioner?
Our new Air Conditioner Calculator has five simple steps to help you find your perfect air conditioner. Simply complete the questions on the form and view recommended models based on your needs.*
TRY OUR CALCULATOR
With many brands and models of air conditioners on the market, choosing one for your home can be difficult. To help make your purchasing journey simple, we've shared some popular models from our leading brands below:
Fujitsu
With 2.50kW cooling and 3.20kW heating capacity, this air conditioner is great for smaller rooms. The unit's Apple-Catechin filter helps to maintain air quality throughout the home, absorbing fine dust, invisible mould spores and harmful microorganisms with static electricity. This Fujitsu air conditioner also boasts a Human Sensor that delivers efficiency and temperature control. With the Human Sensor, if there's no movement after 20 minutes, the air conditioner switches to energy saving mode and only back again once movement is detected. Backed with a 5-Star energy rating, this air conditioner is perfect for eco-conscious households.
Mitsubishi Electric
From day to night, enjoy comfortable cooling and heating throughout your space with Mitsubishi Electric's Reverse Cycle Air Conditioner. Featuring 2.5kW cooling and 3.2kW heating capacity, this air conditioner is ideal for small rooms like the bedroom or study. Wi-Fi-enabled, this smart air conditioner can be controlled remotely from your smartphone, tablet or online account*. This air conditioner is finished with a Dual Barrier Coating that's been designed to reduce dust and dirt build-up, providing longer lasting protection and reduced need for cleaning.
* With installation of optional Wi-Fi adapter upgrade per unit
Panasonic
Perfect for smaller rooms, this Panasonic Reverse Cycle Air Conditioner features 2.50kW cooling and 3.20kW heating capacity plus air purification to keep your home comfortable, fresh and clean. Cool and heat your way with various modes such as Eco and Quiet mode while Panasonic's nanoe™ X air sterilisation technology eliminates harmful microorganisms, pollens and mould. The air sterilisation technology also deodorises, keeping your indoor air quality clean. Control your comfort from your smart device with the Panasonic Comfort Cloud App, and with Google Assistant and Alexa compatibility, you can even use your voice to make changes.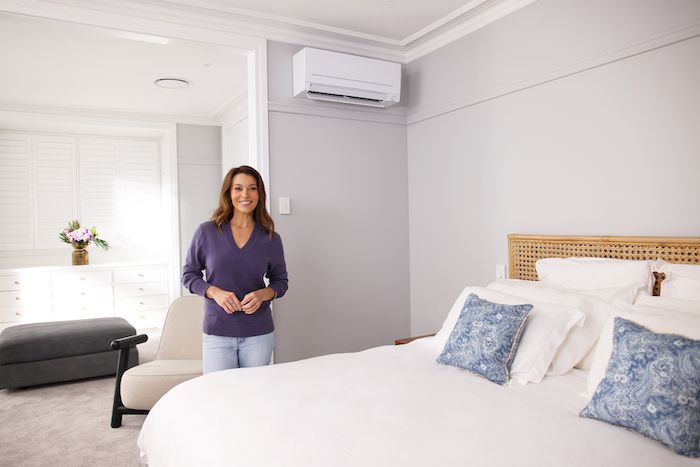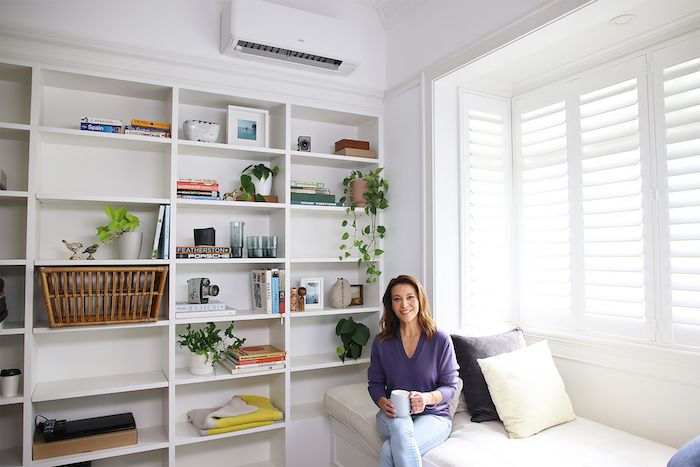 Teco
Effectively cool and heat your home with the air conditioner's 2.4kW cooling and 2.5kW heating capacity. With its unique high-density filter, absorb more particles to clear your air and maintain consistent temperatures with the "I Feel Mode". The "I Feel Mode" uses the air conditioner's remote control to regulate the room based on that temperature, keeping you comfortable at all times. Wi-Fi enabled, this Teco air conditioner can be controlled via your smartphone or with your voice with Alexa or Google Assistant devices.
Kelvinator
Settle in at home and relax with a pleasant environment with Kelvinator's 2.50kW cooling and 3.20kW heating Reverse Cycle Air Conditioner. HEPA and Ion filters absorb particles and odours while the air conditioner's Follow Me command measures and controls the temperature where you are, optimising your personal comfort.
Wi-Fi enabled, this air conditioner can be controlled via the Kelvinator Home Comfort app on your smart device. Enjoy hands-free control as you can also use your voice to adjust cooling and heating.
Compare Reverse Cycle Air Conditioners
Fujitsu ASTG09KMTC
Mitsubishi MSZAP25VGKIT
Panasonic CSCUZ25VKR
Kelvinator KSD25HWJ
Teco TWSTSO25HVHT
Cooling Capacity (kW)
2.5kW
2.5kW
2.5kW
2.5kW
2.4kW
Heating Capacity (kW)
3.2kW
3.2kW
3.2kW
3.2kW
2.5kW
Filter Type
Ion Deodorisation Filter & Apple-Catechin Filter
–
–
Dust, HEPA and Ion Filters
High Density Filter
Air Purification
No
No
Yes
No
No
Air Circulation (l/s)
Cooling/Heating: 194 /197
Cooling/Heating:82-205 / 82-190
Cooling/Heating: 193/ 203
194
145
Moisture Removal (L/Hr)
0.3
–
1.5
0.8
0.8
Refrigerant Type
R32
R32
R32
R32
R410A
Timer
Program Timer, Sleep Timer, Weekly Timer
24 Hour Timer, Weekly Timer
24 Hour Timer
24 Hour Timer
Adjustable Timer
Night Mode
No
Yes
No
No
Yes
Sleep Mode
No
No
No
Yes
Yes
Eco Mode
Yes
Yes
Yes
No
Yes
Indicators
Filter Sign
–
Self-Diagnostic Function
Dimmable digital display
Interactive Digital Display
Auto Restart
Yes
Yes
Yes
Yes
Yes
Sensors
Human Sensor
–
–
Follow Me
'I Feel' Mode
Remote Control
Yes
Yes
Yes
Yes
Yes
Wi-Fi Enabled/Smart Control
No
Yes
Yes
Yes
Yes
Voice Control
No
No
Yes
Yes
Yes
Energy Rating (Cooling)
5
5.5
3.5
5
2.5
Energy Rating (Heating)
5
5
3
5
2
Have you found your perfect Reverse Cycle Air Conditioner? Before weather extremes kick in, explore, compare and find the perfect Reverse Cycle Air Conditioner to keep you and your family feeling great, all year round. For more heating and cooling options, as well as air purification, check out our Heating & Cooling Page.
VIEW HEATING & COOLING
* Our recommended models are a rough estimate only, for more accurate information please contact your local store.
** By Law, Installation of any split unit systems can be performed by ARC (Australian Refrigeration Council) licensed technicians only.