Homemade Crumpet and Quick Berry Jam
Get crafty with Crumpets. The perfect companions for your next morning or afternoon tea!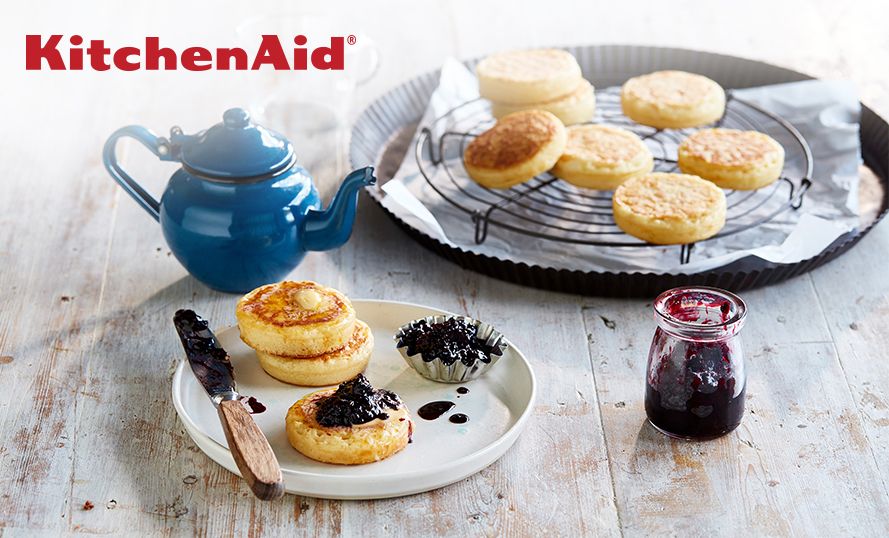 INGREDIENTS
CRUMPETS
1½ cups (375ml) milk
2 teaspoons caster sugar
1 teaspoon dried active yeast
2½ cups (375g) plain flour
½ teaspoon salt
200ml water
½ teaspoon bi-carb soda
30g butter, melted
QUICK HOMEMADE BERRY JAM
500g frozen berries (or fresh in season)
Juice of half a lemon
½ cup (110g) caster sugar
Fresh unsalted cultured butter to serve
Makes 6-8 Servings
Preparation: 30 minutes
Cooking time: 1 hour
METHOD
Step 1.
To make the berry jam, place berries into a saucepan and stir in lemon juice and sugar. Cook over medium high heat, stirring frequently for 30 minutes or until it thickens. Spoon into a jar and cool to room temperature. Seal with a lid and refrigerate
Step 2.
To make the crumpets; warm milk in a saucepan over low heat until just warmed through (you should be able to leave your finger in it for 30 seconds without feeling hot). Stir in yeast and sugar and mix well to dissolve. Stand for 10 minutes or until the yeast starts to bubble on the top.
Step 3.
Place the flour and salt into the bowl of a stand mixer fitted with the flat beater. Set to speed 2 and gradually add milk.
Step 4.
Keep beating for 1-2 minutes until mixture is incorporated and completely smooth. Remove from stand mixer and cover bowl with cling film. Stand in a warm place for 1 hour or until doubled in size.
Step 5.
Return bowl to stand mixer, and mix water with bi-carb soda together in a jug.
Step 6.
Set mixer to speed 2 and pour in bi-carb water mixture. Beat until just combined. Increase speed to 4 and mix until smooth.
Step 7.
Heat a large non-stick frying pan over medium heat and brush the base of pan and egg rings with melted butter. Place egg rings into the base of the pan and spoon 3 tablespoons of batter into each ring.
Step 8.
Cook for 4-5 minutes; the surface will form large bubbles and a thin skin. Using bamboo skewer, break any forming bubbles.
Step 9.
Loosen rings and remove; turn over crumpets and cook for 1-2 minutes or until just golden. Remove and cool on a wire rack to cool completely. Repeat with remaining batter.
Step 10.
To reheat, toast until lightly crisp and heated through. Serve topped with butter and homemade berry jam.
TIPS
We recommend using 10cm silicon egg rings. Cooked crumpets must be stored in the refrigerator in a sealed container for 3-4 days.
Recipe by KitchenAid
View kitchenaid RANGE