How To: Cool Food Like a Pro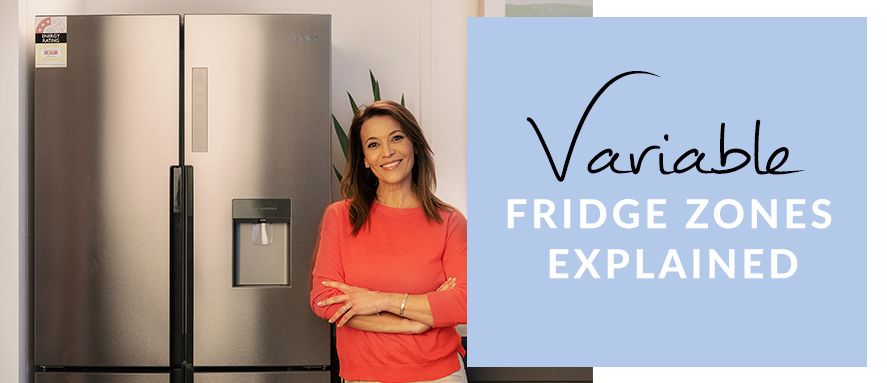 What is a 'Variable Temperature Zone'?
Put simply, it's a compartment of the fridge that can be adjusted in terms of the cooling or freezing power, giving you flexibility when it comes to your food storage.
Variable Temperature Zones are commonly found in French and Quad Door Fridges across many leading brands, and despite varying names, these flexible compartments often enable similar functions.
Why would I need a fridge with a Variable Temperature Zone?
Having a variable temperature zone is great for those unpredictable moments, like when you need more space to chill groceries, or perhaps extra freezer space to store your bulk buys. You might even need to quickly cool drinks before entertaining – meet your changing needs with a Variable Temperature Zone.
Our Top Picks
We've rounded up three French Door Fridge models to help you get a better understanding of how a Variable Temperature Zone may suit your food storage needs.
Entertainer's delight: Westinghouse 681L French Door Fridge
Boasting a huge 681L capacity, this Westinghouse French Door Fridge is perfect for large families and entertainers. Featuring a centre pull-out drawer called the FlexSpace™ Fully Convertible Drawer, this variable temperature zone is paradise for home entertainers thanks to its adjustable temperatures of -23°C to +7°C.
Westinghouse's FlexSpace™ Fully Convertible Drawer has 5 pre-defined settings so you can cool the way you need to:
Freezer (-23°C / -18°C): this mode sets the drawer with the same setting as the freezer for freezing of your frozen goods
Ultra Chill (-2°C): ideal for soft freezing of items or for thawing before cooking
Cold Drinks (0°C): perfect for chilling drinks like soft drinks and beer
Deli Snacks (3°C): suitable for cured deli meats and cheese
Wine and Champagne (7°C): cool wine and champagne at their optimal serving temperatures so it's just right and not too 'cold'
From freezing extra frozen goods to chilling drinks or cooling cheese, the FlexSpace™ Fully Convertible Drawer lets you go from freezer to fridge, and back again. As the FlexSpace™ Drawer is separate, it doesn't take up any of the space that you would normally use for everyday food storage. A convenient SnackZone™ compartment and plumbed ice maker and water dispenser makes this Westinghouse 681L French Door Fridge perfect for the growing household.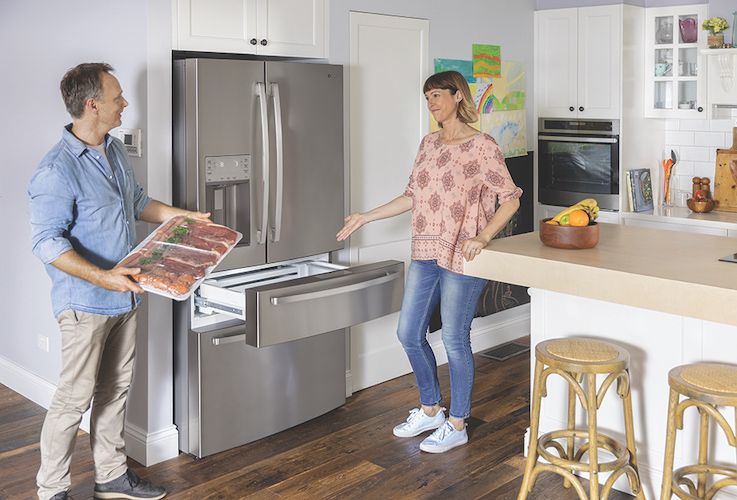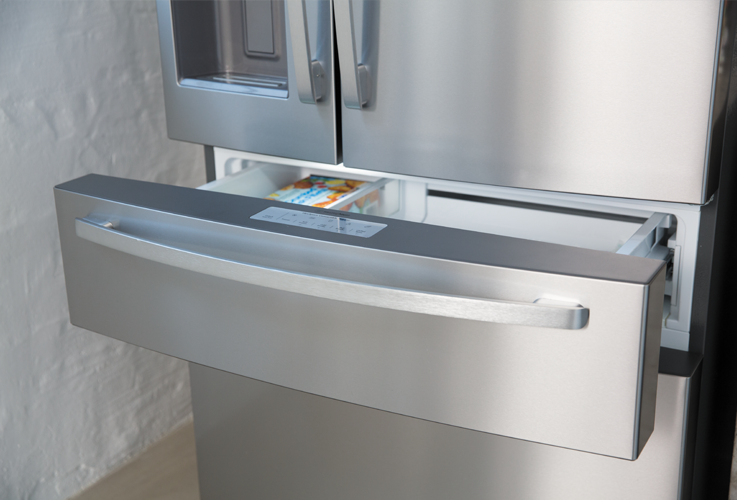 (Above): Just pull out the FlexSpace™ Fully Convertible Drawer to cool extra essentials and more.
Flexible Storage: Fisher & Paykel 605L Quad Door Fridge
Enjoy spacious storage to cool everything you need with Fisher & Paykel's 605L Quad Door Fridge. Ideal for families and home cooks, this Quad Door Fridge features four compartments: two fridge modes (in the top), one freezer and the Variable Temperature Zone (both at the bottom).
The Variable Temperature Zone in this Fisher & Paykel Quad Door Fridge can be changed from a freezer to fridge and back again, with selected modes in between with its own function. The four featured modes include:
Freezer (-18°C): great for general purpose freezing of foods like meat, poultry, seafood, ice cream and pre-packed meals
Soft Freeze (-7°C): ideal for heating or cooking without the need to defrost and makes portioning food easier
Chill (0°C): an extension of the fridge and is suitable for highly perishable foods such as meats, poultry and seafood to ensure longer lasting freshness
Fridge (3°C): perfect for general cooling of grocery items like fruits and vegetables, dairy, meat and drinks
With wide generous shelves and a slimline water dispenser and ice maker, this stylish flat-door Quad Door Fridge is suitable for any modern kitchen.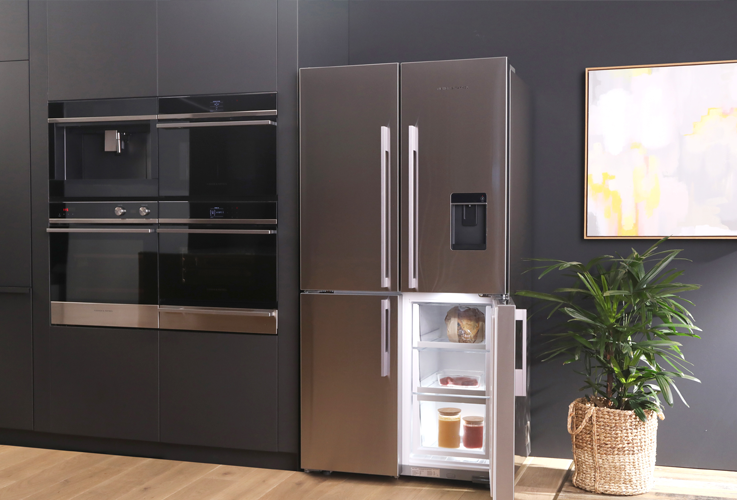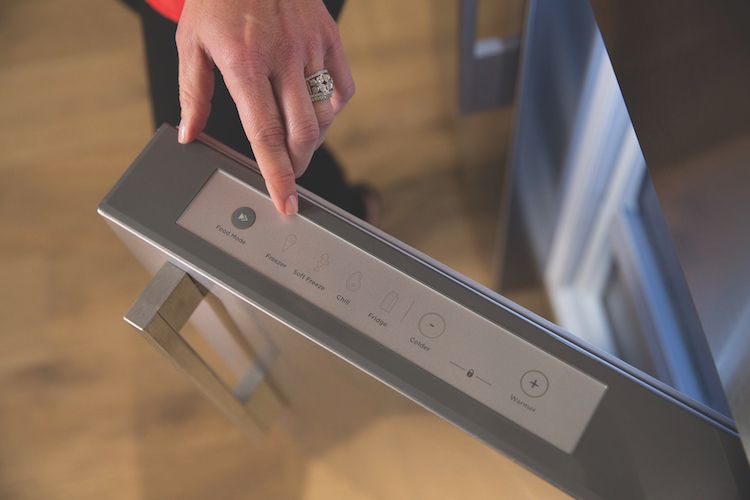 (Above): At a touch of a button, you can change Fisher & Paykel's Variable Temperature Zone.
Dual Cooling: Haier 565L Quad Door Fridge – Satina
Designed for growing families and coupled households who want extra storage space, this Haier 565L Quad Door Fridge offers fuss-free versatile cooling. This fridge has two unique cooling zones in the refrigerator section which has been created to better meet your needs:
The 'Humidity Fresh Zone': a humidity-controlled environment that's ideal for fresh fruits and vegetables, ensuring they last longer and don't decay quickly which is usually associated with high-humidity areas.
The 'Dry Zone': reduces moisture in the air, making it the perfect spot for storing meat, fish, dairy, and deli-style foods.
Aside from the dual cooling zones, this Haier Quad Door Fridge delivers stress-free operation with its non-plumbed water dispenser – so you and the family can enjoy cool drinking water without the need for a plumbed water connection. This is also ideal for when you're moving or renting a home.
The fridge's four-door design enables easy access to your essentials without exposing the whole fridge to warm air. Finished with a flat door design and hidden recessed handles, this Haier 565L Quad Door Fridge will fit in nicely with any kitchen.
(Below): Haier's dual cooling zones makes it easier to know where to store your produce.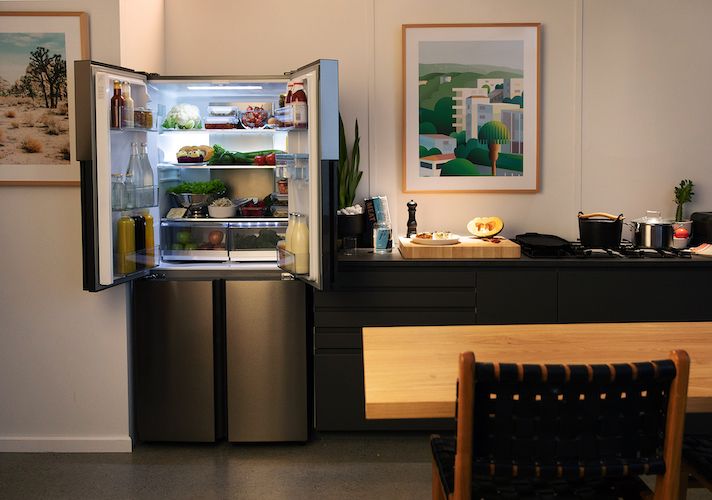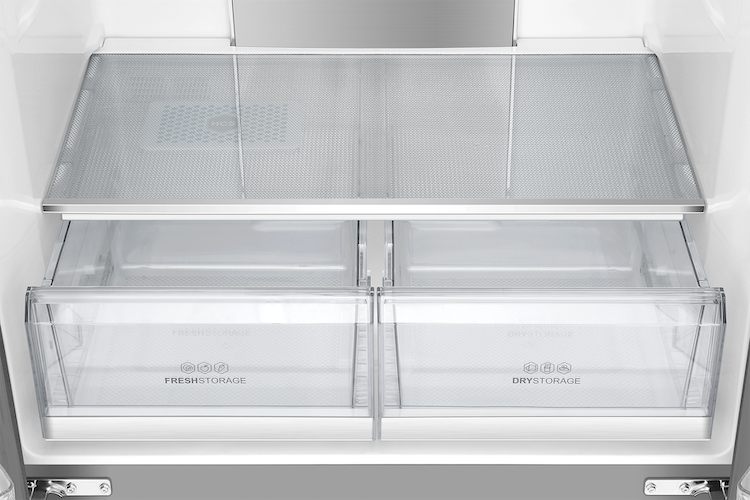 Keep your food fresh for longer! No matter what items need more attention or how your grocery load changes on a weekly basis, having a Variable Temperature Zone is a lifesaver. The next time you're in the market for a new fridge, consider a Variable Temperature Zone – it might just be what you never knew you needed. For more information on each featured fridge, to read reviews, compare and more, simply click on the links below.