Laundry Day, Simplified with AEG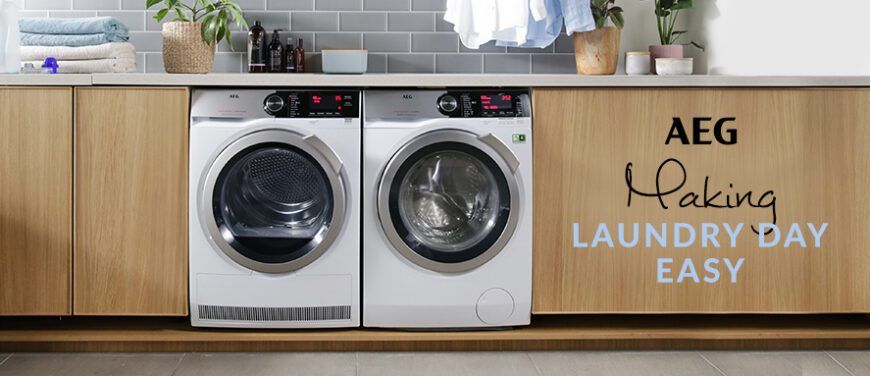 Regardless of what ends up in your laundry basket, make laundry day a breeze with AEG's range of laundry solutions. Functional design meets advanced technologies to ensure your laundry is washed and dried with the utmost care.
Whether you need to replace a broken model, want to upgrade or have a family to cater to, AEG's range of washing machines and dryers will please. If laundry day is a concern, you're in the right place, here we'll show you how you can get on top of it all!
Will there be a washing machine or dryer that's big enough for my family?
Whether you're a household of two or you've got a growing clan, AEG's washing machines and dryers will look after all your laundry needs. Wash the whole family's weekly load with the spacious capacity in the 10kg front load washing machine. Dry all the necessary items you'll need in the coming week with the large 8kg heat pump dryer.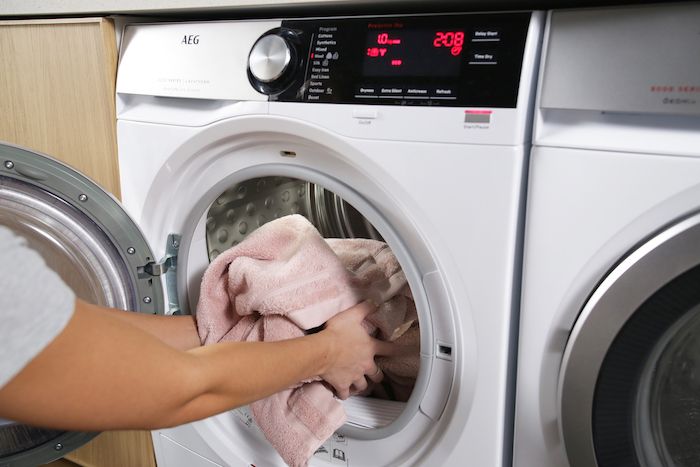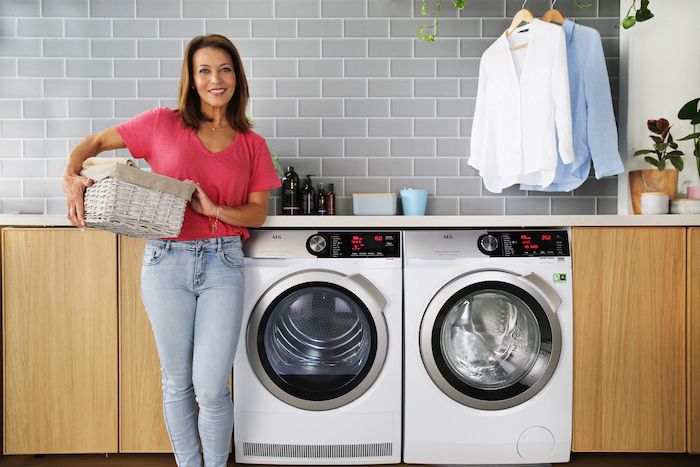 How can I achieve laundry convenience?
Time is precious, especially when you could be doing other things besides laundry. That's why AEG have created a range of time-saving technologies which ensures the washing or drying process is as smooth as possible.
Wash with optimised washing times and results:
ProSense Technology: intelligent sensors measure your load and adjusts the wash time and consumption, providing an efficient wash while reducing wear and tear.
OKOMix Technology: blends detergents and softeners with water before they enter the drum – helping remove all soiling from your garments.
Dry with professional results at home:
SensiDry Heat Pump Technology: dries with lower temperatures and uses sensors to ensure your clothes aren't overdried, helping care for them.
ProSense Technology: measures the load's humidity and temperature before adjusting the drying time and energy consumption.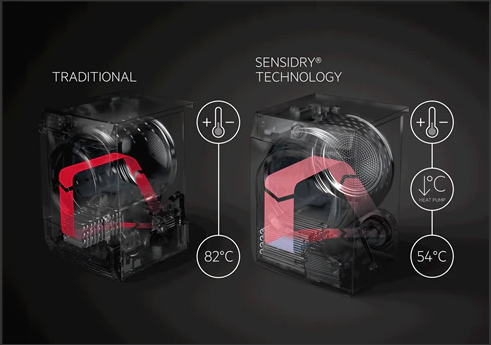 Top: Dry with lower temperatures for gentle results with AEG's SensiDry Technology.
Are there enough programs to suit my garments?
Definitely! Wash whatever is in your laundry basket with the 10 wash programs available in the 10kg Front Load Washing Machine. Some of these wash programs include Cottons, 20 min – 3kg, Anti-Allergy and Outdoor. Dry your laundry confidently too with the 11 dry programs which include Bed Linen, Easy Iron, Silk, Mixed Load and Cotton.
Will my delicate garments be cared for in the wash?
Of course! Rest assured your delicate garments will be looked after when they're being washed. Boasting Woolmark Green certification, AEG's 10kg front load washing machine is super gentle on your clothes and it's highly efficient too. Even your hand-wash only garments can be washed with the Silk and Wool programs. From cottons to baby clothes and silk, almost everything can be refreshed without the need to wash with the convenient Steam Refresh program.
Can I expect gentle care from the dryer too?
Absolutely! AEG's range of heat pump dryers are powered by SensiDry Technology which dries with lower temperatures, ensuring less damage to your clothes. Drying with the AbsoluteCare System means the temperature and movements of your clothes are carefully managed, for example woollens are kept flat against the drum to replicate flat drying. Certified with Woolmark Blue, AEG's 8kg heat pump dryer has been designed to treat your woollens and delicates with the utmost care.
Top: The perfect pair – AEG's front load washing machine & dryer are designed to match.
Can I be environmentally friendly as I do my laundry?
Being an eco-warrior as you do laundry is possible, especially with AEG's highly-rated and environmentally friendly washing machines and dryers. As mentioned previously, AEG's ProSense Technology in both their washing machines and dryers ensures programs are run as efficiently as possible, reducing consumption and time.
Get your desired results without excessive consumption with short wash programs such as OKOPower which washes a 5kg load in under an hour while drying programs such as 'Refresh' and 'Eco' will satisfy.
How efficient are AEG's washing machines and dryers?
AEG's 10kg Front Load Washing Machine features a 5-Star Energy and 4.5-Star Water Rating and the 8kg Heat Pump Dryer boasts a super-efficient 8-Star Energy Rating.
Reimagine laundry day with AEG. Practical, convenient and efficient, AEG's range of washing machines and dryers are more than just appliances – they're intelligent assistants that care for your clothes, just like you do. Good looks combined with all the features required of any modern laundry, AEG's laundry solutions are the perfect fit for any home.