Lemongrass Beef with Vermicelli Noodles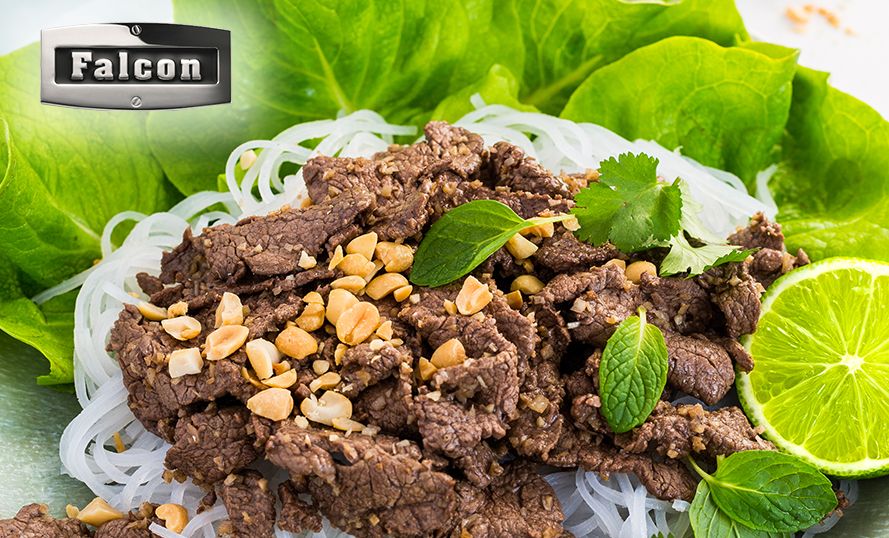 INGREDIENTS
200g rice vermicelli
1 tbs vegetable oil
3 lemongrass stalks (white part only), finely chopped
1 clove garlic, minced
2cm fresh ginger, minced
400g beef fillet, trimmed & thinly sliced
1 tbs fish sauce
½ tsp caster sugar
1 lime, juiced, plus extra to serve
1 head butter lettuce leaves
¼ bunch fresh coriander, roughly chopped
¼ bunch fresh mint, leaves picked
¼ cup roasted peanuts, chopped
Serves 4
Prep 15 Min
Cook 15 Min
Easy
METHOD
Step 1.
Cook vermicelli according to packet instructions. Drain. Rinse under cold water and drain again. Set aside.
Step 2.
Heat oil in a wok over medium heat. Add lemongrass, garlic and ginger. Stir fry for 1 minute until fragrant (do not brown). Increase heat to high. Add half the beef and stir fry for 2-3 minutes until just cooked. Transfer to a plate and cook remaining beef for 2-3 minutes. Return beef to wok. Add fish sauce, sugar and lime juice and toss to coat. Remove from heat.
Step 3.
Place lettuce leaves on serving plates and top with vermicelli. Arrange beef over the top and garnish with coriander, mint, peanuts and extra lime. Serve.
Recipe by Falcon
View Falcon RANGE