Let's compare: Climate Control & Air Purification For Your Home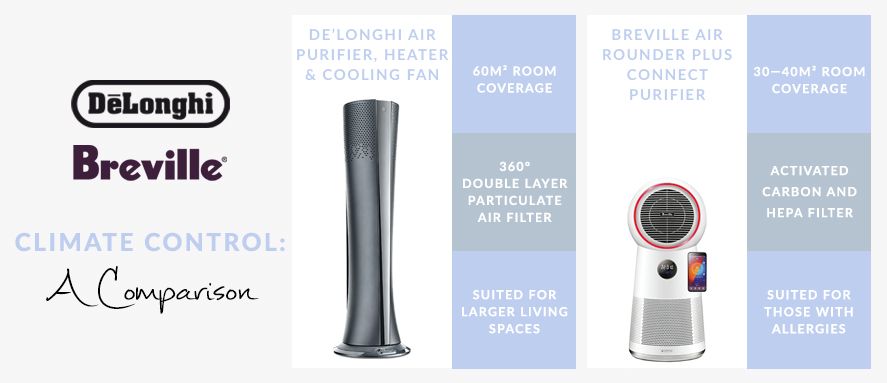 Climate control in the home help ensures you and your family can be as comfortable as possible. Aside from appropriate cooling and heating, air purification is equally as important, helping clear the air in your home.
Why Purify the Air?
The benefit of having air purification in your climate control is that you can reduce illness in the home, alleviate symptoms of allergies, Asthma and other respiratory conditions. Air purifiers use filters to trap unwanted airborne particles like dust, mould, bacteria, pollen and pet dander to eliminate them from circulating in the atmosphere.
All-in-One: Cool, Heat and Purify
Enjoy threefold benefits when you invest in combined heater fans with air purification. Compact and portable, they are perfect for any space and can be easily moved to where you are. Heater fans with purifiers are cost effective and portable when compared to large units like Reverse Cycle Air Conditioners, making them ideal for renters.
Our Top Picks
We know every home lifestyle is different, so we've picked out two popular air purifiers to help you find the one that's best for you. Both air purifier models are compact and stylish, so they'll compliment any space. The hardest part is choosing one for your home.
Delonghi Air Purifier, Heater & Cooling Fan
Great for larger spaces (up to 60m2) like combined living dining areas or apartments, this tall and slim air purifier effortlessly fits into a corner for fuss-free cooling, heating and air purification. Powered by 3D Comfort Airflow Technology, the unit has been designed to distribute heat evenly in the room.
Purification: this purifier features a 360° double-layer purification filter that removes up to 99.9% of particles, allergens and pollutants.
Settings: apply the right temperature for your personal comfort with many customisable settings available:
Heating: 6 settings
Cooling: 10 settings
Comfort Features: regulate the room's temperature efficiently with the ECO Plus function, take control from afar with the remote control and gently distribute air with the base's oscillation. Set and forget with the purifier's digital countdown timer with 7 pre-sets between 30 minutes to 12 hours.
Safety:

this Delonghi air purifier has a range of safety features to ensure safe operation, they include Safety Thermostat, Safety Auto Off Tip Over Switch, Safety Thermal Fuse and IP20 Drip Protection.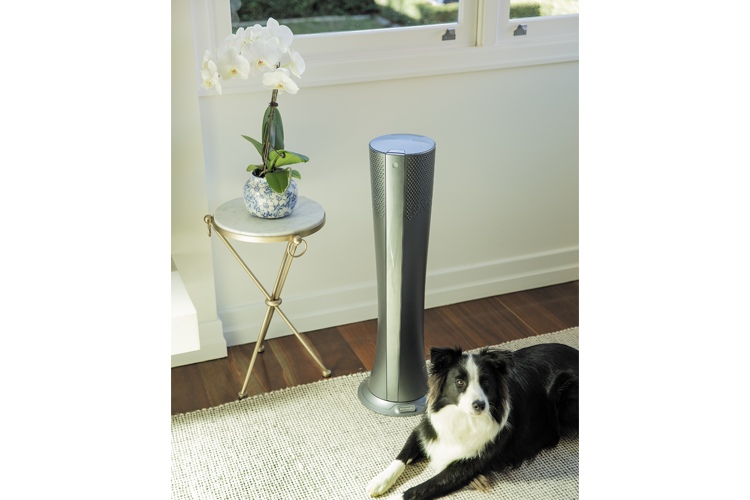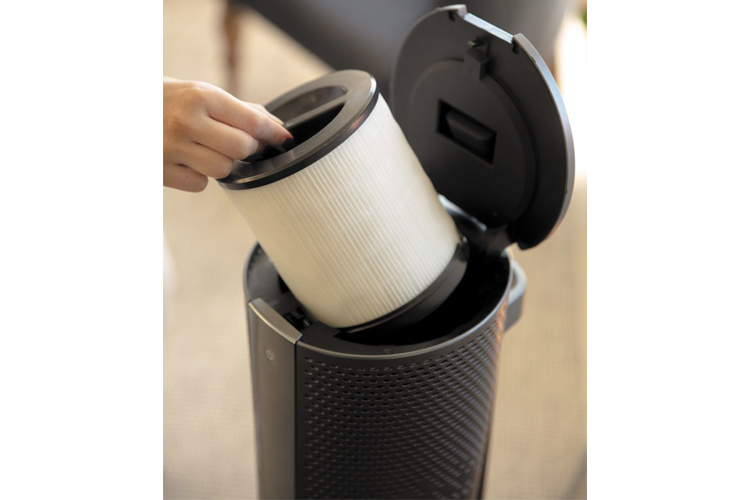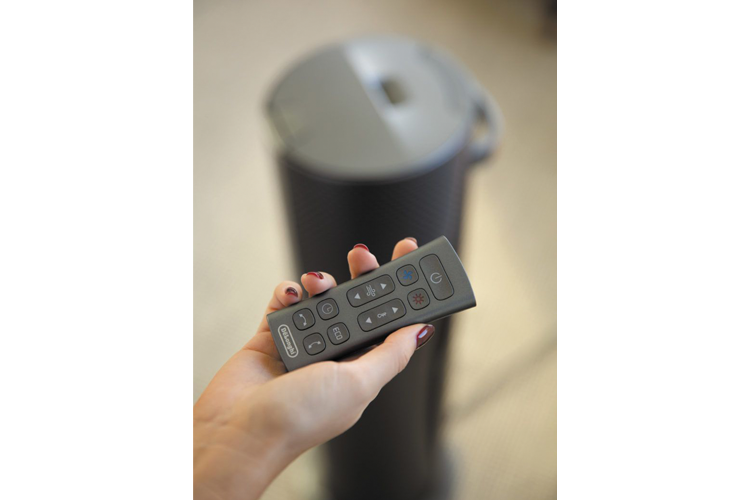 Above: Regulate temperatures and clear the air with Delonghi's slim Air Purifier, Heater & Cooling Fan.
Breville The Air Rounder Plus Connect Purifier
Perfect for use in the bedroom, study or lounge, Breville's the Air Rounder Plus Connect Purifier is designed for spaces up to 40m2 in size. In a unique design with Sensitive Choice accreditation, this air purifier is a match for households with Asthma and allergies.
Purification: a 3-stage air purification system effortlessly removes dust, pet dander, fine particles, allergens, and it filters odours and smoke. This is possible thanks to the activated carbon and HEPA filter.
Settings: alter speed settings to your cooling and heating needs with three fan speeds to choose: low, medium and high.
Comfort Features: this air purifier effectively delivers cool and warm air around the room with oscillation options of 60°, 120° and 360°. Power on and let the purifier switch itself off thanks to the 7-hour auto-off timer.
Monitor Air Quality:

the unit's Live Purity Monitor keeps track of airborne particles in the air and shows air quality information on the colour display.

Smart Control:

use the included remote control to make changes or do so conveniently on your smart device using the Breville Home Connect™ app. The Air Rounder Plus Connect can even be controlled with your voice, with Amazon Alexa and Google Home/Assistant compatibility.

Safety:

easily and safely manage your cooling, heating and air purification with the unit's overheat and tip-over protection.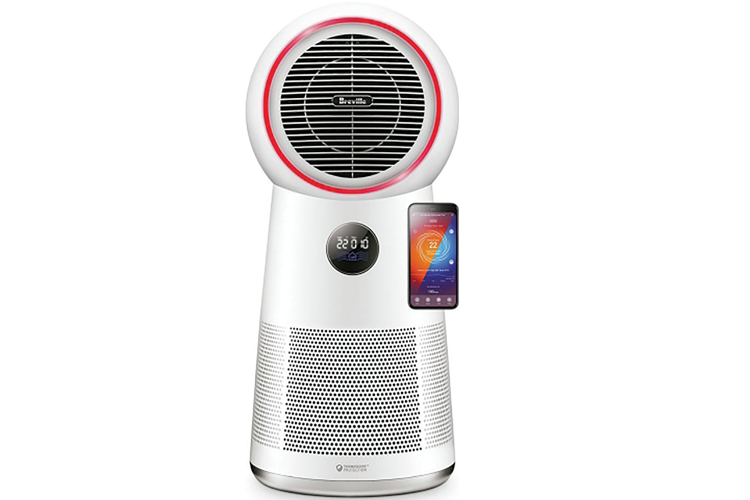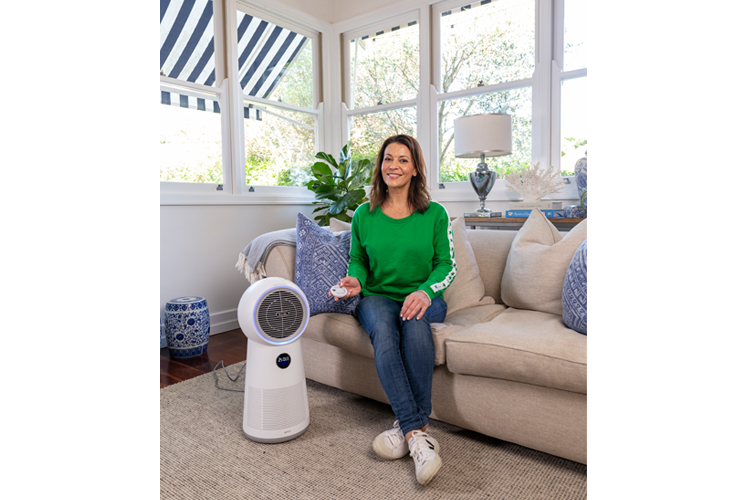 Above: Breathe easy during all-weather events with Breville's the Air Rounder Plus Connect Purifier.
Comparing the Air Purifiers
| | | |
| --- | --- | --- |
| Model | Delonghi Air Purifier, Heater & Cooling Fan (HFX85W20C) | Breville The Air Rounder Plus Connect Purifier (LPH708WHT2JAN1) |
| Power (W) | 2000 | 2100 |
| Room Coverage (m2) | Up to 60m2 | 30 – 40m2 |
| Cools/Heats/Purifies | Cools + Heats + Purifies | Cools + Heats + Purifies |
| Filters | 360° double layer particulate air filter | Activated carbon and HEPA filter |
| No. of Fan Speeds | Heating: 6; Cooling fan: 10 | 3 fan speeds for cooling & heating |
| Timer | Digital countdown with 7 pre-set intervals from 0.5 to 12 hours | 7-hour auto-off timer |
| Night Mode | – | Yes |
| Eco Mode | In heating mode | N/A |
| Ambient Light | N/A | Yes |
| Oscillation | Yes | 60°, 120° and 360° |
| Remote Control | Yes | Yes |
| App Control | N/A | Yes |
| Voice Control | N/A | Yes |
| Warranty | 2 years | 2 years |
| Suited For | General climate control and air purification in larger spaces like combined living areas and apartments. | Climate control and targeted air purification in homes with sensitivities, allergies, Asthma and other illnesses. |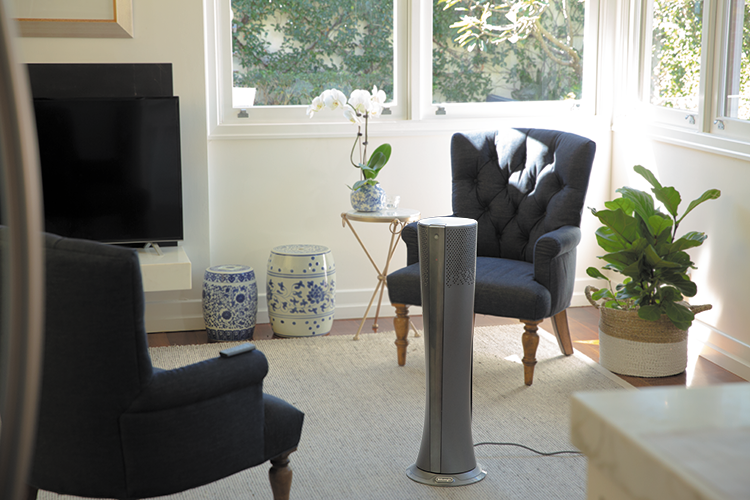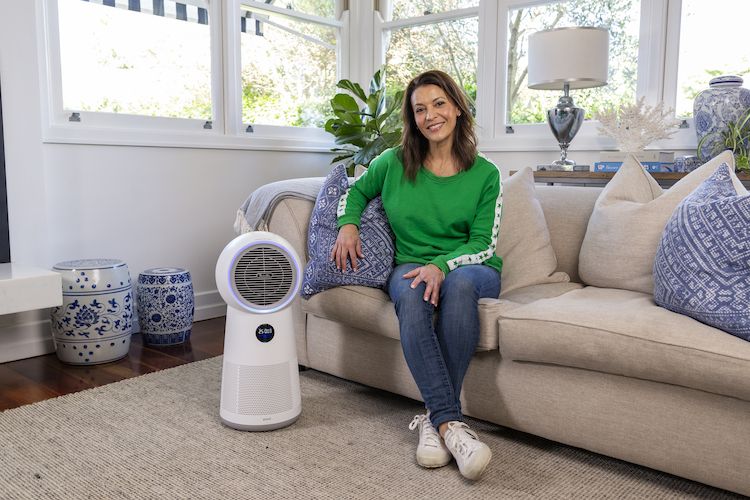 In a busy and polluted world, taking care of your health and comfort will be a breeze with air purifiers. To find out more and to view leading air purifiers from the biggest brands, click on the link below.