LG's XBOOM 360: A Speaker That Delivers on Sound and Style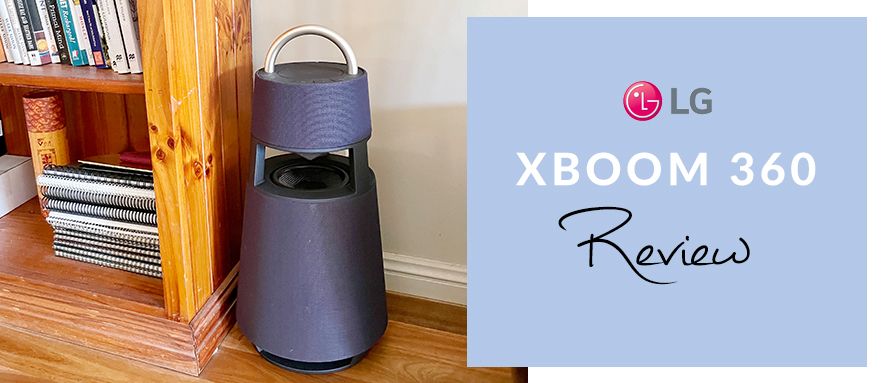 The below is a review from one of Tech Stars, Jesse Everett. Jesse is a Sydney-based content creator who is passionate about tech, fashion and music. In his spare time, Jesse likes to spend time outdoors whether that is by the beach, in the forest or off the beaten track.
I have owned an array of portable speakers for the last few years and tried many different brands, sizes and price ranges in order to find my perfect speaker, with mixed results. I came across the XBOOM 360 (RP4B) omnidirectional speaker from LG and was interested by what I saw. I entertain at my home, I listen to music every day and I have a big space to fill, so I was prepared to see how this speaker stacked up. Here is what I found out.
Design
The first thing I noticed when I got the speaker out of the box was the quality of the build, it has an exceptionally quality feel about it, without feeling like it's made of bricks. LG have clearly used premium materials to build this speaker. Its lightweight yet premium build just feels fantastic. The sturdy aluminium carry handle on top is also a great addition which makes transporting the speaker easy and it complements the design of the speaker.
Because the speaker is built so well and has such an appealing look, it's the perfect addition to any space in the house. Some speakers don't add to the space they're in, but this speaker is quite the opposite, it definitely elevates the space with a sophisticated look. Its conical shape and design makes it the ideal piece of furniture for any room, particularly with the incredible array of lights built-in.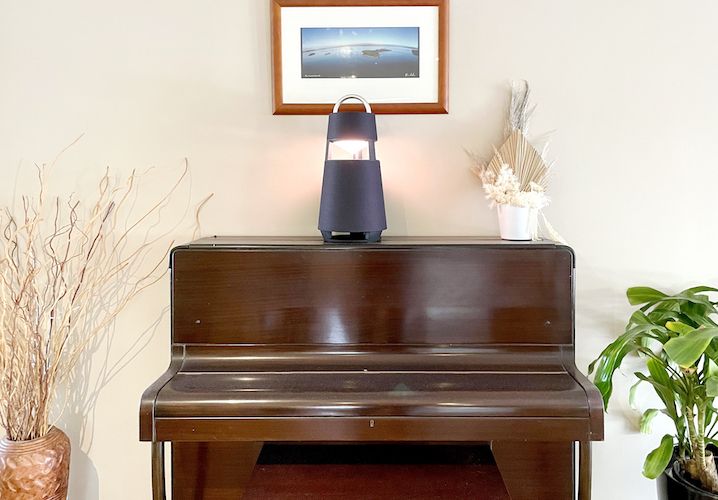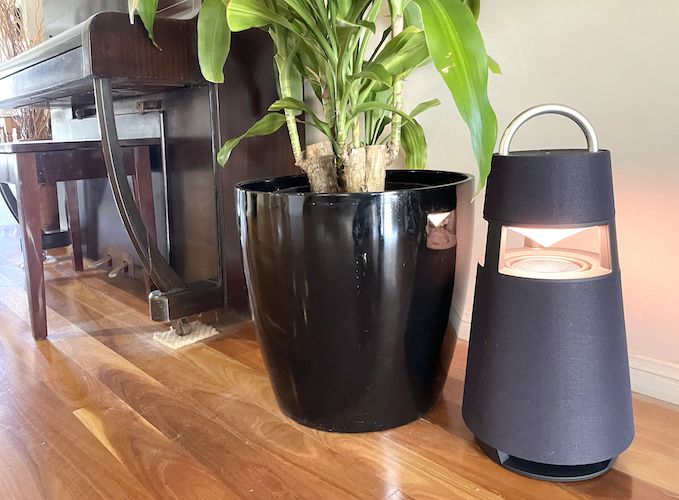 Features
The stunning build of the speaker is just the beginning; where it really shines is with its features and performance.
Firstly, and most importantly, the sound. It is stunning. This speaker produces one of the best sound qualities I have ever heard from a speaker. From the first sound that came out I was blown away, it was full, rich and abundant in depth. The conical shape and high-quality speaker allows the sound to completely fill the room and you truly do get 360 degrees of incredible sound. I had the speaker in the middle of a large, open room and no matter where I went, it felt like the sound surrounded me. Whether the volume be soft or loud (I don't mind a bit of loud head banging music from time to time if I'm being honest), the sound quality is never compromised. It's powerful, it's clean and it's just a stunning experience listening to music through the speaker.
Connecting to the speaker is a breeze as well, you have the option to connect via Bluetooth, AUX or USB. Straight out of the box, turned it on, connected through Bluetooth seamlessly and away I went. Some speakers feel like they require a deep knowledge of coding to connect…but this one is a seamless process. Battery life is also incredibly impressive, this thing just keeps on going. From full charge you will get an incredible span of time from this battery. It certainly gives you peace of mind knowing it's just going to keep trekking on and you don't need to constantly worry about a power point being close by. Big tick for the battery. There is also an associated app you can download and control all features from your phone. You can save settings and edit the sound, so you always have full control of your speaker and all its incredible features in the palm of your hand.
Another standout feature is the lighting and its variety. There really is a lighting setting for every mood and occasion with this speaker. Three light settings are included – ambient, nature and party mode with three pre-sets each, giving you nine lighting settings to choose from. The positioning of the light pointing down from the top of the conical shape means the lights aren't up in your face, rather it disperses the light evenly around the space, creating the perfect setting for any mood. Another great lighting feature is it senses the music that is playing and can react accordingly, adding to the vibe you're creating.
In Summary
Overall, if this was a diving contest, it would be pretty close to a perfect ten. I've used this speaker multiple times now for a vast array of different moods and occasions and it's only ever exceeded my expectations. The design is incredible, the sound impeccable, the features fantastic and just the complete speaker package. Like listening to an old vinyl, there is just something magical about listening to music in its highest quality. Well, that's exactly what you get with this speaker, a magical experience.