Naked Salted Caramel and Banana Croissant Toasties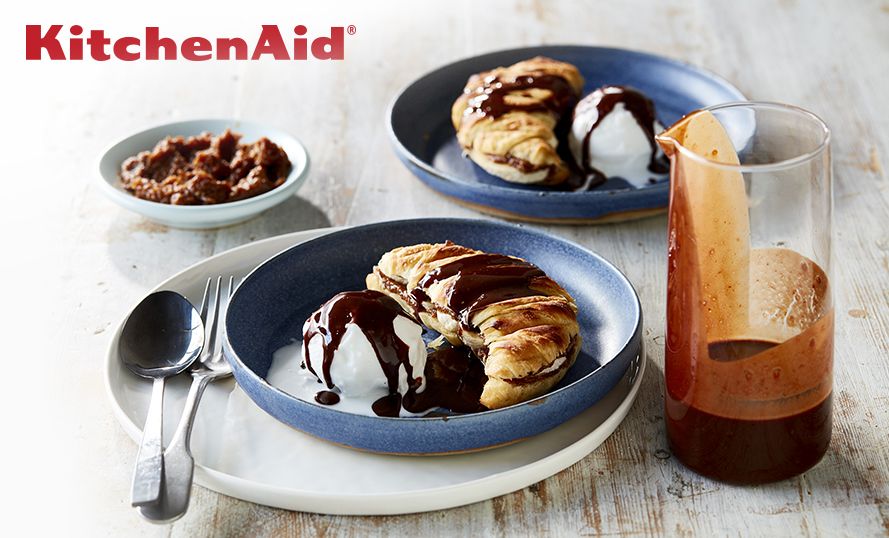 INGREDIENTS
NAKED CARAMEL
6 Medjool dates, pitted and chopped
¼ cup (60ml) water
150g almond nut butter
1 teaspoon vanilla extract
1 teaspoon sea salt (or to taste)
CROISSANT TOASTIES
4 large croissants split in half lengthways
2 ripe bananas, peeled and sliced diagonally
CHOCOLATE SAUCE
¼ cup (100g) coconut oil
2 tablespoons cocao powder
2 tablespoons maple syrup
1 tablespoon almond nut butter
¼ cup (60ml) milk (nut milk if preferred)
Coconut ice cream to serve.
Makes 4 Servings
Preparation: 15 minutes
Cooking time: 15 minutes
METHOD
Step 1.
To make the caramel sauce, place dates and water into a saucepan and simmer over medium heat until dates are plump and water has evaporated. Pour into the bowl of a food processor. Add nut butter, vanilla and salt and process until smooth. If mixture is too thick, add a tablespoon of water and process. Remove and cool.
Step 2.
To make the chocolate sauce, place coconut oil, cocao powder, maple syrup and nut butter into a saucepan and heat over low heat until melted. Remove from heat and whisk in milk until smooth. Set aside.
Step 3.
To serve, spread both sides of each croissant with caramel sauce and top with sliced banana. Cover with other side and press down gently to flatten out.
Step 4.
Place one croissant inside sandwich rack and bring the handles together. Close the clip to keep grids together. Insert the Sandwich Rack into the toaster slot.
Step 5.
Toast croissants until lightly crisp and golden. Repeat with remaining croissants.
Step 6.
Serve warm croissants drizzled with chocolate sauce and a scoop of ice cream.
Recipe by KitchenAid
View kitchenaid RANGE