Pesto Chicken and Harvest Grape Salad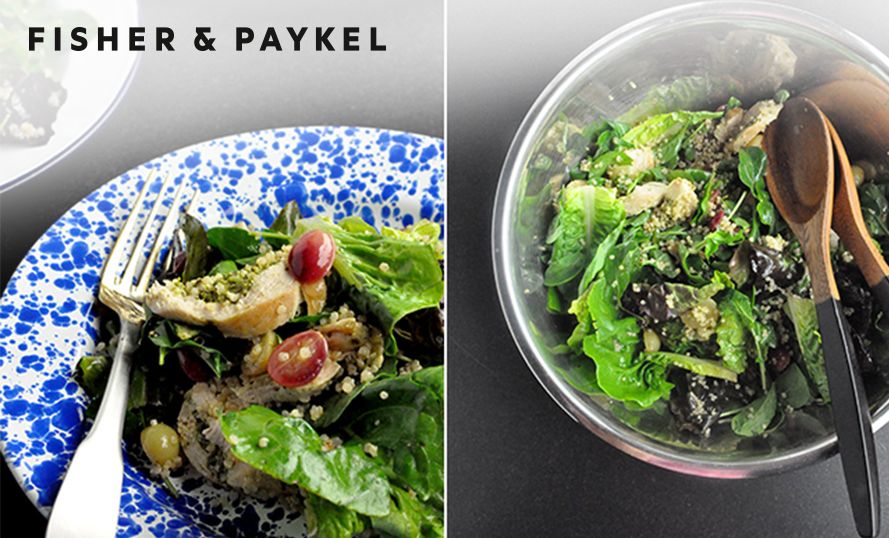 INGREDIENTS
1 cup quinoa
¼ cup of basil pesto
30ml olive oil
4 free-range chicken breasts
sea salt and pepper
100ml extra virgin olive oil
1 clove of garlic crushed
100ml verjuice
3 cups grapes, halved
4 cups baby lettuce leaves, rocket, basil leaves etc
Serves 4
METHOD
Step 1.
Rinse quinoa with cold running water then place in a small saucepan with 2 cups of water and bring to the boil.
Step 2.
Reduce the heat and steam the quinoa for 20-30 minutes (until it becomes tender).
Step 3.
Turn off heat and place lid on pot and allow to steam for 20 to 30 minutes or until tender. Set aside to cool.
Step 4.
Preheat oven to 200°C.
Step 5.
Using a pairing knife or similar create a pocket from the thick end of each chicken breast. Try and make the pocket as big as you can without piercing right through the meat.
Step 6.
Fill each breast with ¼ of the pesto, then season the outside with salt and pepper.
Step 7.
Place skin side down into a hot, heavy-based, ovenproof frying pan with the olive oil.
Step 8.
Fry until the skin becomes golden brown then place in oven and roast for 5 to 6 minutes or until almost cooked. Remove pan from oven and allow chicken to rest, skin side up – the residual heat in the pan will finish cooking the chicken.
Step 9.
In a separate saucepan, gently warm extra virgin olive oil over a medium heat. Add garlic and cook for 30 seconds (don't allow the garlic to colour) before adding verjuice and grapes.
Step 10.
Remove from heat and add any resting juices from the chicken to the pan.
Step 11.
Place salad greens in a large bowl with quinoa.
Step 12.
Slice the chicken and add to the bowl, before adding in the dressing.
Step 13.
Season to taste then serve.
Recipe by Fisher & Paykel
View cooktop RANGE