Pesto Pasta Goodness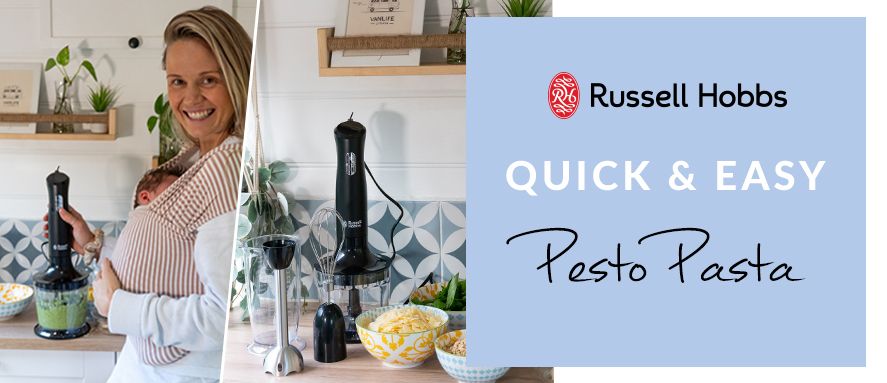 Claire and Luke are back! The duo behind popular Instagram page @vanlifestraya sure know how to live large, even in a small home. We sent Claire and Luke Russell Hobbs' Desire Hand Blender to test out. A 3-in-1 appliance, the hand blender offers food processing, blending and whisking functions, proving that sometimes even the smallest space-saving appliances offer big power and performance.
Check out their review and quick Pesto recipe below to see how easy it is to prepare meals with Russell Hobbs' Desire Hand Blender.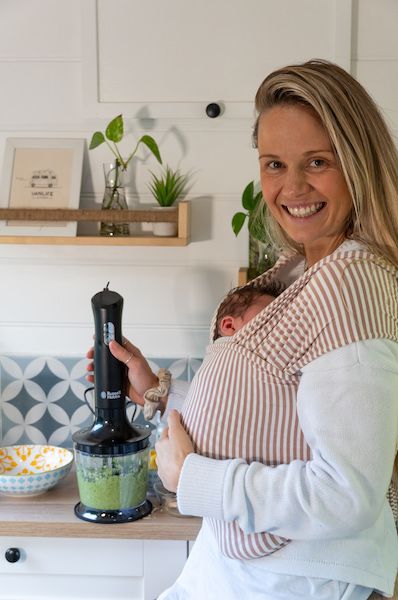 Our friends at National Product Review sent us the Russell Hobbs Hand Blender to test out and what really stood out was how versatile it is within such a compact size. The 3-in-1 functionality meant that I can cut down on having separate appliances for each function and just do all my blending, mixing and whisking with this little number! Which when you're living in a tiny home, as well as being a full-time mum is a pretty important feature.
As you can see, we have our little baby Beau with us now and therefore my time to prepare and make food is very limited these days. So, the chopping feature in this is a lifesaver…no more chopping up all our veg, just whack it in here!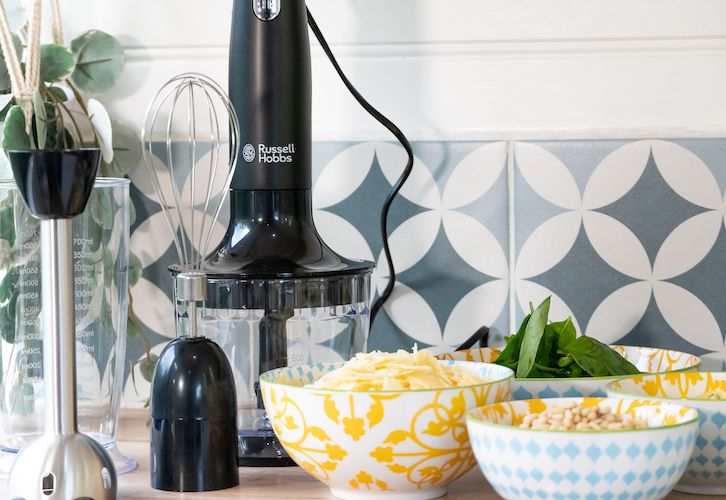 What I also love about this blender is that once you're done you can just place all the different parts into the dishwasher…no need to hand wash, how awesome is that! As I mentioned before, I'm all about saving time at the moment, so this really is a welcome addition to our kitchen!
Currently, one of my favourite things to make is homemade pesto pasta. It's quick and easy to make, is healthy (I use gluten free red lentil pasta) and it tastes absolutely delicious.
So just get together the below ingredients and chuck them into the chopper bowl with the Stainless Steel blade. The recipe can be adjusted to suit your taste.
A handful of washed Basil leaves
Some Pine Nuts, less than a handful
A squeeze of a quarter of a lemon
One large garlic glove, peeled
A handful of Parmesan
Salt & Pepper, to season
A drizzle of Olive Oil
Once all ingredients are added into the bowl, simply add on the blending stick and blend until all ingredients are combined.
Cook the pasta separately, then mix in the pesto sauce and there you have it. A quick and easy meal that's super yummy….enjoy!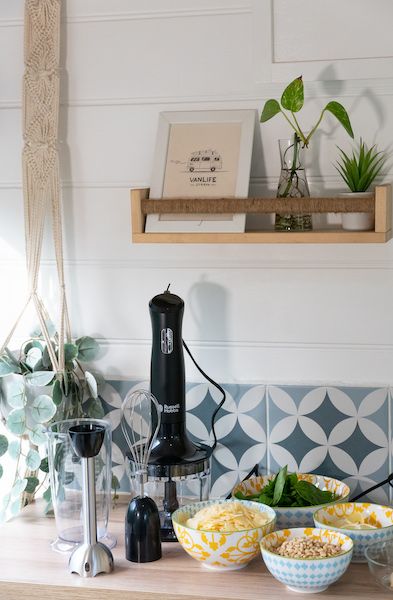 Stay up to date with Claire, Luke and baby Beau's adventures on their Instagram page @vanlifestraya. Plus, don't forget to follow us on Instagram @nationalproductreview to be in the know with all the latest content, recipes, giveaways and more!