Rack of Lamb with Mustard Crust and Vegetables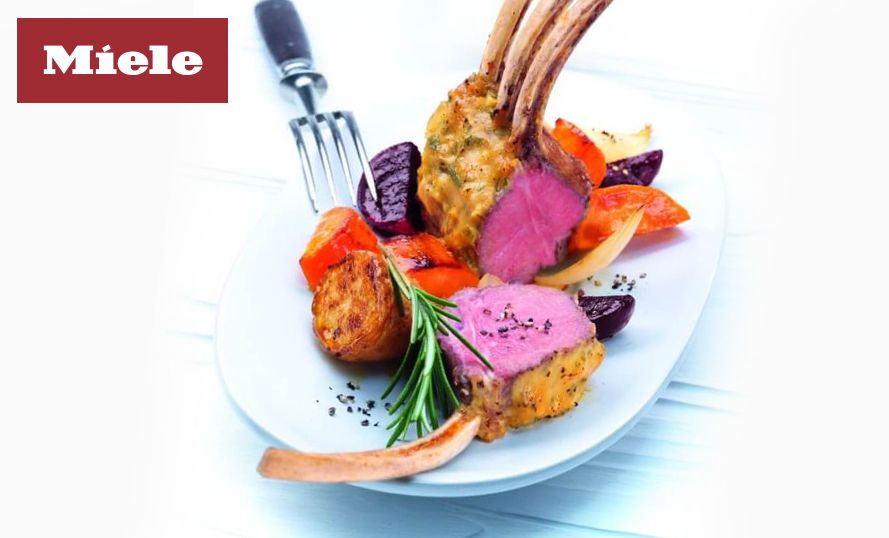 INGREDIENTS
2 tablespoons rosemary leaves, finely chopped
2 cloves garlic, crushed
2 tablespoons oil
1/3 cup Dijon mustard
2 teaspoons cumin
1 teaspoons honey
Freshly ground black pepper
¼ teaspoon salt
2 lamb racks, French trimmed (8 cutlets each)
2 carrots, peeled
1 small kumera, peeled
6 baby potatoes, halved
2 small beetroot, cut in wedges
2 brown onions, cut in wedges
2 tablespoons oil, extra
Salt, extra
METHOD
Step 1.
Combine rosemary, garlic, oil, mustard, cumin, honey, pepper and salt. Spread over lamb.
Step 2.
Place lamb on anti-splash insert placed in the universal tray.
Step 3.
Cut carrots and kumera into small pieces and combine with potatoes, beetroot and onion.
Step 4.
Toss prepared vegetables with extra oil. Place on baking tray and sprinkle with extra salt.
Step 5.
Place lamb on shelf position 3 and vegetables on shelf position 1.
Step 6.
Select moisture plus 190°C with 1 automatic bust of steam. Cook for 15-20 minutes.
Step 7.
Remove lamb from the oven and reposition the vegetable on shelf position 3. Change setting to Fan grill 190°C and cook for a further 10 minutes while the lamb is resting.
Recipe by Miele
View Oven RANGE