Recipes to make this World Chocolate Day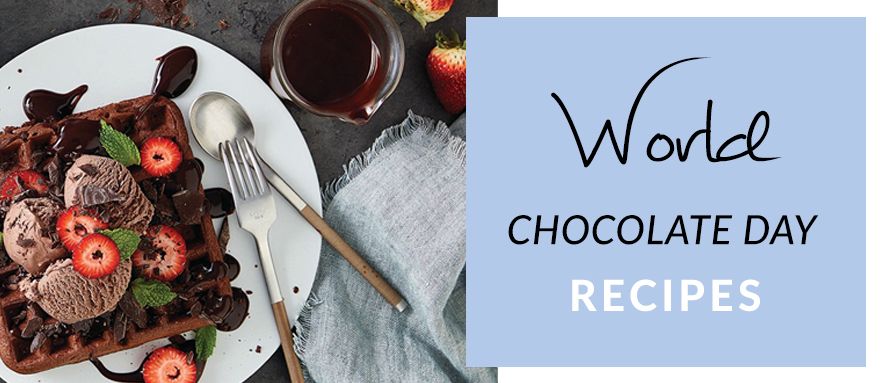 It's World Chocolate Day! This special day celebrates the sweeter things in life, and that's chocolate! No matter how you enjoy chocolate, whether it's spread on top of your breakfast, as a sugary pick-me-up in the afternoon or in a dessert, there's no doubt that chocolate remains a classic in everyone's hearts.
To honour all that is great about chocolate, we've chosen some of our favourite tasty chocolate-inspired recipes that you can make at home. All recipes can be made with some small cooking appliances found on our site.
Triple Chocolate Cake Waffles
Serves 4
Prep time: 8 minutes
Appliance: Sunbeam's Shade Select Vertical Waffle Maker
This space-saving vertical waffle maker is powered by a 1000W heating element and non-stick coating plates to deliver delicious results, quickly. The waffle maker's LCD screen also makes it easier for you to stay on track of the cooking progress.
Browning Setting
Ingredients
1 store bought chocolate cake mix
1 pre packaged chocolate icing
Serve with chocolate ice cream, fresh strawberries and your favourite chocolate roughly chopped
Method
Preheat the Sunbeam waffle maker by plugging it in and selecting your shade preference.
Follow chocolate cake packet instructions and make batter. (You may need a little more milk, to thin out the mixture)
Fill the cup measure to the top with batter and carefully pour into the top of the machine.
When cooking is complete, repeat process to cook three more waffles.
Follow chocolate cake packet icing instructions and pour chocolate icing over waffles.
Serve with chocolate ice cream, fresh strawberries and your favourite chocolate roughly chopped.
Recipe by Sunbeam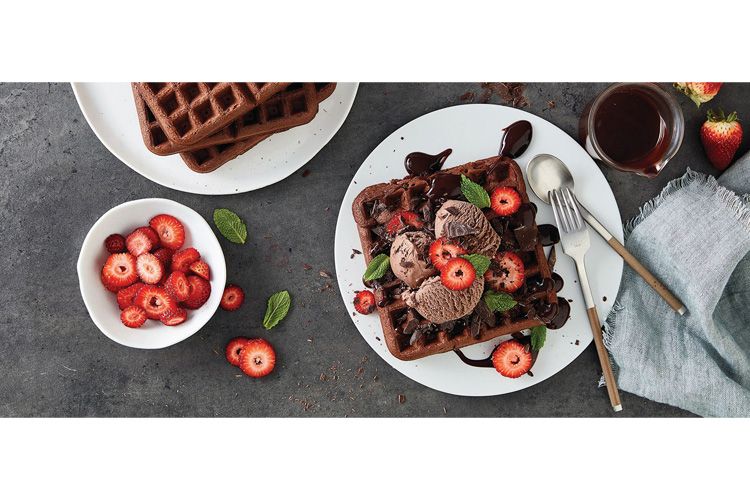 Malt Chocolate Cake
Serves 10
Appliance: Kenwood's TriBlade Hand Mixer
Mix, whisk, mask and so much more with the powerful performance of this hand mixer, which features strong TriBlade blending system and a range of included attachments. To make this Malt Chocolate Cake, you'll need the metal balloon whisk to mix the cake batter together.
Ingredients:
300g dark (70%) chocolate, chopped
200g unsalted butter, chopped, softened
300g sour cream, at room temperature
125g self-raising flour, sifted
125g plain flour, sifted
40g good-quality dark cocoa powder, sifted
100g malted milk powder
3 eggs, at room temperature, lightly beaten
200g caster sugar
Malt Chocolate Butterscotch
60g unsalted butter, chopped
100g brown sugar
125ml thickened cream
1 tbs malted milk powder
25g dark (70%) chocolate, chopped
Method:
Preheat oven to 160°C. Grease a 20cm bundt pan. Set aside.
Place chocolate and butter in a heatproof bowl set over a saucepan of gently simmering water (don't let the bowl touch the water). Stir until melted and smooth. Remove from the heat and cool for 10 minutes.
Place remaining ingredients in a large bowl with a pinch of salt. Add cooled chocolate mixture and, using a large whisk or spatula, mix until smooth. Pour into prepared pan and bake for 1 hour or until a skewer inserted in the centre comes out clean. Stand in pan for 30 minutes, then invert on a wire rack to cool completely.
Make butterscotch when ready to serve. Place butter and sugar in a saucepan over medium-low heat, stirring until sugar has dissolved. Add cream and bring to a simmer. Cook for 5 minutes or until slightly thickened, then stir in malt powder and chocolate. Simmer, stirring, for a further 2 minutes or until melted and smooth. Pour butterscotch over cake to serve.
Recipe by Phoebe Wood, via Delicious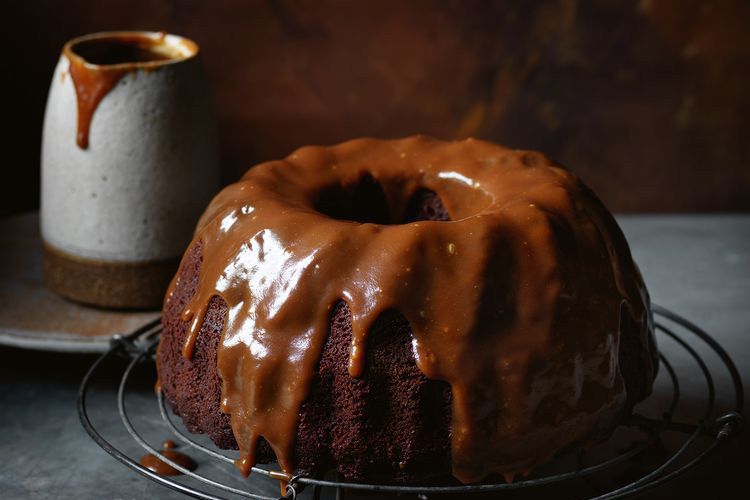 Chocolate Stuffed Donuts
Serves 8
Prep Time: 1 Hour
Cook Time: 10 Minutes
Appliance: Tefal's Ultimate Fry Deluxe Air Fryer
Use the 'Bake' function of Tefal's Air Fryer to easily craft sweet treats, including these Chocolate Stuffed Donuts. Assign cooking settings via the LED touchscreen and with it's cool-touch body, even the kids can help when using this Air Fryer.
Ingredients:
200g of plain flour plus extra for dusting
Pinch salt
3 tbsp caster sugar plus an extra 1 tbsp
1 x (7g) sachet of instant yeast
3 eggs
80g butter, cubed and brought to room temperature
200g chocolate & hazelnut spread, like Nutella
1 teaspoon ground cinnamon
Method:
Combine sugar and cinnamon together in a bowl.
Place flour, salt, sugar, yeast and eggs into a mixer and mix on a medium speed until a sticky dough forms. Now add the butter, incorporate a few cubes at a time on a medium to low speed.
Scrape donut batter into a piping bag and pipe 50g portions of dough into a patty pan.
Sprinkle the cinnamon sugar over the top, and let it prove for 1 hour until it doubles in size. Transfer to the air fryer basket and spray with a little oil and fry at 180˚C for 5-8 minutes.
Place chocolate & hazelnut spread into a piping bag. Poke a hole in the centre of each doughnut with a sharp knife or the nozzle of a piping bag. Pipe a generous amount of the chocolate into each cavity. I like to eat them while they are still warm but they keep well for a few hours.
Recipe by Justine Schofield, via Tefal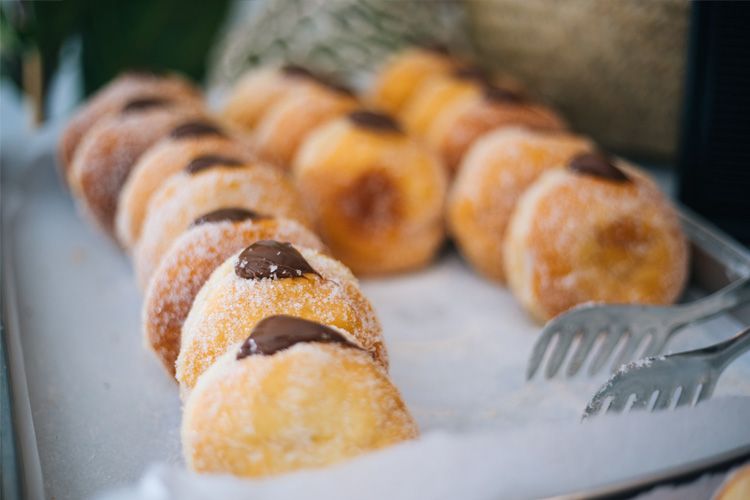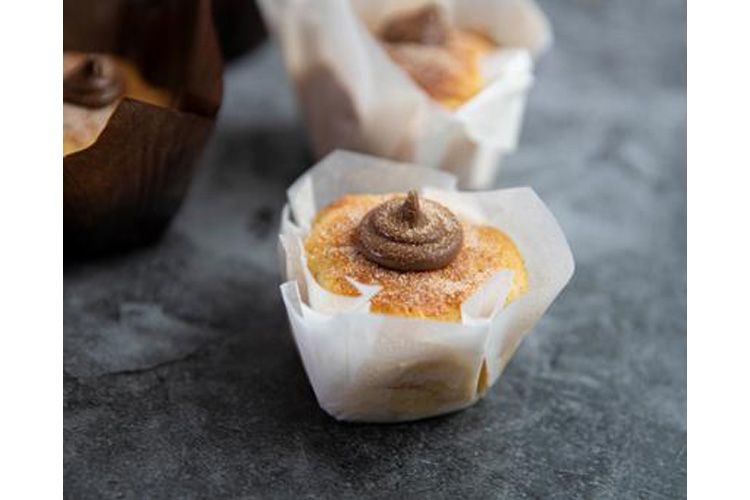 Shop the Small Appliances
Feeling inspired by these chocolate recipes? Check out the links below to view more information on each featured product and you'll be one step closer to creating delicious chocolate treats at home.