Recipes to try this Autumn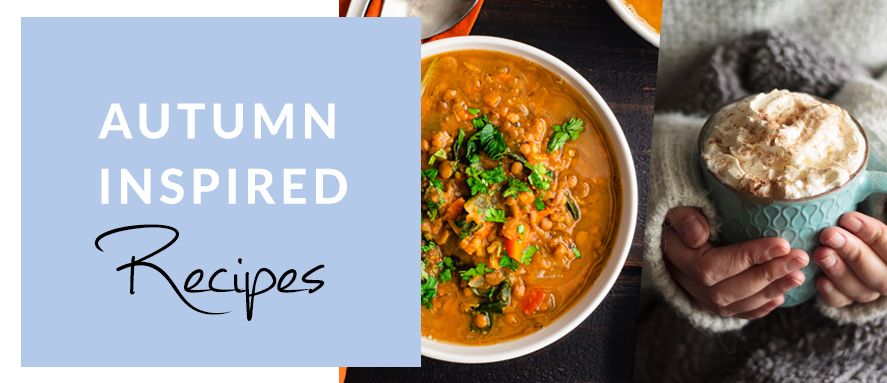 Love it or hate it, the cool change is here. Make the most of the breeze and satisfy your body's desire for some hearty dishes with these recipes. With a range of savoury and sweet options, such as soups, sticky date cake and even hot chocolate with a twist, you can be sure to find a recipe that you'll want to try out!
Speedy Lentil and Vegetable Soup
Make this with Crock-Pot's Crockpot® Express Pressure Multicooker. The multicooker effortlessly feeds six people and features 7x one-touch settings for simple cooking. Save time making meals as this multicooker cooks up to 70% faster than traditional cooking methods such as stove or oven cooking.
Serves 4
Cooking Time: 10 minutes
Ingredients:
1 tbsp vegetable oil
1 large onion, finely diced
2 carrots, peeled and diced
2 celery sticks, diced
2 bay leaves
½ tsp dried thyme
3 litres hot vegetable stock
200g dried brown lentils, rinsed
200g dried red lentils, rinsed
200g frozen sweetcorn
1 large potato, peeled and diced
Salt and pepper
Method:
Press BROWN/SAUTÉ function. Adjust the time to 3 minutes. Press START/STOP and allow to preheat.
Add oil, onions, carrots and celery to the cooking pot. Sauté for 3 minutes.
Add the remaining ingredients and stir well.
Secure the lid, ensure the steam release valve is in the seal (closed) position and press PRESSURE COOK. Adjust the time to 10 minutes and press START/STOP.
Once the unit has finished cooking, allow the unit to have a natural pressure release time of 10 minutes.
Stir well, adjust the seasoning. Serve with some chunky granary bread for a tasty healthy meal.
Recipe by Crock-Pot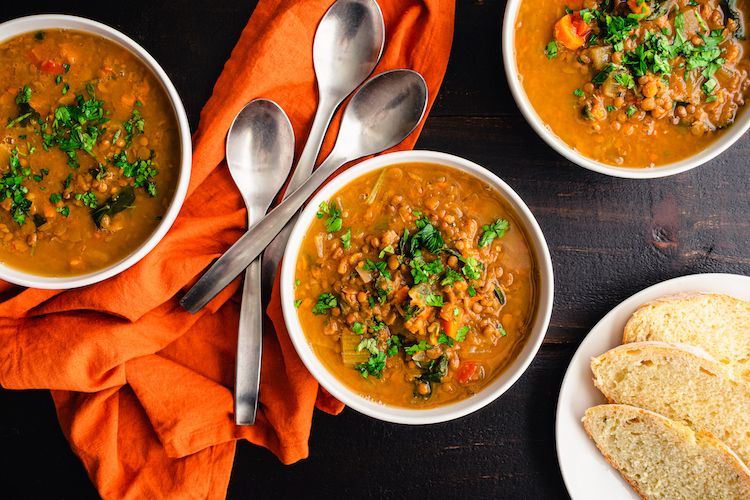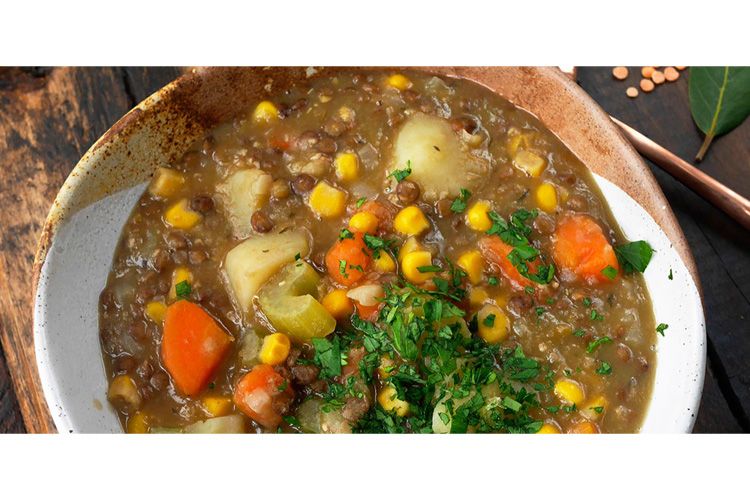 Lamb Kofta Tagine
Turn diced lamb into flavoursome kofta with the food grinder attachment using KitchenAid's Artisan Stand Mixer. A flat beater then ensures all ingredients are incorporated so that everyone can enjoy this sensational dish.
Serves 6
Ingredients:
600g diced lean lamb, cut into long strips, well chilled
1 onion, cut into wedges
2 cloves garlic
1 cup parsley leaves
½ cup coriander leaves
1 wedge preserved lemon, washed and pith removed
1 tsp ras el-hanout*
freshly ground salt and black peppercorns, to taste
1 tbs olive oil
2 x 400g can diced tomatoes
1 tsp ground cumin
1 tsp sweet paprika
pinch ground ginger
4 large eggs
fresh coriander leaves, for serving
Method:
Attach the fine grinding plate to the food grinder and attach to the stand mixer. Position mixing bowl under grinder. Turn the mixer to speed 6 and add ¾ of the lamb into the hopper, pushing down with the stomper. Add the onion, garlic, parsley, coriander and preserved lemon, followed by the remaining meat (adding a little of the meat last, ensures all the herbs and lemon have been pushed through the grinder).
Attach the flat beater and mixing bowl to stand mixer. Add the ras el-hanout to the mixture and season with salt and pepper. Turn to speed 4 and mix for 2-3 minutes or until mixture is well combined and sticky. Roll mixture into small kofta's with wet hands.
Heat the oil in a large heavy based non-stick frying pan. Brown kofta's well, shaking the pan often. Add the tomatoes and spices, stir lightly and simmer for 8-10 minutes or until cooked, partially covered with a lid. Carefully break in the eggs amongst the kofta's. Simmer partially covered until the eggs are just firm. Sprinkle with coriander.
Recipe by KitchenAid
Tips
For best results with the food grinder, chill the lamb very well or semi freeze for 30 minutes.
Ras el-hanout is a Moroccan spice mixture containing many spices, often up to 20 individual spices. Easily made using the spice and coffee grinder to create your own personal mix. The most common mixtures are a base of nutmeg, black pepper, cinnamon, turmeric, sea salt, cardamom, mace, all spice, aniseed, cayenne, caraway and saffron. Use sparingly and store in a sealed container in a dark place for up to 1 month.
Ras el-hanout is also available from pre-made from specialty stores.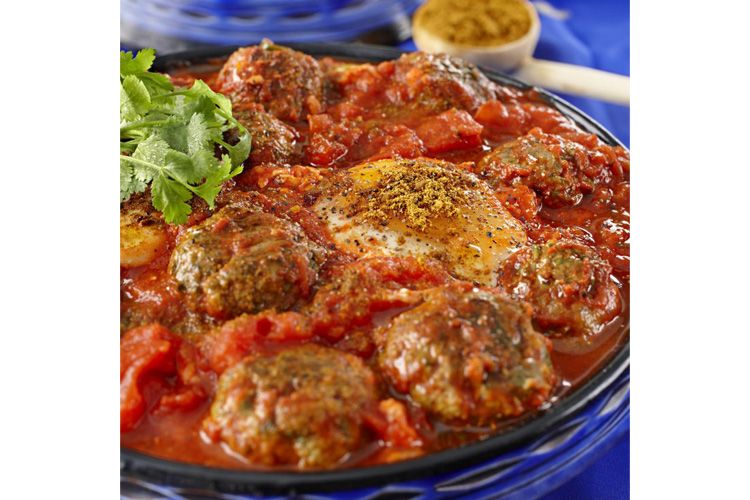 Sticky Date Cake
If you're in the mood for something sweet, why not try your hand at this delicious and easy Sticky Date Cake. It's so simple to put together, with all the ingredients for the cake mixed within the Stainless Steel bowl of Sunbeam's The Master One Planetary Mixmaster® Stand Mixer.
Serves: 12-16
Ingredients:
400g pitted dates, chopped
⅔ cup boiling water
3 teaspoons baking powder
250g butter, room temperature
2 cups brown sugar
4 eggs
3 cups plain flour
½ cup milk
Method:
Preheat oven to 180°C. Grease and line two 20cm cake pan with baking paper.
Place the dates, water and baking powder in a small bowl. Set aside for 10 minutes.
Place butter and sugar in the Stainless Steel Mixing Bowl. Using the beater attachment on medium speed mix until light and creamy. Add eggs one at a time, making sure to beat well after each addition.
Add flour, milk and date mixture. Reduce to low speed mixing until well combined.
Pour into prepared pan. Bake for 40 minutes or until cooked when tested. Serve warm with toffee sauce (recipe below).
Toffee Sauce
Makes: 3 cups
Ingredients:
300g butter, chopped
1 ½ cups thickened cream
1 ½ cups firmly packed brown sugar
Method:
Place all ingredients in a small saucepan. Stir over medium heat until melted and combined. Simmer for 3 minutes. Pour over sticky date pudding.
Tip: This sauce is also great over vanilla ice-cream.
Recipe by Sunbeam
Brazilian Spiced Hot Chocolate
Warm up with a delicious, spiced hot chocolate that you can craft in a matter of minutes. Use the Russell Hobbs Desire Hand Mixer to mix the hot milk with the chocolate for an authentic hot chocolate experience.
Serves: 6
Ingredients:
1½ litres full cream milk
5 cinnamon sticks
8 cloves
1/3 cup castor sugar
125g dark chocolate, broken into pieces
1 tsp vanilla essence
MERINGUE TOPPING:
Method:
Pour the milk into a saucepan. Add the cinnamon and cloves and simmer gently for 8 minutes without allowing the milk to come to a full boil.
Strain about 500mL of the hot milk into a large heat-resistant mixing bowl or jug and add the broken chocolate. Use the Hand Mixer with the beater attachment and start on low speed and then increase to high speed as the chocolate melts.
Blend thoroughly and return to the saucepan with the remaining milk and sugar.
Simmer whilst stirring constantly until chocolate has completely dissolved and mixture has thickened slightly. Add vanilla and stir thoroughly.
To make the meringue, using the Hand Mixer with beaters, beat the egg whites to a stiff consistency and gradually beat in the sugar. The meringue should be very stiff.
To serve, pour the chocolate milk into small cups, place a scoop of meringue on top and sprinkle with dark chocolate.
Recipe by Russell Hobbs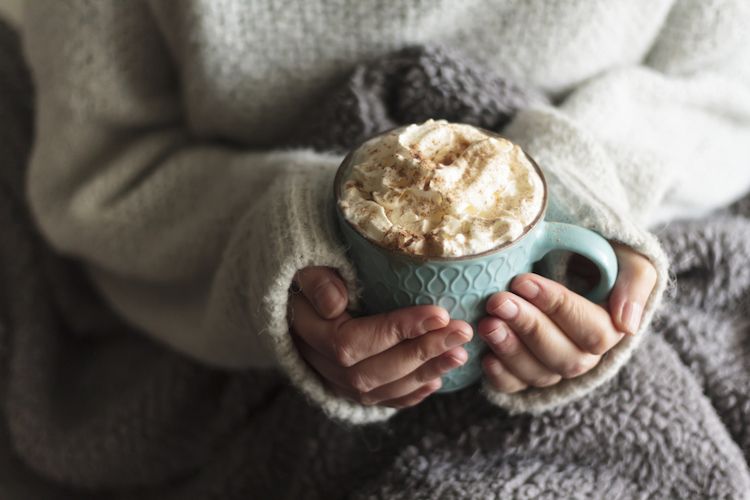 Want to see what else you could whip up in the kitchen this Autumn? Just click on the links below to find out more detailed information on the featured products.