Recipes: Winter Olympics Viewing Snacks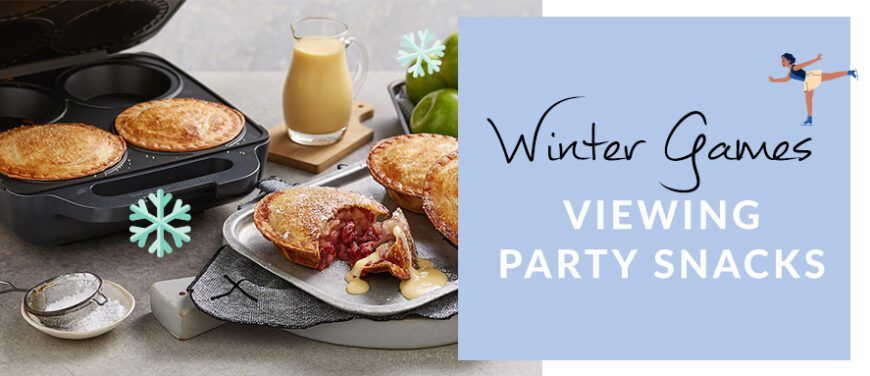 The 2022 Winter Olympics is on! Which sport will you be watching and who will you be cheering on? Is Alpine Skiing top of your list or maybe Curling has taken your interest? In the mood for Ice Hockey or Figure Skating? Whatever's on screen, maintain your energy levels as you watch with these simple, TV-friendly snacks and treats. Best of all, they're made using popular appliances on site, so you can get them for the game and beyond.
Chicken Parmie Pie
Serves 4
Prep Time: 5 minutes
Cook Time: 30 minutes
This recipe uses the Pie Magic® Traditional Size 4 Up
[products ids="33536″ orderby="post__in" order="asc"
Ingredients:
4 small chicken schnitzel
50g passata sauce
12 slices mozzarella cheese
4 basil leaves (optional)
4 short crust pastry sheets
1 puff pastry sheets
Method:
Close lid, preheat Sunbeam Pie Magic®.
When the green READY light comes on place schnitzel in each dish, close lid and cook for 6 mins. Turn over and cook for 6 mins.
Clean pie maker with paper towel.
Using the pastry cutter provided, cut out 4 short crust pastry bases and 4 puff pastry tops. Overlap the base flaps making a pastry shell.
Place pastry shells in base, top with 2 tablespoons passata, a slice of cheese, chicken schnitzel, a slice of cheese, basil leaf (optional) and 1 tablespoon of passata.
Top with puff pastry lid. Close lid and cook for 12 mins, until golden brown.
Cook's Tip: Use Puff pastry for the base as well as the top.
Recipe by Sunbeam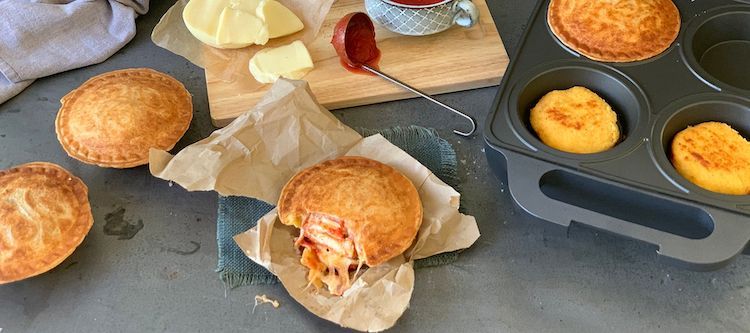 Apple & Cherry Pie
Serves 6
Prep Time: 5 minutes
Cook Time: 12-15 minutes
This recipe uses the Pie Magic® Traditional Size 4 Up
Ingredients:
400g tin pie fruit apple slices
415g tin cherries in syrup, drained
2 Tbs caster sugar
6 frozen puff pastry sheets
1 egg white, lightly whisked
2 tsp caster sugar
Custard, to serve
Method:
Turn the Sunbeam Pie Magic® on, close lid and pre heat.
In a bowl mix apples, cherries and sugar.
Using the pie cutter, cut out 6 lids and 6 bases from the pastry.
When the green READY light comes on, open Pie Magic® and place the pastry bases in, fill with apple and cherry mixture, place pastry lids on. Brush the lids with egg white, and sprinkle with sugar.
Close lid and cook for 12 – 15 mins.
Repeat with 2 remaining pies.
Serve with custard.
Recipe by Sunbeam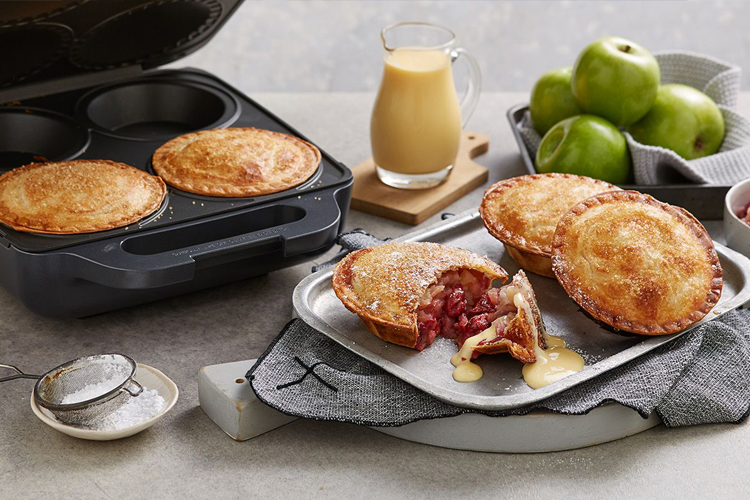 Air Fryer Homemade Fish & Chips
Serves 4
Prep Time: 10 minutes
Cook Time: 25 minutes
This recipe uses the Tefal Easy Fry Grill & Steam XXL Air Fryer
Ingredients:
For the fish:
Four hoki fillets (dipped in beaten egg, then flour and then crumbed with your choice of bread crumbs, milled corn flakes or almond meal for a gluten free option). Place in fridge for ½ hour before air frying.
For the chips:
700 grams potatoes (peeled, washed and patted dry)
Salt and pepper, to season
1 tbsp olive oil
Tartare Sauce:
1 cup mayonnaise
½ cup chopped dill pickles
Juice of ½ a lime
1 tbsp chopped capers
1 tsp Dijon mustard
Chopped fresh dill
To serve:
Method:
Set your air fryer to 200°C and place half the potato chips in the internal mesh basket. Set time to 15 minutes and halfway through the cooking, give the basket a shake. Cook the second batch the same way. Place on a platter.
For the fish, select the Fish Program on the Air Fryer and place the fillets in the internal basket. The air fryer will set the time and temperature for fish. When finished cooking, place fish on platter with chips and serve with homemade tartare sauce and wedges of lemon.
To make the tartare sauce: combine all the ingredients in a bowl
This recipe is created by Tefal brand ambassador Lorena Lys. #athomewithtefal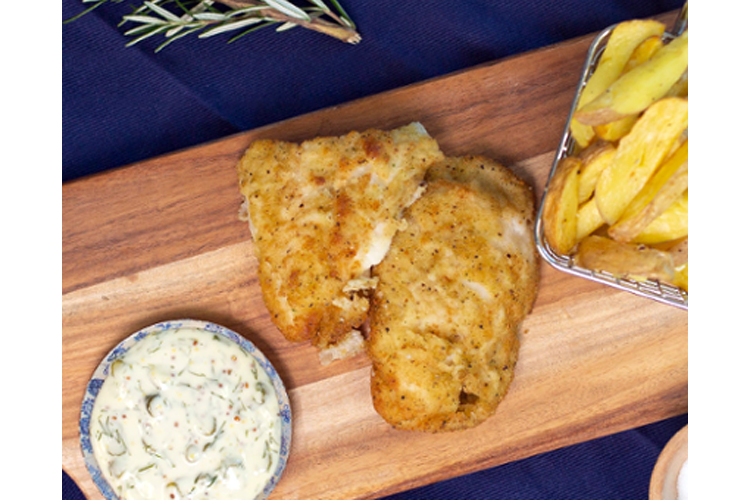 Air Fried Churros with Cinnamon Sugar
Makes 15
Prep Time: 30 minutes
Cook Time: 20 minutes
This recipe uses Breville's The Smart Oven™ Pro Air Fryer
Ingredients:
240 ml water
15 g unsalted butter
1 tbsp sugar
½ tsp vanilla extract
¼ tsp salt
130 g plain flour
1 egg
Non-stick spray oil
For the coating:
55 g unsalted butter, melted
100 g caster sugar
½ tsp ground cinnamon
Method:
Combine the water, butter, sugar, vanilla and salt in a large saucepan and bring to the boil over medium-high heat. Add the flour all at once and stir with a wooden spoon until well combined, with no streaks of flour remaining.
Transfer the dough to the bowl of a bench mixer fitted with a paddle attachment. Mix on medium-high speed until cooled slightly, about 1 min. Reduce the speed to low and add the egg. Once the egg is incorporated, increase the speed to high and beat, 10–12 mins or until the outside of the bowl is cool to the touch.
Pre-heat the oven. Select AIRFRY/SUPER CONVECTION / 175°C/25 mins and press start.
Spray the air fry basket with non-stick spray oil. Transfer the dough to a piping bag fitted with a 5mm closed star pastry tip. Pipe 5 cm lengths of dough onto the airfry basket, using scissors to snip dough at the tip.
Bake until the churros are brown and crisp on the outside, about 25 mins.
Place the melted butter in a medium bowl. Combine the sugar and cinnamon in a second medium bowl.
Toss the warm churros in the melted butter and then in the cinnamon sugar.
Serve immediately with chocolate sauce or dulce de leche for dipping.
Recipe by Breville