Russell Hobbs' Winter Warmer Recipes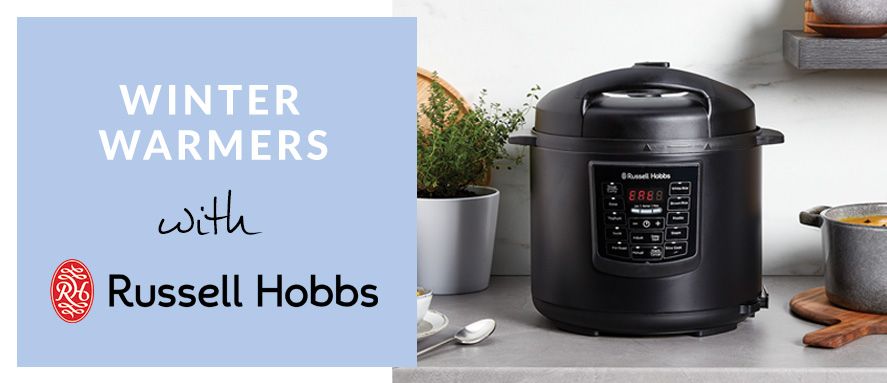 Whether you love it or hate it, winter is truly here, and what better way to keep yourself and your household warm than with some hearty and delicious dishes. We've hand-picked our favourite recipes that you can create with Russell Hobbs' range of cooking appliances, check them out below!
STEAMED GOLDEN SYRUP PUDDING
Looking for a warm dessert to serve the family? Do so effortlessly as you make this Steamed Golden Syrup Pudding with the Russell Hobbs 11-in-1 Multi-Cooker. Just prepare the pudding's ingredients in a bowl and then bake it in the Multi-Cooker for a sweet treat to enjoy on a cold night.
Preparation Time: 15 minutes
Cooking Time: 40 minutes (+ 10 minutes de-pressurising time)
Serves: 4-6
Ingredients:
1/2 cup golden syrup
½ cup castor sugar
120g unsalted butter, softened
1/2 tsp vanilla bean paste (or 1 tsp vanilla essence)
2 eggs
1 cup self-raising flour
1/3 cup milk
Cream or ice cream to serve
Toasted flaked almonds to serve
Method:
Generously grease a pudding bowl (16cm x 8cm) and pour in the golden syrup. Place the trivet in the bottom of the multi cooker pot and fill the multi cooker with enough warm water to come ¾ ways up the side of the pudding bowl.
Using electric beaters, cream the butter, sugar and vanilla until pale and fluffy.
Beat in the eggs one at a time, then stir in the flour and milk in two additions, being careful not to over mix. Pour the batter into your prepared pudding bowl and double-wrap with aluminium foil.
Take a 50cm length of foil and fold it lengthways to form a 6cm wide strap. Place this under the pudding bowl to gently lower it onto the trivet.
Select BAKE and lock the lid in place; ensuring the exhaust valve is in the sealed position. The pudding will cook for approximately 40 minutes. When the cooking cycle is complete, leave it on KEEP WARM/CANCEL for 20 minutes to slowly release some of the pressure.
After 20 minutes, manually vent the remaining steam using the quick pressure release method. Remove the lid only when the red float indicator drops. Lift the pudding using the foil strap (always use oven mitts when doing this to avoid burning yourself).
Serve from the pudding bowl or carefully turn out onto a serving platter. Serve warm with cream or ice-cream.
BEEF LASAGNE
If your oven already has cakes and pies baking in there, why not create a classic Beef Lasagne, in a Russell Hobbs Slow Cooker? Just prepare the ingredients over the stove, then assemble the lasagne in the slow cooker bowl before you let it cook, helping free up your time for other tasks.
Preparation time: 30 minutes
Cooking time: 2.5 hours
Serves: 8
Ingredients:
2 tbsp olive oil
1 kg beef mince
2 Tbsp tomato paste
2 cloves garlic, crushed
½ cup red wine
1 cup beef stock
800g tinned plum tomatoes
2 sprigs of fresh rosemary
½ cup fresh basil or oregano leaves, chopped
Salt and pepper, to taste
10 lasagne sheets
Cheese sauce
2 tbsp butter
2 tbsp plain flour
500ml milk
1 cup grated cheddar cheese
1 cup grated parmesan cheese
Method:
Heat the oil in a frying pan and cook the meat in batches, until well browned. Add the tomato paste, garlic and red wine, stirring to deglaze the pan. When the wine has reduced by half, add the stock, tinned tomatoes and herbs. Simmer 15 minutes. Season with salt and pepper and remove from heat.
For the cheese sauce: melt the butter in a saucepan over medium heat. Add the flour and cook 1 minute, then whisk in the milk and half the cheddar cheese. Stir until thickened. Remove from heat.
To assemble the lasagne: add ½ cup meat sauce to the slow cooker bowl. Cover with one third lasagne sheets, then half the meat sauce, cheese sauce and parmesan. Add another layer of lasagne sheets, then remaining meat sauce, lasagne sheets and cheese sauce. Top with remaining cheddar and parmesan.
Cover with the lid and cook on high for 1.5 hours, or on low for 2.5 hours. Serve hot.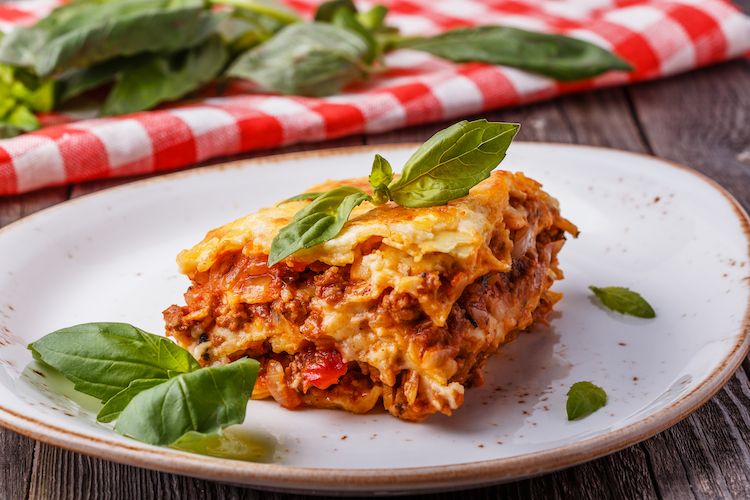 LEMON HERB STEAMED SALMON
If you need a break from meat, embrace seafood with this delicious Lemon Herb Steamed Salmon that can be whipped up in the Russell Hobbs Good to Go Digital Multi-Cooker. A simple dish that can be prepared in the same time it takes to watch an episode of a TV series.
Preparation Time: 5 minutes
Cooking Time: 6-9 minutes, depends on thickness of the filet
Total Time: 11-14 minutes
Serves: 4
Serving Size: One 110g filet
Ingredients:
4x 110g salmon filets
2 tsp. dried dill
2 tsp. onion powder
1 tsp. dried parsley
¼ tsp. smoked paprika
1 tsp. seasoned salt
1 tsp. lemon pepper
1 tsp. garlic powder
Lemon slices for garnish, optional
Method:
In the multi-cooker, place about 1.5cm of water on the bottom. Set the roasting rack inside to see if you have the right amount of liquid. You do not want the water to touch the rack. Leave the rack inside the unit once you have the right amount of liquid.
In a small bowl, combine the spices.
Set the filets on a work surface and sprinkle the spices over the filets.
Set the seasoned filets on the rack in the multi-cooker. Turn on the Steam function and put the lid on the multi-cooker.
Let steam until the internal temperature of the salmon reaches 63°C as indicated on a cooking thermometer, for about 6 minutes. If the filets are thin, then it will take less time. If the water starts to boil rapidly before the salmon is cooked, turn the lid to the side so some of the steam releases. After a minute or two you can put the lid back on.
Set on a plate and place a sliced lemon, if desired, on top of the filet. Serve with Orzo with spinach, tomato and zucchini for a complete meal.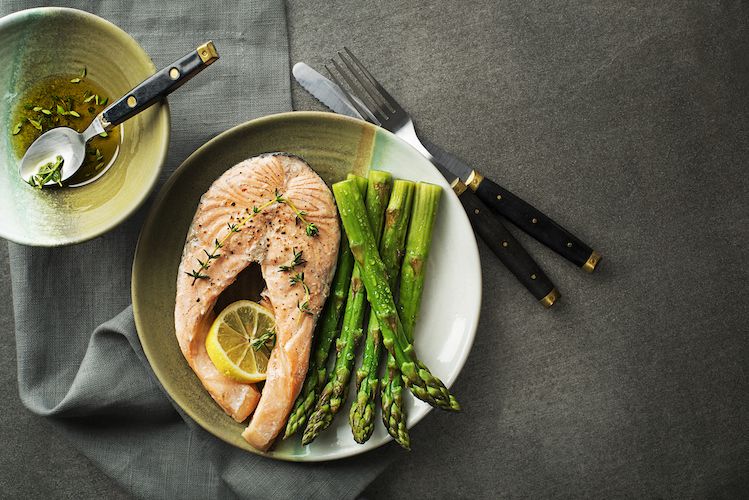 GREEK SPINACH FILO PIES
A great vegetarian snack, bake some Greek Spinach Filo Pies to curb the hunger before dinner. Bake them in the Russell Hobbs Compact Air Fry Toaster Oven for a simple treat that will satisfy.
Serves: 3
Preparation time: 15 minutes
Cooking time: 20 minutes
Equipment: 3 x 10cm individual pie tins
Ingredients:
250g frozen spinach, defrosted & strained
3 spring onions, white & green ends chopped
100g crumbled feta cheese
30g finely grated parmesan cheese
1 egg, lightly beaten
1 Tablespoon finely chopped fresh mint leaves
2 teaspoons finely chopped fresh dill
Freshly grated nutmeg, to taste
30g butter, melted
2 Tablespoons extra virgin olive oil
6 sheets good-quality Greek filo pastry
Method:
In a bowl combine the spinach, spring onion, cheeses, eggs, chopped herbs and nutmeg. Mix thoroughly, and set aside. Combine the butter and oil in a separate small bowl. Brush a little butter inside each pie tin.
Brush one filo sheet with butter mixture. Fold this sheet in half. Bush and fold again. Line the inside of one tin with this folded sheet. Repeat with another sheet, and lay this in the tin, diagonally across the first sheet. You should have pastry overhanging all sides of the tin. Repeat with the other 2 tins, using all the pastry.
Divide the filling evenly between each pie tin. Fold in the overhanging pastry to enclose the filling. Brush the pie tops with any remaining butter mixture.
Place the pies on the wire rack in the oven. Set the temperature knob to 180°C, and timer/ toast knob for 20 minutes. Close the oven door. Bake for 20 minutes, or until the pastry is flaky and golden. Serve warm or at room temperature, with a side salad.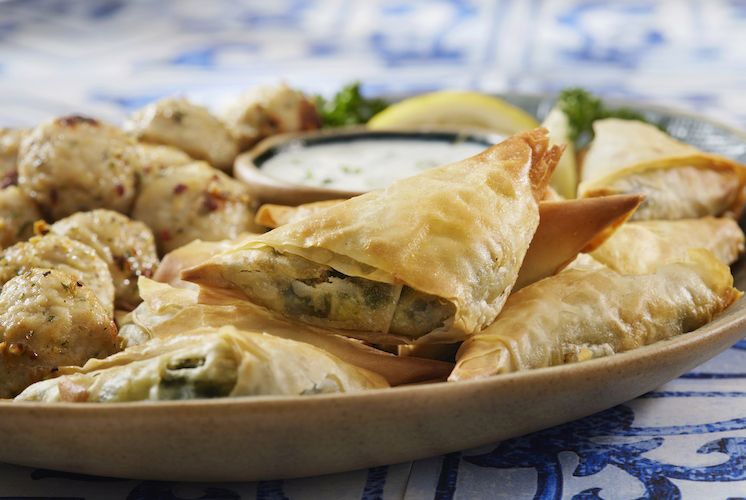 RICE COOKER TIPS
Finding that you need to cook and serve lots of rice this winter? Check out some of these helpful hints and tips from Russell Hobbs that you could apply when cooking rice and other dishes with their Turbo Rice Cooker.
Rice Tips
White rice can be stored in an airtight container in a cool dark place for up to one year.
Brown rice can be stored in an airtight container in a cool dark place for up to six months.
Try using broth, stock or reconstituted bouillon in place of water for additional flavour. If you do, no additional salt may be necessary.
Do not keep small amounts of rice in the warm cycle for extended periods of time because it can dry out the rice.
Taste/firmness will vary depending on the quality/type of rice used and length of time it is cooked. For softer, fluffier rice, add a little more water. For firmer rice, use less water.
Additional Uses for the Rice Cooker
The below tips are best used for packaged foods that are condensed and ready to serve, such as soups, pastas, and stews.
Do not fill bowl above the highest water marking cup level on the cooking bowl.
For even heating, stir occasionally.
Always use a kitchen timer. Do not rely on the control switch on the cooker since it is not intended to be an indicator of cooking time for soups and stews.
Use only boneless meats and poultry that are cut into cubes no larger than 1½ inches. It is not necessary to brown the meats before cooking.
When cooking rice or pasta in the soup, add additional liquid in the recipe.
Since most frozen vegetables cook very quickly, it is best to add them at the end of the cooking time. Stir them into the soup or stew and allow the mixture to cook an additional 5 to 10 minutes.
Choose recipes that will cook in 1 hour or less.
WIN A RUSSELL HOBBS MULTI-COOKER
You could win 1 of 5 Russell Hobbs 11-in-1 Digital Multicookers! The multicooker is a great kitchen helper to make life in the kitchen easy. Imagine all the dishes you could make when you have your hands on, including the scrumptious Steamed Golden Syrup Pudding. Simply click on the link below to see the competition instructions and details.