Salmon Poke Bowl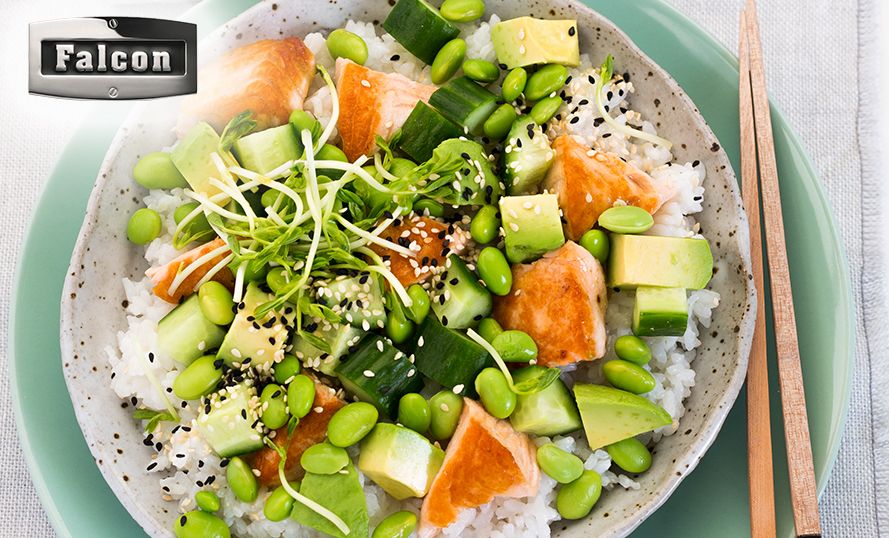 INGREDIENTS
2 cups sushi rice, rinsed
1 tbs vegetable oil
600g skinless salmon fillets
2 avocados, diced
1 cup edamame beans
1 cucumber, diced
½ cup pea shoots, to serve
1 tbs sesame seeds (black & white)
Dressing
1 tsp finely grated ginger
1 tsp sesame oil
2 tbs mirin
2 tbs light soy sauce
1 tbs lime juice
Serves 4-6
Prep 20 Min
Cook 20 Min
Easy
METHOD
Step 1.
Cook rice according to packet instructions. Cover and set aside.
Step 2.
Meanwhile, place edamame in a heat proof bowl and cover with boiling water. Stand for 1 minute then drain. Refresh under cold water and drain again.
Step 3.
Heat oil in a large frypan over medium-high heat. Season salmon with salt and pepper and cook for 2-3 minutes a side for medium, or until cooked to your liking. Transfer to a plate. Once cool enough to handle, flake salmon into chunks.
Step 4.
Make the dressing by combining all the ingredients in a small bowl and whisking to combine. Divide rice among 4 serving bowls. Top with salmon, avocado, edamame and cucumber. Garnish with pea shoots and sprinkle with sesame seeds. Serve drizzled with dressing.
Recipe by Falcon
View Falcon RANGE