Samsung's Next-Gen French Door Fridge is here!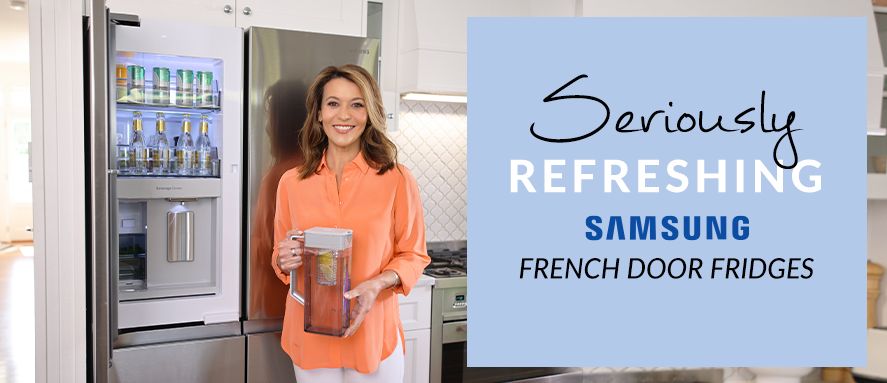 There has never been a better time to upgrade your fridge. Whether you're up-sizing or need to replace a failing old fridge, Samsung's new 648L French Door Fridge will please! A premium-designed fridge, enjoy spacious storage and more with Samsung's new Beverage Centre™. The Beverage Centre™ is an all-in-one unit that will satisfy your thirst. Check out the Beverage Centre™ and everything else to love about this fridge below.
Fit for families and entertainers
Growing families, home cooks and entertainers will love just how generously spacious this French Door Fridge is. With a total 648L capacity, it's so easy to find a spot for every item.
In the top refrigerator section, cool your food with the:
4x shelves
2x crisper drawers
6x door pockets
In the bottom freezer, freeze essentials and more with the:
5x shelves
6x door pockets
Drinks at the Ready
This French Door Fridge boasts a unique door-in-door Beverage Centre™ that's been designed to meet all your hydration needs. The centre features a plumbed water dispenser, an Autofill Water Jug with Infuser, and drinks storage shelf to house all your favourite drinks. The water jug automatically gets filled once you put it back into place, so now, you can enjoy a refreshing drink, every time!
Tip: Use the infuser to experiment and mix up your water. Add in fruit and vegetable varieties like slices of lemon, slices of cucumber, or slices of lemon with strawberries.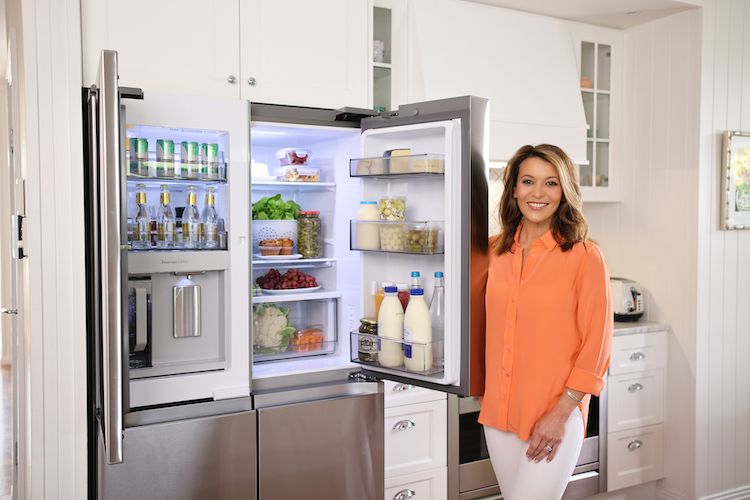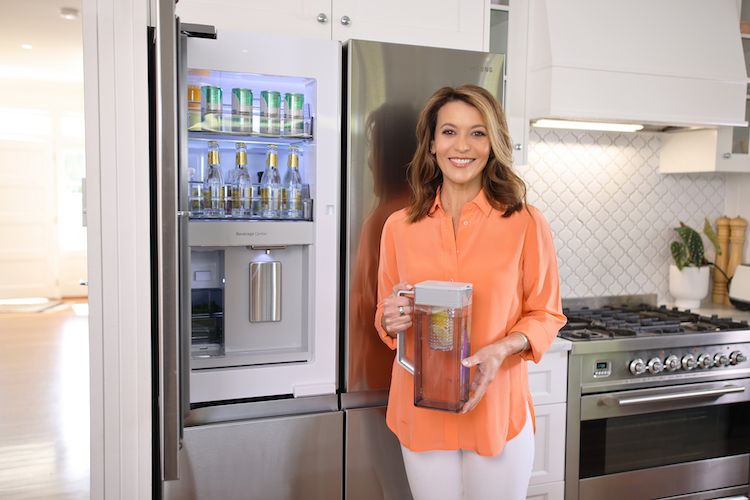 Aside from the water dispenser and autofill jug, ensure the drinks shelves are stocked with bottles and cans of your favourite drinks so you and the family can just grab and go.
Tip: Have a replacement water filter at home so you can instantly replace and continue to enjoy clean drinking water when the old filter needs to be changed.
Ice Ice Baby
In the bottom freezer, there is a plumbed dual ice maker to help you cool any drink. The ice makers can produce up to 2.6kg of ice daily with two types of ice: Cubed Ice and Ice Bites™.
Cubed Ice: great for cooling everyday drinks or large jugs of drinks.
Ice Bites™: smaller in size, ideal for decorating cocktails, smoothies or for using in kids' drinks.
The ice maker can store up to 3.1kg1 of ice at a time so you'll never run out of ice to cool drinks, even in the middle of the summer.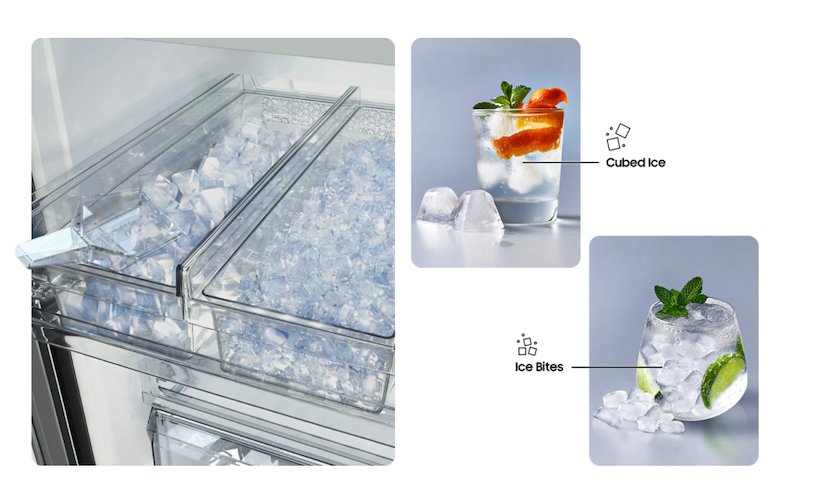 Reliable & Customisable Storage
From cooling essentials to preparing for entertaining, this Samsung French Door Fridge won't disappoint. Store serving platters on the top shelf while the centre shelf can be folded back to easily accommodate for taller items like jugs of water or bottles of wine. When you don't need space for these items, you can just extend the shelf back out and use it like normal. The right door's large bottle door bin effortlessly caters to big bottles of 2L and 3L so that you can keep the shelves free for cooling food.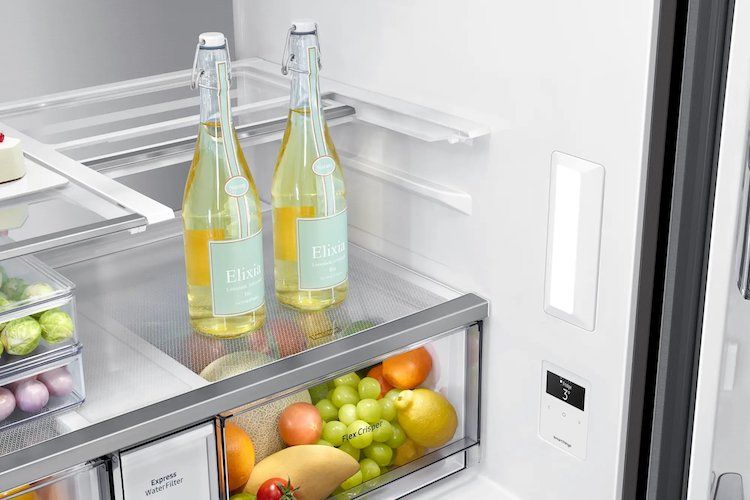 Power at your Fingertips
An LED control panel in the fridge means adjusting cooling is simply with a touch of a button. Need more cooling power? Activate the Power Cool function in the fridge to quickly cool new items and if you need a blast of cold air in the freezer, just turn on the Power Freeze function.
Premium Design
This French Door Fridge's premium flat doors and recessed handles will perfectly complement any modern kitchen design. It's the obvious choice if you're looking to upgrade your fridge or are renovating and need a fridge that will delight with its storage space and beautiful design. Finished with an anti-fingerprint surface, it's easier to keep the fridge's exterior cleaner for longer.
Enjoy convenience from the fridge like never before with this Samsung 648L French Door Fridge. Keep the whole family hydrated, impress guests when you entertain and be delighted with the fact that there's a spot for all your groceries and drinks with the dedicated Beverage Centre™.  To find out more about this impressive, revolutionary French Door Fridge, simply click on the links below.
DISCLAIMERS:
1Stores 1.4kg of Cubed Ice and 1.7kg of Ice Bites™.