Sinks & Taps Buying Guide
Add the finishing touches to your kitchen with sinks and taps. Sinks and taps will be a saviour during meal preparation and cleaning up. Whether you enjoy having space, have a big family or entertain quite often, sinks and taps add personality to your kitchen, and you'll find many features to suit your needs and lifestyle.
Show-stopping Sinks
When shopping for a sink, select materials that suit your needs. Stainless Steel sinks are popular and easy to maintain, while copper sinks have a beautiful finish with natural antimicrobial properties and ceramic and porcelain sinks exude a classic look with easy to clean surfaces.
Stone sinks are perfect for heavy duty work and are heat resistant. If you're looking for a contemporary design, composite sinks, created from a mix of granite stone and acrylic resins will be perfect for your kitchen.
Large single bowl sinks are great for big clean-ups or perhaps you prefer double bowl sinks or a sink with a drainer. Keep an eye out for included accessories as these might help transform your sink into a food preparation zone.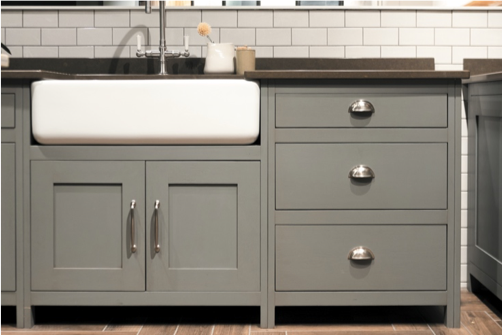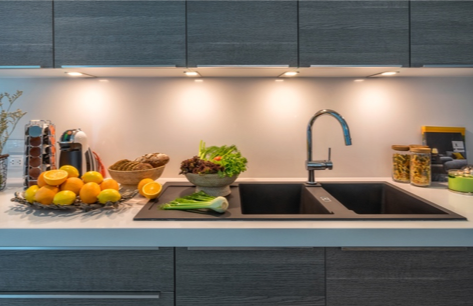 Left:
A stone sink in a 'farmhouse' style kitchen design.
Right:
A double bowl stone sink with drainer that can be used for food preparation.
Tantalising Taps
Taps do more than just provide water, many taps now offer pull-out nozzles and touch lights for your convenience. Pull-out nozzles and spray taps are great for when you need to wash around larger pots and pans while touch lights offer that extra illumination for a thorough clean.
Many taps now come in a variety of shapes to suit your space and needs, from traditional sink mixers to J shaped or even opt for the more modern and chic L or U-shaped mixer taps.
Create convenience in your home with taps that offer instant chilled, sparkling and boiling water. Instant boiling water is great for use in washing up, making tea or coffee, warming baby bottles and more. With many stylish designs available, you'll be spoilt for choice. Reduce your environmental footprint by choosing taps with high water ratings (WELS) and low usage per minute.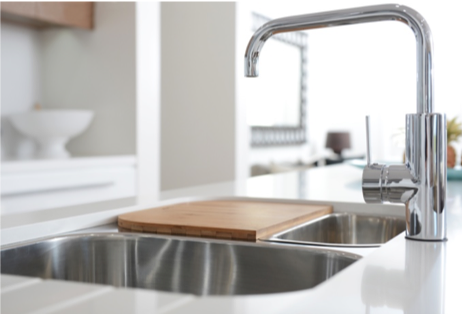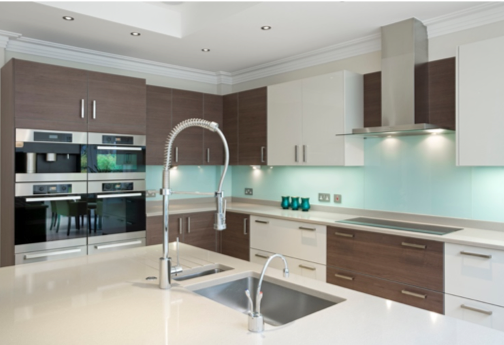 Left:
A U-shaped tap over a double bowl Stainless Steel sink.
Right:
A pull-out nozzle tap easily cleans larger items and a filtered water tap offers instant fresh drinking water.
View Sinks & Taps Range