Steamed Baby Barramundi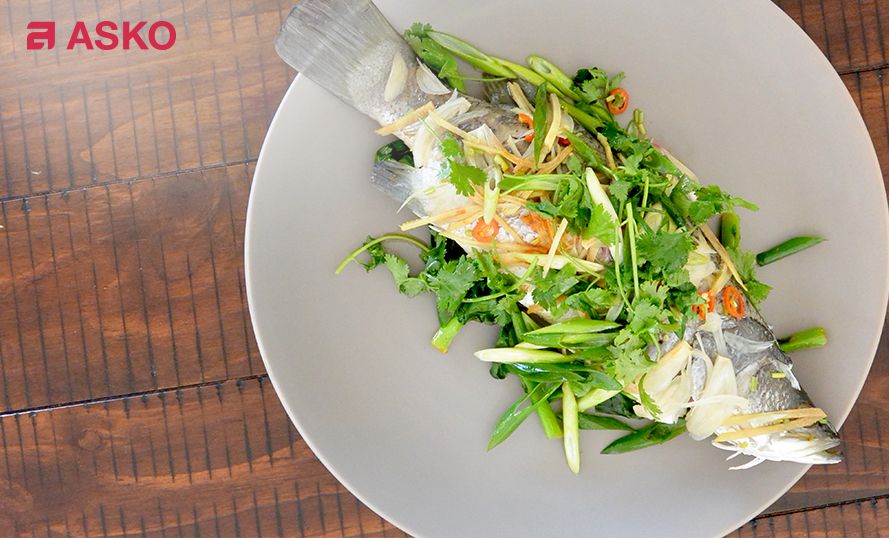 INGREDIENTS
1 x 500-660gm baby barramundi (scaled and gutted)
1 bunch gai lan (Chinese broccoli)
2 peeled shallots
½ long red chilli
6 coriander sprigs and stems
2 limes
Garlic infused extra virgin olive oil,
Garnish
3cm piece peeled ginger
½ long red chilli
6 coriander sprigs and stems
2 limes
Garlic infused extra virgin olive oil
Linghams chilli sauce
2 spring onions
Salt flakes
Equipment

Chef's knife
Large perforated baking tray
Baking paper
Mixing bowls
METHOD
Step 1.
Cut the ginger into thin matchstick size pieces (Julienne) and set aside. Finely slice the shallots, garlic, chilli and coriander stems and set aside.
Step 2.
Open the cavity of the fish and sprinkle in a little of the ginger, chilli, shallot and coriander steam. Line a perforated baking tray with a sheet of baking paper.
Step 3.
Score the flanks of the fish on both sides. Scatter some ginger, shallot, chilli and coriander on the baking paper and drizzle with a little garlic infused extra virgin olive oil.
Step 4.
Place the fish on top of the aromatics and cover the top of the fish with the remaining aromatics and a drizzle of the garlic oil. Cover the fish with another sheet of baking paper and place into a pre-heated oven. Select low temperature steam 80˚C for 35 minutes.
Step 5.
While the fish cooks finely slice some spring onion and mix it with picked coriander and set aside. Cut the joining steam away from the gai lan and place the leaves onto another perforated tray and set aside. 6 minutes before the fish has finished cooking place the gai lan into the oven and increase the temperature to 100˚C.
Step 6.
Once cooked remove the gai lan and place it into a mixing bowl and dress it with the chilli sauce and garlic oil. Place the gai lan onto a large serving platter and place the fish on top of the gai lan.
Step 7.
Dress the reserved herbs with a little garlic oil and a squeeze of limejuice; garnish the top of the barramundi with the dressed herbs and serve.
HINTS & TIPS
Steaming fish between 60˚C and 80˚C ensures the flesh does not get tough and remains moist
Baby barramundi is readily available all year and is a perfect addition to any Asian style banquet.
Always cook fish by starting at room temperature this ensures even cooking and that the flesh does not go into shock and toughen from the rapid change in temperature.
Recipe by ASKO
View Oven Range