Sticky Chicken Drumsticks With Asian Slaw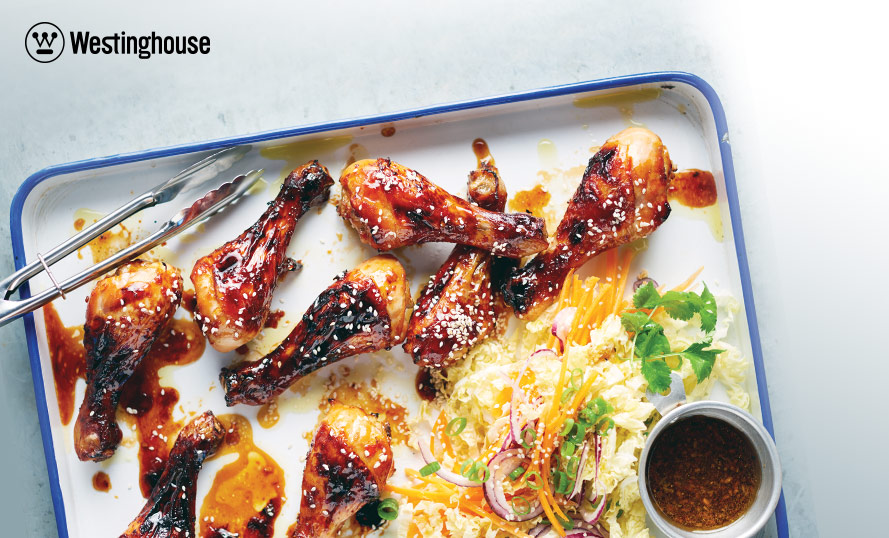 INGREDIENTS
Drumsticks
8 chicken drumsticks
¼ cup soy sauce
¼ cup sweet chilli sauce
2 cloves of garlic
¼ tsp mustard powder
1 tbsp honey
1 pinch salt and pepper
Asian Slaw
½ wombok (Chinese cabbage)
1 carrot
2 tbsp sesame seeds
½ purple onion
4 sprigs of coriander
1 tbsp sesame oil
1 tbsp olive oil
3 tsp soy sauce
1 clove of garlic
1 shallot
1 pinch salt and pepper
Serves 4
METHOD
Chicken drumsticks
Step 1.
Preheat oven to 180°C.
Step 2.
Finely chop garlic and place into a large bowl. Add soy sauce, sweet chilli sauce, honey, mustard powder, salt and pepper into the bowl with the garlic. Stir to combine.
Step 3.
Add chicken drumsticks to bowl and rub mixture into each drumstick.
Step 4.
Cover and refrigerate for 30 minutes.
Step 5.
Line a baking tray with baking paper, place chicken drumsticks onto tray, bake for 30 minutes.
Step 6.
Turn chicken drumsticks and bake for a further 15-20 minutes or until cooked.
Asian slaw
Step 1.
Wash wombok and carrot.
Step 2.
Grate carrot, finely shred wombok and thinly slice the onion. Remove coriander sprigs from stem. Toss together in a large bowl.
Step 3.
Finely chop shallot and garlic clove. In a small jug, mix shallot, sesame oil, olive oil, soy sauce and sprinkle with salt and pepper.
Step 4.
Drizzle over salad 5 minutes before serving.
Step 5.
Sprinkle with sesame seeds to serve.
Kids in the kitchen can:
• Measure the ingredients
• Make and stir the marinade
• Rub the marinade into the chicken drumsticks
• Grate the carrot
• Remove coriander sprigs from the stalks
• Make the dressing
• Older children (10+) can also help chop the shallots and garlic
Recipe by Westinghouse
View Oven RANGE