Sweet Potato, Green Pea and Halloumi Fritter with Za'ator Yoghurt Sauce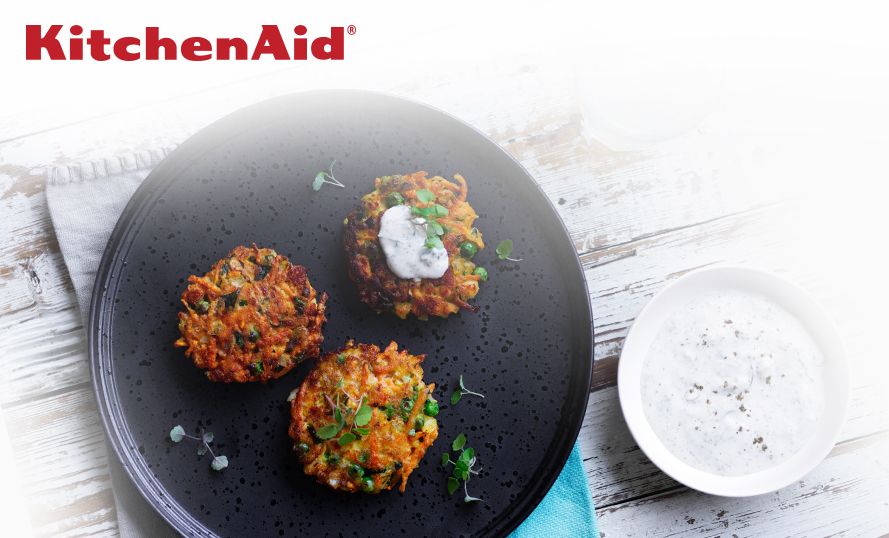 Sweet & (P)easy! Combining all the right veges to make a whole lotta goodness in one fritter!
INGREDIENTS
1 onion, halved
450g sweet potato, peeled and cut to fit feed tube
150g halloumi 1 cup
(130g) frozen green peas, just thawed
2 teaspoons ground cumin
1 teaspoon salt
4 green onions ½ cup
(25g) chopped parsley
3 eggs, beaten
½ cup (75g) plain flour
1 teaspoon baking powder
Freshly ground black pepper
Oil for pan frying
ZA'ATAR AND YOGHURT SAUCE
3 teaspoons za'atar, plus extra for serving
1 small garlic clove, minced
1 cup (280g) Greek yoghurt
2 tablespoons lemon juice
2 tablespoons finely chopped fresh mint
Salt to taste
Makes 6 Servings
Preparation: 15 minutes
Cooking time: 20 minutes
METHOD
Step 1.
Attach the Food Processor Attachment to your KitchenAid® Stand Mixer, and insert the Adjustable Slicing Disc as directed. Adjust the external lever on the side of the processor bowl to the thinest setting (5th notch). Position a large bowl under the food attachment to catch the ingredients.
Step 2.
Turn stand mixer to speed 4 and add the onion through the large feed tube. Change to the Medium Grating Disc and leave the bowl in position.
Step 3.
Grate the sweet potato, 1 piece at a time, into the feed tube on speed 4. Repeat with halloumi and set aside. Add peas, cumin, salt, green onions, parsley and eggs and mix well.
Step 4.
Fold through flour, baking powder and pepper and set aside.
Step 5.
Heat oil in a large frying pan over medium high heat. Using a ¼ cup measure as a guide, spoon sweet potato mixture into heated oil. Cooking 4 at a time, cook for 5 minutes, turn over and cook a further 2 minutes or until fritters are golden and crisp. Drain on paper towel and repeat with remaining mixture.
Step 6.
To make the Za'atar yoghurt sauce, mix all ingredients together and season to taste with salt.
Step 7.
Serve fritters topped with yoghurt sauce and an extra sprinkle of za'atar.
Recipe by KitchenAid
View kitchenaid RANGE