Tacos Two Ways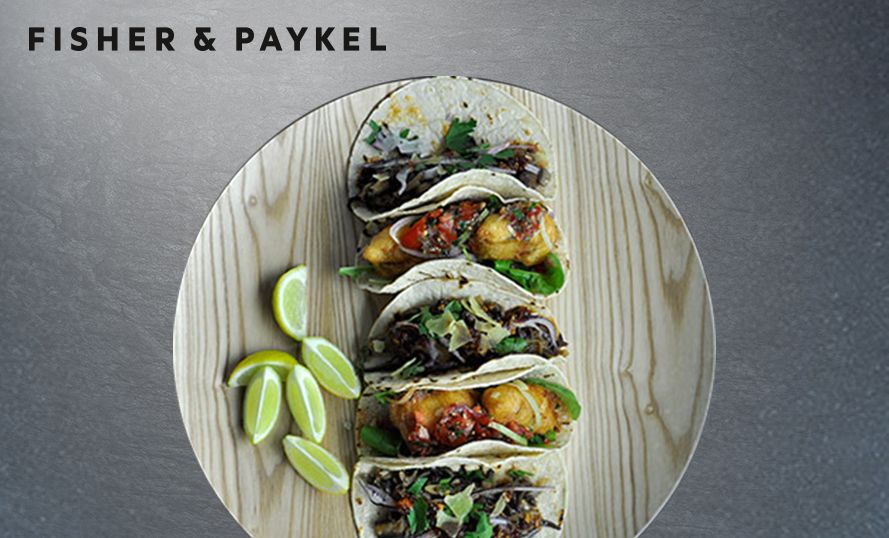 Is there anything better than having tacos one way?…how about having tacos TWO WAYS!
INGREDIENTS
Mushroom Filling
1 tbsp butter
1 tbsp olive oil
350g mixed mushrooms, sliced
1 red onion, finely sliced
2 cloves garlic, crushed
½ tsp chili flakes
½ tsp smoked paprika
A generous handful each of fresh thyme, oregano and parsley, roughly chopped
Salt and pepper
Fish Filling
1/4 cup plain flour
¾ cup cornmeal
2 tbsp vegetable oil
¾ teaspoons baking powder
1/2 tsp sugar
1/4 tsp baking soda
1/8 tsp cayenne
1/8 tsp powdered mustard
½ tsp flaky salt
1 large egg
1 cup buttermilk (well shaken)
Oil for deep frying
400g firm fish cut into 3cm chunks (we used Gurnard and a few whole scallops!)
½ cup plain flour
Chipotle Sauce
3 cloves garlic, crushed
1 x 100g tin chipotles in adobo sauce
3 tbsp brown sugar
Juice and zest 2 limes
1 tsp salt, adjust to taste
To Serve
Flour or corn tortillas
Shaved pecorino cheese
Tomato salsa
Salad greens
Each Filling for 8-10 Small Tacos
METHOD
Mushroom Filling
Step 1.
Melt butter and oil in a pan over a high heat.
Step 2.
Add mushrooms and cook for 10 minutes, stirring frequently.
Step 3.
Add onion, garlic, chili flakes, and smoked paprika and continue to cook for a few minutes until soft.
Step 4.
Finish with freshly chopped herbs and season with salt and pepper.
Fish Filling
Step 1.
In a medium sized pot, heat oil to 180°C (the oil should be at least 6cm deep)
Step 2.
Meanwhile, whisk together cornmeal, remaining flour, first measure of oil, baking powder, sugar, baking soda, cayenne, mustard and salt in a medium bowl.
Step 3.
Add eggs and buttermilk and whisk to a smooth batter.
Step 4.
Lightly coat the fish in flour then dip in the batter then carefully place into the hot oil.
Step 5.
Working in batches (you can cook two or three at a time) fry, turning occasionally, until batter is cooked through and golden-brown all over.
Chipotle Sauce
Step 1.
Mash garlic, chipotles and brown sugar together in a pestle and mortar.
Step 2.
Add lime zest, juice and salt.
Step 3.
Taste and adjust levels of salt, sugar and lime juice to achieve a sweet, spicy, salty and fresh tasting sauce.
Assembly
Step 1.
Lay out warmed tortillas
Step 2.
Scantly fill half of the tortillas with fish, the other half with the mushroom mixture.
Step 3.
Top with salad greens, salsa, shaved pecorino present on a platter garnished with wedges of lime and a side of chipotle sauce.
Recipe by Fisher & Paykel
View cooktop RANGE