The Sweet Taste of Dry July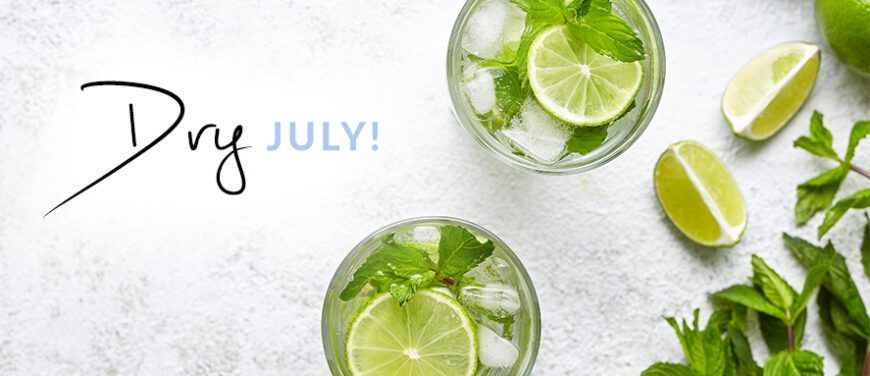 Are you going dry this July? Whether it's a personal challenge or you're raising money and awareness for cancer research, we'll help you go alcohol-free this July.
Going for two weeks or even a whole month without alcohol may be difficult. However, behind every challenge is a worthwhile cause. As you turn away the drinks and get sponsorship and raise money, know that every dollar you raise is going towards the services and support that organisations like the Cancer Council greatly rely on.
From the support hotline to funding research, transport to treatment or providing free services to patients, every amount you raise this Dry July will help Australians affected by cancer. The hardest part about Dry July is saying 'no' to the drinks, so we're here to help you get through with some alcohol-free drink recipes.
Get Juicy
Create healthy and delicious juices that your body will thank you for. Use a professional juicer like Sunbeam's Double Sieve Juicer Pro to extract all the nutrients and vitamins from your favourite fruits and vegetables. Quench your thirst today with some of our favourite juice recipes using the Double Sieve Juicer Pro:
Tropical Slurp
Makes approximately: 5 cups
Ingredients:
• 3 oranges, peeled
• 1 mango, skin and stone removed
• 1 pineapple, skin removed
Method:
Process all fruit and vegetables, in the order listed, through the juicer. Add any vanilla extract to the finished juice, stir and serve immediately
Mojito Juice
Makes approximately: 4 cups
Ingredients
• 1 apple
• 1 cucumber
• 1 lime, peeled
• ½ cup fresh basil
• ½ bunch fresh mint
Method:
Process all fruit and vegetables, in the order listed, through the juicer. Add any vanilla extract to the finished juice, stir and serve immediately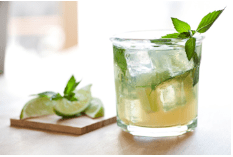 ---
Add some Sparkle
Enjoy the fizzy kick minus the headache the morning after with these non-alcoholic sparkling drinks. Simply create your own sparkling water at home with the easy-to-use Sparkling Water Maker from Aarke and you're halfway there.
Classic Lemonade
Serves: 1
Ingredients
• 20ml sugar (or other sweetener such as agave syrup or cane sugar)
• 20ml water
• 20ml fresh lemon juice
• Zest from 1/2 lemon
Method:
1. Put the water and the sugar into a pan and heat the mixture while stirring until the sugar is completely dissolved.
2. Let the syrup cool a bit before pouring it into a suitable glass container with a lid.
3. Add the lemon juice and the zest.
4. Mix 1 part syrup with about 3 parts of cool, carbonated water. First, add the flavouring substance into a glass or pitcher, then gently add the carbonated water. Serve with lots of ice and a lemon slice. The lemonade syrup can be stored in the fridge for a couple of weeks.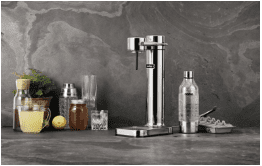 Recipe by Aarke
Sparkling Blood Orange Rosemary Water
Serves: 4
Ingredients
• 2 tablespoons honey
• 3 tablespoons water
• 4 small sprigs rosemary, divided
• 3 large blood oranges (enough for 1 cup juice)
• 750 mL sparkling water
Method:
1. Heat 2 tablespoons honey, 3 tablespoons water and 3 sprigs rosemary over low heat for about 1 minute until fully combined. Allow to cool on the stove, and then discard the rosemary.
2. Juice 3 blood oranges. In a pitcher, combine the honey mixture, orange juice, and sparkling water. Garnish with the remaining rosemary sprig and serve.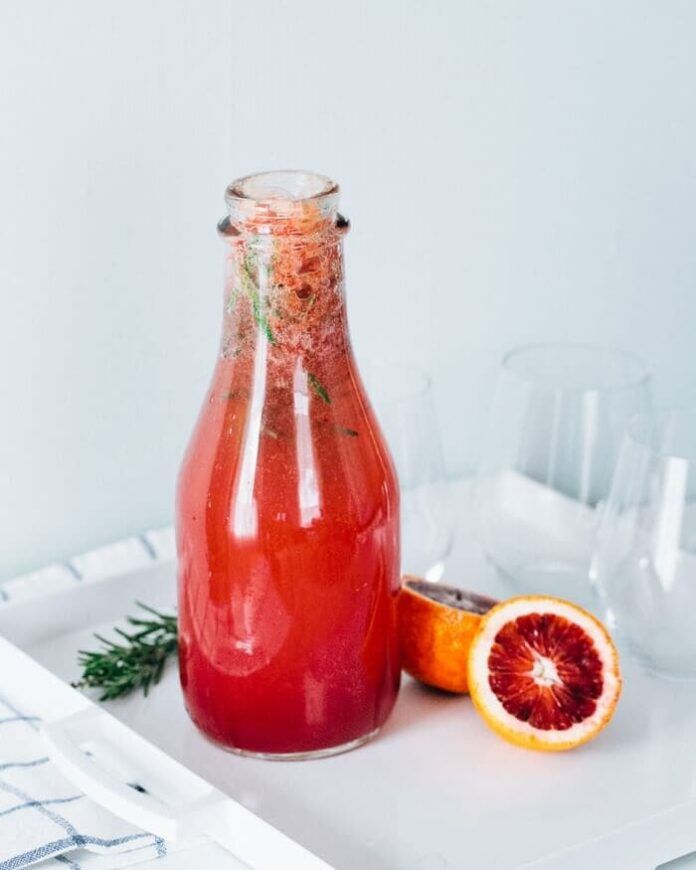 ---
Creative Mocktails
Say goodbye to alcoholic drinks with a tasty dose of refreshing mocktails. Packed with all the flavours and good times, these mocktail recipes will be good for you and your Dry July progress.
Watermelon, Strawberry & Lime Mocktail
Serves: 2
Ingredients
• 2 cups watermelon
• 8 strawberries
• 1/2 cup lime juice
Method:
1. Place all ingredients in a high-speed blender and blend until combined.
2. Pour into an ice filled glass and garnish.
Tip: Add some mint for extra kick!
Christmas in July
Serves: 1
Ingredients
• 30ml spiced cherry juice
• 30ml cloudy apple juice
• 30ml orange juice
• 5 dashes of Australian Bitters
• Garnished skewered orange peel and cherry
Method:
1. If you would like your mocktail to be cold, ice the glass and rim it with orange peel. Add all ingredients together over ice and hard shake then double strain in a balloon glass. Serve with orange peel and cherry.
2. If you would like your mocktail to be hot, place all ingredients in a sauce pan or double boiler, heat and serve in a suitable glass. Garnish with cinnamon and orange peel.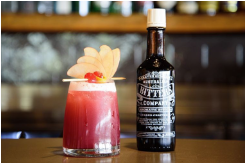 Whatever your motivation this Dry July, we're here to support your journey and know these recipes will make the challenge even sweeter. Best of luck!
CLICK HERE TO VIEW BLENDERS & JUICERS
FIND OUT MORE ABOUT DRY JULY