The Ultimate Christmas Feast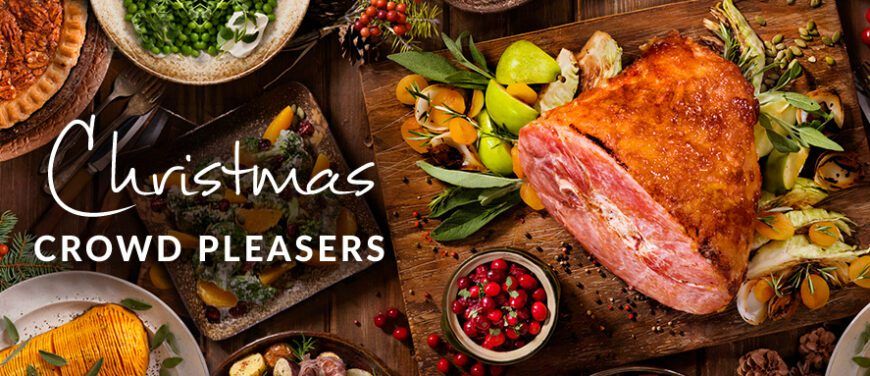 Confirm your guestlist and create a feast that will help ring out the end of an extraordinary year. Whether you're stuck on ideas or need something that will please the crowd, our hand-picked Australian-inspired Christmas recipes will make entertaining easier!
The Main Event

Eat and be merry with a centrepiece that will wow everyone. Channel your inner chef and create a wonderful leg of lamb or add a cool change to the table with a roasted ocean trout.
Spice-Rubbed Roast Leg of Lamb
Serves: 8
Prep Time: 15 minutes
Cook Time: 1 hour 20 minutes
Ingredients
2-2.5kg lamb leg (bone in)
1 tsp freshly ground black pepper
3 tsp sweet paprika
3 tsp fennel seeds
2 tsp ground cumin
2 tsp ground coriander
2 tsp dried chilli flakes
5cm piece (25g) ginger, finely grated
4 garlic cloves, crushed
Finely grated zest of 1 lemon
2/3 cup (160ml) olive oil
400g orange cherry tomatoes on the vine (substitute red cherry tomatoes)
Method
Place lamb on an ovenproof rack over a large roasting pan lined with baking paper. Using the tip of a sharp knife, make several 8cm-long scores in the lamb. Combine spices, ginger, garlic, lemon zest, oil and 2 tsp salt flakes in a bowl. Rub spice mix into lamb, then chill overnight or for at least 4 hours to marinate.
One hour before roasting, remove lamb from fridge to come to room temperature. Preheat oven to 200°C.
Roast lamb for 30 minutes, then reduce oven to 170°C and roast for a further 35 minutes for medium-rare. Add tomatoes to pan for the last 20 minutes of lamb cooking time, drizzling with some of the cooking juices. Once lamb is cooked, remove from oven, cover with baking paper and foil, and set aside for 20-30 minutes to rest
Carve the rested lamb into slices and serve with roasted tomatoes.
Roast Ocean Trout with Cucumber & Preserved Lemon Salad
Serves: 6
Prep Time: 20 minutes
Cook Time: 30 minutes
Ingredients
1 side ocean trout (about 1.2kg), skin on, pin-boned
Olive oil, for brushing
Labne (about 1½ cups), nasturtium flowers and lemon wedges, to serve
Cucumber and preserved lemon salad
4 baby Lebanese cucumbers, thinly sliced
2 Lebanese cucumbers, thinly sliced
½ fennel bub, thinly sliced, fronds reserved
2 cups (loosely packed) mixed herbs such as dill, chervil and chive batons
80g (¼ cup) roasted almonds, coarsely chopped
Rind of ½ preserved lemon, finely chopped
2 tbsp extra-virgin olive oil
2 tsp honey
Juice of 1 lemon
Large pinch of sumac
Method
Preheat oven to 130°C. Place trout, skin-side down on an oven tray lined with baking paper, brush with oil and season to taste. Roast until almost cooked through (20-25 minutes). Cover and set aside, or cool and refrigerate.
For salad, combine mixed cucumbers, fennel, reserved fronds, herbs and almonds in a large bowl. Whisk remaining ingredients in a separate bowl to combine and season to taste.
Gently slide skin from trout and discard (optional), then place trout on a platter. Top with spoonfuls of labne, then salad. Spoon over dressing, scatter with flowers and serve with lemon wedges.
Recipe by Lisa Featherby (Gourmet Traveller).
---
Delightful Sides

Think well-roasted potatoes and a touch of vegetables and greens to balance out your meal. Pair your main with some Crispy Potatoes with Bacon & Rosemary and bring it altogether with a light Pea, Mint & Spinach Salad.
Crispy Potatoes with Bacon & Rosemary
Serves: 6
Prep Time: 10 minutes
Cook Time: 50 minutes
Ingredients
1kg Nicola potatoes, peeled, cut into 3-4cm pieces
2 rosemary sprigs, leaves picked
1/3 cup (80ml) olive oil
3 rashers bacon, finely chopped
2 onions, finely chopped
2 garlic cloves, finely chopped
2 tbs finely chopped flat-leaf parsley
Method
Preheat the oven to 220°C. Line a large roasting pan with foil and baking paper.
Place potato in the pan with rosemary and 1/4 cup (60ml) oil, then season and toss well to combine. Loosely cover with foil and roast for 20 minutes. Remove foil and roast, turning once, for a further 20 minutes or until golden brown.
Meanwhile, heat remaining 1 tbs oil in a frypan over medium heat. Cook bacon, stirring, for 6-8 minutes until it starts to colour. Remove with a slotted spoon to a plate, then add onion and garlic to the pan and cook, stirring, for 8-10 minutes until soft and lightly golden. Remove from heat, add bacon to onion mixture and season.
Stir bacon mixture through potato, then return to the oven for 10 minutes or until onion is sizzling. Sprinkle potatoes with parsley, toss to combine and serve.
Recipe by Belinda Jeffery (Delicious).

Pea, Mint & Spinach Salad
Serves: 8
Prep Time: 10 minutes
Cook Time: 5 minutes
Ingredients
400g frozen peas
200g each sugar snap peas & snow peas
150g baby spinach leaves
1 bunch mint, leaves picked
1 red onion, thinly sliced
Dressing
1 tablespoon olive oil
1 tablespoon dijon mustard
100ml extra virgin olive oil
2 tablespoons red wine vinegar
1 garlic clove, finely chopped
1 teaspoon caster sugar
Method
Cook all the peas in boiling salted water for 2-3 minutes until tender. Refresh in cold water and drain.
Whisk dressing ingredients together in a bowl, then toss with peas, spinach, mint and onion when ready to serve.
---
Say Cheers!

Raise a glass to great food and even greater company. From refreshing ice teas to mocktails and adults-only cocktails, easily whip up these cool drinks to help wash down your delicious feast.
Grapefruit Julep Mocktail
Serves: 1
Prep Time: 2 minutes
Cook Time: 30 seconds
Ingredients
1 tbsp simple syrup
1 tbsp honey
20mL lemon juice
Ginger ale, to top
Grapefruit juice, to top
Ice
Method
Add simple syrup, honey, and lemon juice to a stemless wine glass, and stir.
Add ice to the glass.
Top with equal parts ginger ale and grapefruit juice.
Garnish with fresh mint.
Repeat for the number of servings you require.
Mocktail Recipe by Dan Murphy's.
Pimm's Punch
Serves: 4
Prep Time: 5 minutes
Ingredients
8 thin slices Lebanese cucumber
1/2 orange, thinly sliced
1 lemon, halved lengthways, thinly sliced
4 strawberries, hulled, washed, quartered
4 small sprigs fresh mint
Ice cubes, to serve
125ml (1/2 cup) Pimm's No. 1 Cup
500ml (2 cups) lemonade, chilled
Method
1. Place the cucumber, orange, lemon, strawberry and mint in a large jug. Add the ice and pour over the Pimm's and lemonade. Serve immediately.
Recipe by Sarah Hobbs (Taste).
Lemon and Raspberry Iced Tea
Serves: 8
Prep Time: 15 minutes
Cook Time + Chilling Time: 2 hours
Ingredients
300gm white sugar
200gm frozen raspberries
2tsp loose leaf black tea
4 lemons, juice only
To serve: ice, mint leaves, lemon slices and soda water
Method
Combine sugar and raspberries in a heatproof bowl, stir to combine, and cover with foil. Place over a saucepan of simmering water and cook until syrupy (2 hours). Strain through a fine sieve into a large jug (discard solids) and set aside.
Meanwhile, combine tea and 1 litre boiling water in a separate heatproof jug and cool. Strain through a fine sieve into raspberry mixture, add lemon juice and refrigerate in bottles until chilled.
To serve, fill glasses with ice, add lemon and raspberry tea to taste, top up with soda water, add mint and lemon slices and serve.
Recipe by Lisa Featherby (Gourmet Traveller).

---
Life's Sweet with Dessert

There's always space for dessert! End a gorgeous spread of food with some sweet treats that will be great shared at the table. Any leftovers can be taken home by guests for consumption the day after.
Sugar-Free Christmas Berry Cheesecake
Serves: 8
Prep Time: 15 minutes
Cook Time: 35 minutes
Ingredients
Cake Filling:
750g cream cheese, at room temperature
2 tbs yoghurt or sour cream
1/4 cup (60ml) coconut cream
1/2 cup (175g) rice malt syrup
1 egg
1 tsp vanilla powder
1 cup frozen raspberries/li>
Extra raspberries and mint leaves, to decorate
Cake Base:
1 cup (150g) shelled pistachios or hazelnuts
1 cup (70g) shredded or 1 cup (90g) desiccated coconut
1 cup (100g) almond meal, or other nut meal
120g unsalted butter, softened
Method
Preheat the oven to 160°C. Line the base and sides of a 23cm springform pan with baking paper.
For the cheesecake base, whiz the nuts in a food processor until semi-fine. Add the coconut, almond meal and butter and rub with your fingertips to make a dough. (The more you rub, the more you'll release the oils in the nuts and achieve the right doughy consistency.) Add more butter if required. Press into the pan, covering the base and sides to an even thickness (about 5 mm). Bake for 5–8 minutes until starting to turn golden. Remove from the oven and allow to cool completely in the pan.
Meanwhile, place raspberries in a blender and slowly drizzle in enough water to make a puree. Transfer to a small saucepan and stir over medium heat until raspberries thicken to a syrup like consistency. Allow to cool.
Combine the cream cheese, yoghurt, coconut cream, syrup, egg and vanilla powder in a large bowl using a wooden spoon. Don't over-mix, and try to keep the aeration to a minimum while stirring (too much air will make the filling puff up and then collapse during cooking).
Spoon half the mixture into the cold base and smooth surface. Dot teaspoons of raspberry sauce over cheesecake surface. Using a skewer, swirl raspberry over cheesecake surface. Pour remaining cream cheese mixture over and smooth surface. Return to the oven for 20–30 minutes until the mixture pulls away from the base a little and the centre is custard-like (don't overcook).
Place in the fridge for at least 2 hours to firm before serving. Decorate with extra raspberries and mint leaves. Be sure to allow the cheesecake to cool for several hours before serving; otherwise, it can taste too eggy.
Recipe by Delicious

Passionfruit Semifreddo
Serves: 10
Prep Time: 20 minutes
Cook Time: 10 minutes
Note:This recipe doesn't require an ice-cream machine. It's best eaten quickly after turning out. You'll need to begin this recipe a day ahead.
To extract passionfruit juice, process pulp in a food processor, then strain through a sieve (discard solids). Eighteen passionfruit yield about 250ml juice.
Ingredients
8 egg yolks
250g caster sugar
250ml (1 cup) passionfruit juice (see note)
Scraped seeds of 1 vanilla bean
Juice of 1 lime
300g double cream
150ml pouring cream, lightly whipped
Pulp of 2 passionfruit, plus extra to serve
Method
Whisk egg yolks in an electric mixer until pale and fluffy (5-7 minutes). Meanwhile, stir sugar, passionfruit juice and vanilla seeds in a small saucepan over medium-high heat until sugar dissolves, then simmer until syrupy (4-5 minutes) and add to egg yolks with lime juice, whisking continuously until mixture is cold (5-6 minutes).
Combine creams in a bowl, whisk until soft peaks form. Fold into passionfruit mixture, fold in pulp, spoon into an 8cm x 22cm plastic-lined rectangular cake tin, smoothing top (there may be mixture left over), freeze overnight until firm. Slice thickly and serve with extra pulp spooned over.
Recipe by Emma Knowles (Gourmet Traveller).
Who said Christmas entertaining is hard? With a little bit of preparation, step-by-step instructions and some delicious results, you'll soon be able to share a great feast with loved ones. From our family to yours, we hope you have a happy, safe and memorable holiday period!