The Ultimate gaming experience with LG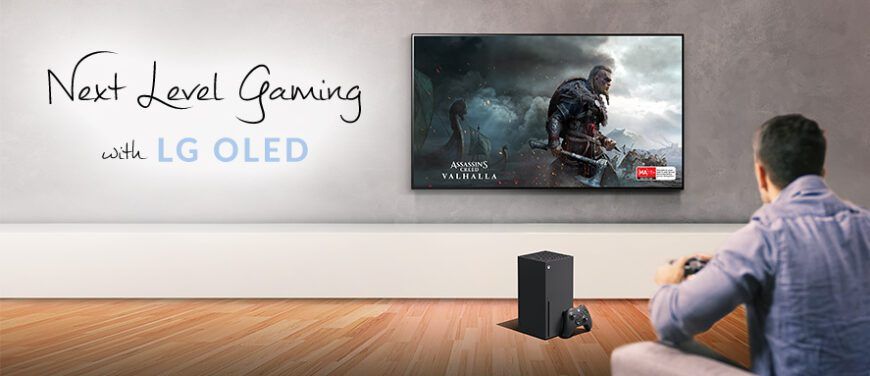 Attention gamers, have we got the latest TV technologies for you! Whether you're an Xbox gamer, PlayStation fan or maybe you're part of the Nintendo Switch gang, an OLED TV will transform how you game.
OLED is made famous by LG. You might have seen it around, or you've heard about it from a friend, perhaps even in the latest entertainment catalogue? If you're interested yet unsure of what OLED is, then you're in the right place!
– What is OLED?
OLED is short for 'organic light emitting diode'. A TV with an OLED panel uses organic light emitting diodes to produce images that you see on screen. The diodes feature organic material that enables them to glow individually when they come into contact with an electrical charge.
When there's no electrical charge, the diodes switch off and allows other diodes to shine brightly, displaying rich colours and deep blacks. With OLED, pictures appear so realistically real, it's like you're there.
– How does OLED compare to other TV technologies?
OLED technology is also powered by self-lighting pixels which combine to deliver deep blacks, rich colours and lifelike pictures. Aside from vividly brighter colours, OLED TVs do not need the use of backlighting. This means OLED TVs can be produced in a thin and lightweight design, compared to LCD TVs. Stunningly slim, OLED TVs will look great in your space. View our TV Buying Guide to view other available TV technologies.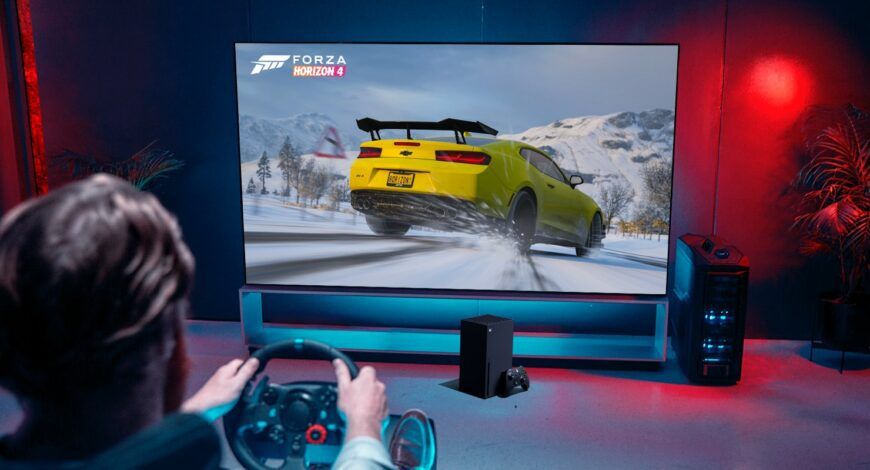 – How does LG's OLED improve gaming?
Better image detail: thanks to self-lighting pixels, so you can clearly see the action. Self-lighting pixels also respond rapidly for faster response times.
Fast-processing power: since OLED TVs are compatible with G-SYNC, letting you level up as you play your favourite games 1
Quick response time 2: thanks to the alpha9 gen3 processor that also delivers low input lag
Variable Refresh Rate (VRR) & Auto Low Latency Mode (ALLM) 3: delivers fast motion changes during game play, up to 120fps at 4K resolution
Game Mode: reduces screen latency (lag), motion blur and ghosting
– What else does OLED provide for gaming?
Reduced blue light and flicker
AI Acoustic Tuning: by using spatial recognition technology, the TV can read the room's conditions and make adjustments to the audio
– What if I need to share my screen?
From your PC, tablet, or smartphone, sharing your screen and displaying content from your device to your OLED TV is so easy. Share your device's audio, video and photos for everyone to see.
Sharing your screen is so simple and can usually be done via a HDMI cable, Wi-Fi or Bluetooth connectivity. Depending on your device's compatibility, you may need to have the LG Screen Share App downloaded or use AirPlay (if using a Mac device). For further information, please see https://www.lg.com/au/support/smart-share
LG OLED Line-up
GX Range
CX Range
BX Range
DISPLAY
Self-Lit LG OLED
Self-Lit LG OLED
Self-Lit LG OLED
INCHES
77 / 65 / 55
77 / 65 / 55
65 / 55
AI PROCESSOR
α9 Gen3 AI Processor 4K
α9 Gen3 AI Processor 4K
α7 Gen3 AI Processor 4K
AMD FREESYNC PREMIUM
0
0
0
SOUND
4.2ch / 60W
2.2ch / 40W
2.2ch / 40W
HANDS FREE VOICE CONTROL
0
–
–
Comparison supplied by LG
Whether you're an avid racer, combat fighter or love to just relax with a sports match between friends, elevate your gaming experience with OLED. Enjoy sensational life-like images, quick processing, fast refresh rates and amazing audio every time. To view LG's range of OLED TVs, their features, specifications, reviews and more, click on the link below.
VIEW LG OLED TVs