Tomato Risotto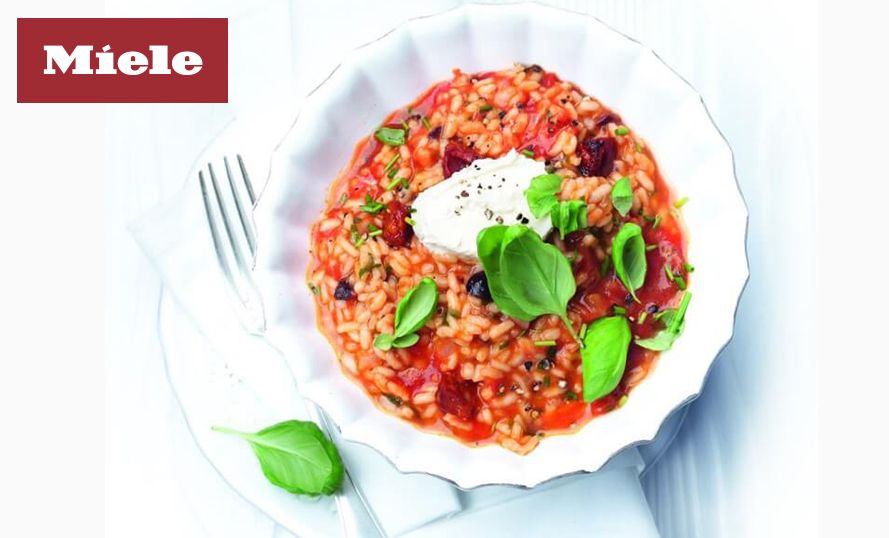 INGREDIENTS
1 red onion, chopped
1 chorizo sausage peeled and sliced finely
40ml (2 tablespoons) olive oil
1 x 400g can chopped tomato
1 ½ cups chicken stock
(1 cup) Arborio rice
1 zucchini, diced
30g butter, diced
1/3 cup grated parmesan cheese
2 tablespoons chopped parsley
1/3 cup kalamata olives, pitted and chopped
1 ½ tablespoons chopped chives
1/4 cup soft goats curd
(1/3 cup) basil leaves, torn
Extra virgin olive oil
METHOD
Step 1.
Combine onion, chorizo and oil in a large microwave safe bowl. Place on glass tray on shelf level 1.
Step 2.
Cook on Microwave 850W for 3 minutes. Onion should be transparent.
Step 3.
Add tomato, stock and rice. Cook on Microwave 850W for 8 minutes.
Step 4.
Add zucchini, stir well and cook for a further 8-10 minutes on 850W until zucchini and rice are tender.
Step 5.
Remove from the oven, cover and stand for 2 minutes.
Step 6.
Carefully remove the cover, watching for steam. Add butter and parmesan, stir well to combine.
Step 7.
Finally, stir in parsley, olives and chives. To serve top with goats curd, basil leaves and a drizzle of extra virgin olive oil.
Recipe By Miele
View Oven RANGE