Top Trending: Kitchen Appliances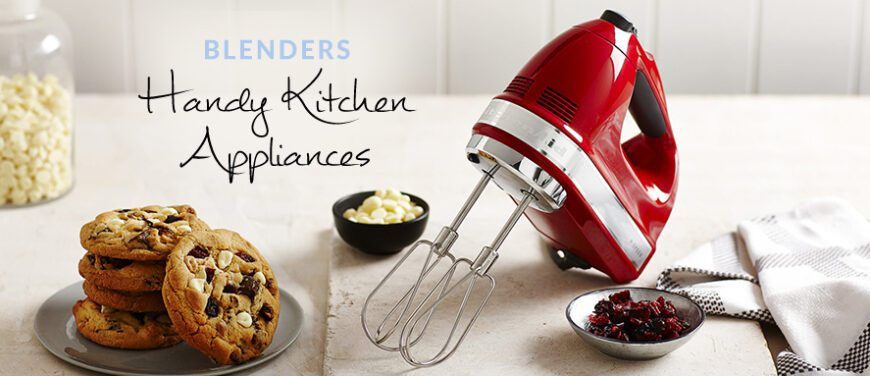 Compact in size yet big on power, hand blenders are the unsung heroes of the food blending and processing community. From mixing cake dough to blending a smoothie or mixing a sauce, hand blenders pack a punch when it comes to meal preparation. If you're making the move from hand mixing or maybe you're in the market for a new hand mixer, then you're in the right place. In this article, we'll break down some of our top-trending hand blenders to help you find your perfect one.
Effortlessly Works Hard
No matter the task at hand (pardon the pun), hand blenders are versatile small appliances that makes mixing, whisking, blending and chopping light work. Hand blenders are powered by strong yet compact motorised elements and rotating actions to break down your ingredients and prepare them the way you require.
Caters to Many Tasks
Do you have a list of things to do before you can cook your dish? Whatever's on the menu, hand blenders can handle them all. Food prep like a professional with Russell Hobbs' Desire Hand Blender. In addition to a stick blending leg, the Desire Hand Blender offers threefold capability as it also includes a 500ml chopping bowl with chopper attachment and a whisk attachment. So not only can Russell Hobbs' Desire Hand Blender blend a milkshake, but it can also chop vegetables into smaller portions, whisk eggs for your quiche and mix batter for the school bake.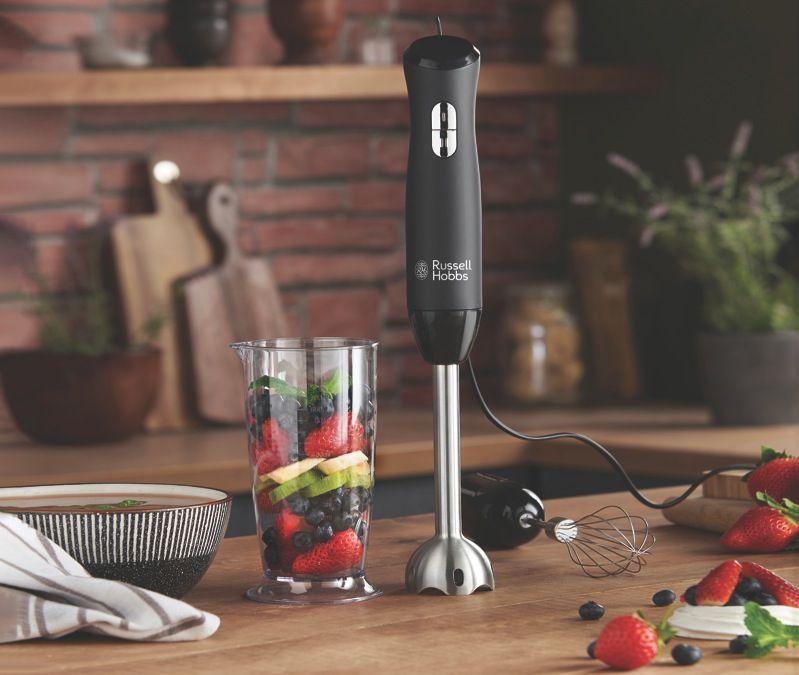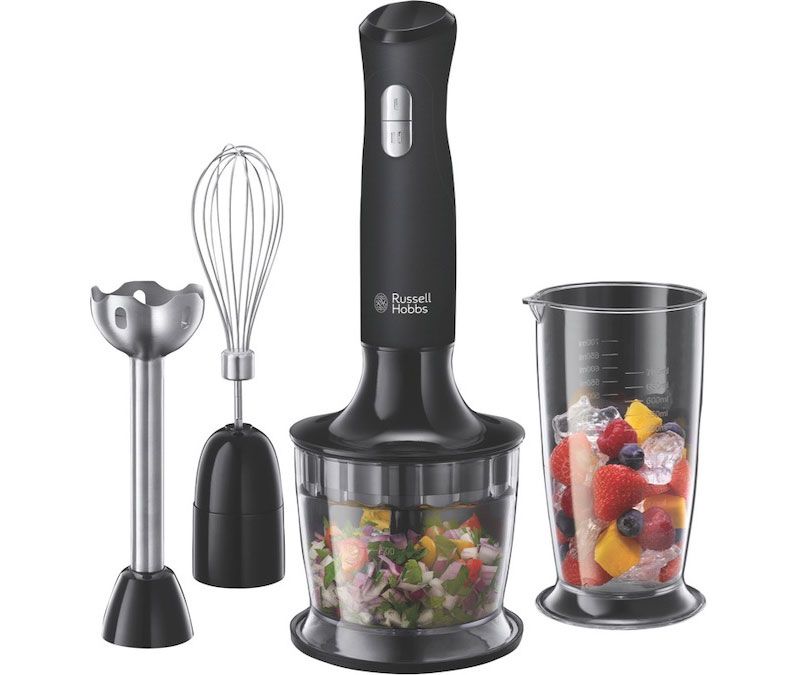 Perfect for Bakers
Are you an avid home baker? If baking all types of cakes, bread and even whipping cream and meringue is your thing, then KitchenAid's Hand Mixer will satisfy all your baking needs. Boasting 9 different speed settings and a Soft Start™ feature, this hand mixer gently starts (eliminating splatter) and gradually builds the power to mix your ingredients. With a wide range of Stainless Steel attachments included, like the Turbo Beaters, Dough Hooks, Pro Whisk and liquid Blending Rod, KitchenAid's Hand Mixer is ready for any challenge.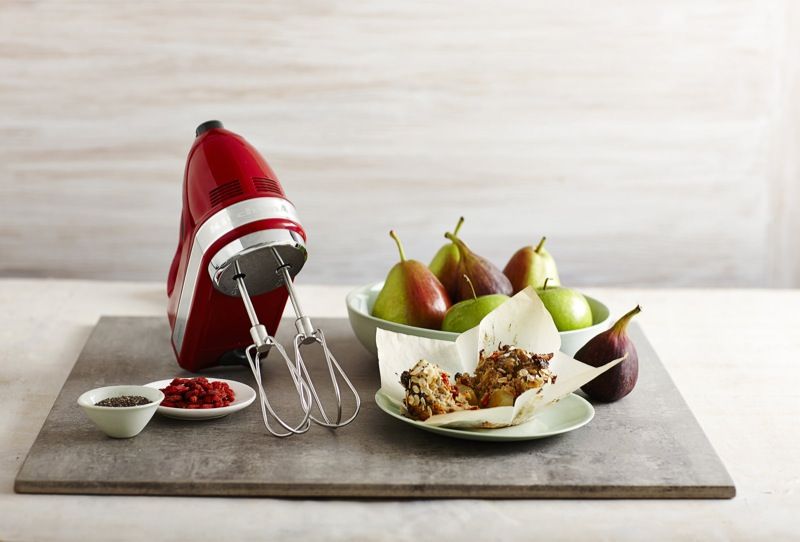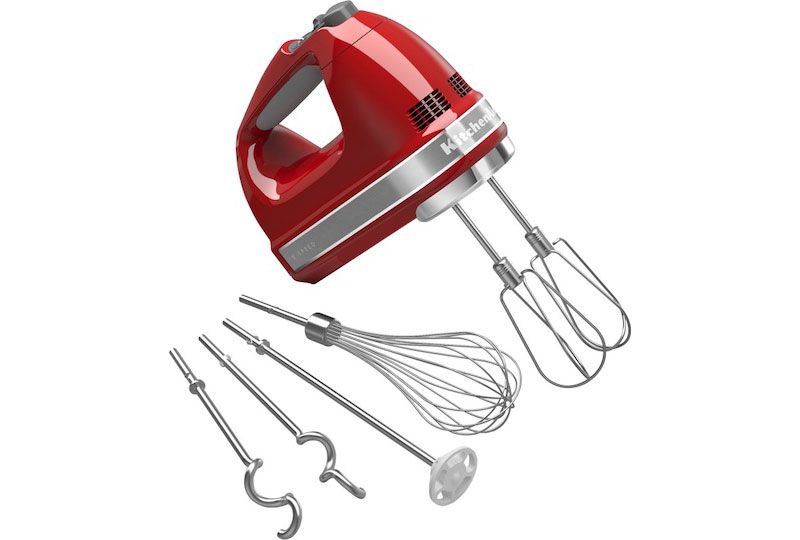 One for Everyone
Knowing which type of hand blender that's fit for your needs is not easy. The below comparison has been designed to help you figure out your perfect hand blender:
Russell Hobbs Desire Hand Blender
KitchenAid Hand Mixer
Best Suited For
Great all-rounder for a variety of kitchen tasks such as chopping, blending, mixing and whisking.
Best for bakers and will satisfy all baking needs such as whisking, beating, mixing and kneading.
Power
500W AC Motor
85W DC Motor
No. of Speeds
3 Speed Settings
9 Speed Settings
Included Attachments
700ml Beaker, 500ml Chopping Bowl, Whisk Attachment & Stainless Steel Blending Leg and Chopper
2 x Stainless Steel Beaters, 2 x Stainless Steel Dough Hooks, Stainless Steel Pro Whisk, Liquid Blending Rod & Storage Bag
Dishwasher Safe Attachments
Yes
Yes
Be Inspired!
Stuck on what to make with your hand blender? Find inspiration in our carefully curated set of recipes. From soups to hearty pasta, you can try then out just in time for Autumn's cooler weather!
Roasted Red Capsicum Soup
Serves 4
Uses the Blending Leg from Russell Hobbs' Desire Hand Blender
Ingredients:
2 ripe tomatoes
2 cloves garlic
6 red capsicums
1 litre vegetable stock
1 sprig thyme
2 bay leaves
½ cup light cream
Pepper, to taste
Method:
Chop the tomatoes and garlic.
Halve capsicums, discard seeds and core. Grill or roast until browned and skin is well blistered. Place into a plastic bag and seal for about 15 minutes. Remove the skin and then chop the flesh, roughly.
Place the capsicum, tomatoes and garlic in a bowl and using the blending leg and process until smooth.
Pour into a large saucepan, add the vegetable stock and herbs and simmer for 25-30 minutes.
Remove herbs, ladle into bowls, stir a little cream into each bowl and sprinkle with pepper.
Tip – Roasting & peeling capsicum: For simple peeling, ensure the capsicum skins are well blistered before sealing them in a plastic bag to sweat. Once cooled, simply cut the capsicum in half and pull the skin from the base to the stem. The skin should come away easily, but if not, simply cook a little longer, then leave to sweat again and then peel.
Recipe by Russell Hobbs
---
Pasta with Walnut Sauce
Serves 4
Uses the Mini-Chopper & Whisk from Russell Hobbs' Desire Hand Blender
Ingredients:
1 cup walnuts
2 cloves garlic, chopped
1 cup grated Parmesan cheese
½ cup chicken stock
¼ cup light cream
¼ cup light sour cream
2 tbsp butter
Salt & pepper, to taste
375g pasta, cooked
Method:
Finely chop the walnuts in the mini-chopper, then add the garlic, cheese and chicken stock and mix until just blended.
Transfer to a saucepan and heat on low heat for 7-8 minutes, stirring constantly.
Combine the two creams in a bowl and whip lightly using the whisk. Toss through the cooked pasta with the butter and add salt and pepper to taste. Transfer to a serving bowl.
Walnut sauce may be stirred through or spooned over the pasta.
Recipe by Russell Hobbs
---
Apple, Pear, Goji and Chia Health Muffins
Serves 8
Uses the Whisk & Turbo Beaters from KitchenAid's Hand Mixer
Ingredients:
100ml vegetable oil
2 large eggs, at room temperature
1 large pear, unpeeled, chopped into 2cm chunks
1/3 cup (55g) cup chia seeds
1 cup (135g) plain flour
1 1/2 tbsp baking powder
1/2 cup (75g) brown sugar
1/3 cup (35g) Goji berries
1 cup (220g) Greek style yoghurt
1 large green apple, unpeeled, chopped into 2cm chunks
100g dried figs, (about 7), very thinly sliced
1/4 cup (35g) rolled oats
1 cup (145g) wholemeal flour
1/2 tsp mixed spice
1/2 cup (110g) white sugar
Extra toppings: 2 tbs chia seeds, 3 tbsp oats and 4 thinly sliced figs
Method:
Preheat oven to 200°C (180°C fan forced). Grease and/or line 8 holes in a Texas sized muffin pan. Attach the whisk attachment to the motor body. Place the oil, eggs and yoghurt into a mixing bowl or jug. Place the whisk into the mixture turn to speed 5 and whisk 8 seconds. Set aside.
Place flours, baking powder, chia seeds, oats, spices, sugars and Goji berries into a large mixing bowl. Attach the turbo beaters to the hand mixer. Place beaters into the flour and turn to speed 2. Mix around the bowl combining well for 10 seconds.
Pour the egg mixture into the dry ingredients then add the chopped fruits. Place the beaters into the mixture, turn to speed 2 and mix, slowly moving the beaters around the bowl for 10 seconds or until just combined. Spoon filling into the muffin holes filing them 3/4 full. Sprinkle some of the topping ingredients onto each muffin.
Bake 25 – 30 minutes or until springy when pressed and golden brown. Remove from the pan and place on a cooling rack.
Recipe by KitchenAid
Need More Information?
Simply click on the below featured products to view more information, read consumer reviews and then find them online or shop at your local retailer. If you want to further explore the world of blenders, mixers and food processors, our Small Appliances Buying Guide will walk you through all the critical factors you need to know on your purchasing journey.
VIEW SMALL APPLIANCES BUYING GUIDE