Upgrade Your Home Entertainment with LG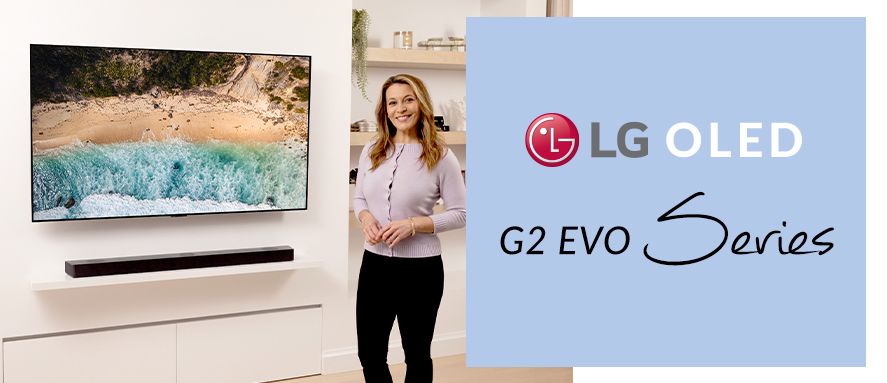 Are you looking for a new TV and soundbar bundle? Thinking of upsizing your entertainment? LG's new OLED evo G2 TV will delight with its impressive visual and audio technologies, compatibility for a range of entertainment modes and its beautiful art-gallery display. Coupled with the immersive, surround-sound of the LG Dolby Atmos S95QR Soundbar, and you've got a home theatre space that you'll be sure to love.
An In-Depth Look at the LG G2 65" OLED evo 4K Smart TV
Crafted for: more than just watching TV. This TV is an entertainment hub that will cater to everyone's changing needs – whether that is watching TV, movies, playing games, watching sports or hosting a live viewing party.
Self-Lit Pixels: since there's no backlight to dull the light's impact, this TV's 4K self-lit OLED panel displays deeper blacks so that amazingly bright colours stand out – perfect no matter what you're watching. Powered by the a9 Gen 5 AI Processor, this LG TV enhances objects in the foreground and background, adding natural depth and making colours appear vividly.
Brightness Booster Max: unique to LG, this function lets you turn up the brightness of the TV extraordinarily, making it up to 30% brighter than non-OLED evo models 1. See more of the things you love with greater clarity with Brightness Booster Max.
Cinematic Viewing: with the combination of Dolby Vision IQ and Dolby Atmos technology, images are optimised to suit the conditions and the lighting of your room while audio is up-firing and moves around you to create a cinematic viewing experience.  The Filmmaker Mode preserves original colours and settings so that you watch movies just like the director intended.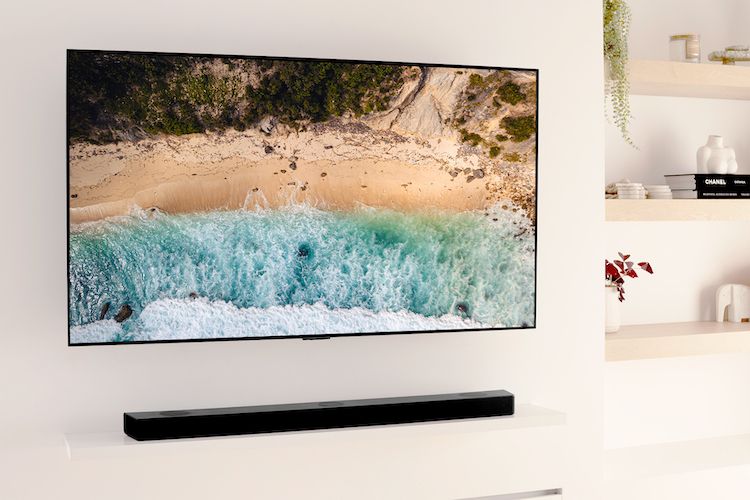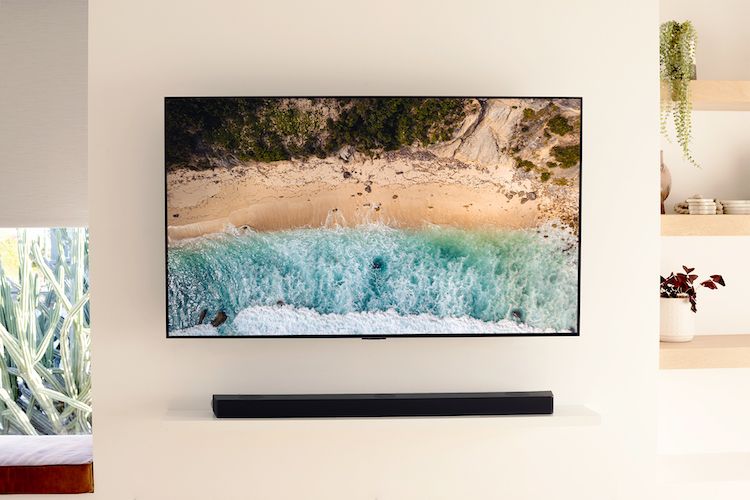 Immersive Sound: sensational sound awaits you with the TV's AI Sound Pro function which intelligently transforms 2-channel audio into virtual 7.1.2 channel, so you feel like you're in the middle of the action.
Competitive Gaming: enjoy lag-free play with the 4K 120Hz refresh rate, and get ahead with the 1ms response time and (Variable Refresh Rate) VRR support. And with NVIDIA G-Sync compatibility and AMD FreeSync™ Premium, you can play with reduced stuttering and image tearing with fast-paced action that appears clear and smooth 2.
Cloud Gaming: strap in for limitless gaming that doesn't require any consoles as this LG G2 OLED evo TV has NVIDIA GeForce Now built-in 3. This cloud gaming service lets you access hundreds of games that are hosted on remote and streamed services so that you can simply game using your internet connection.
Sports Alert: sport fans, stay on top of your favourite teams with LG's Sports Alert feature. Just assign the sports leagues and teams you want to follow and once set, the Sports Alert function notifies you about the key moments before, during and after the game. Sports leagues available include the NBA, Premier League and NFL.
Always Ready: the Always Ready feature turns the TV into a beautiful art-gallery display that will become the focus of your space. At a touch of button, you can transform the TV into a canvas for displaying artwork, keeping track of the time, or playing your favourite tunes.
Perfect Anywhere: designed to be wall-mounted, the LG OLED evo G2 TV features a seamless bezel in a gallery-like sleek style. An optional table-top stand is also available, sold separately.
An In-Depth Look at the LG Dolby Atmos S95QR Soundbar
Perfect for: any genre of entertainment from watching TV and movies to streaming live sports, gaming, and playing music. This soundbar is the ideal match for TVs between 55" to 86" in size.
Powerful Performance: sink into your favourite sources of entertainment with greater sound reproduction with the soundbar's 810W power and 9 channels with 5 up-ward firing drivers.
Cinematic Sound: kick back and feel like you're right at the movies with this LG soundbar's range of audio technologies such as Dolby Atmos and DTS:X, which moves sound upwards and around you. The soundbar is also IMAX Enhanced, meaning it delivers amazing sonic quality and performance for an immersive audio experience at home.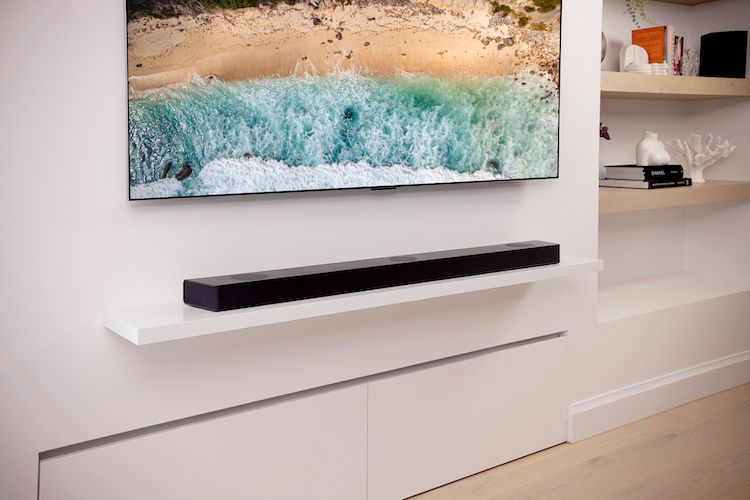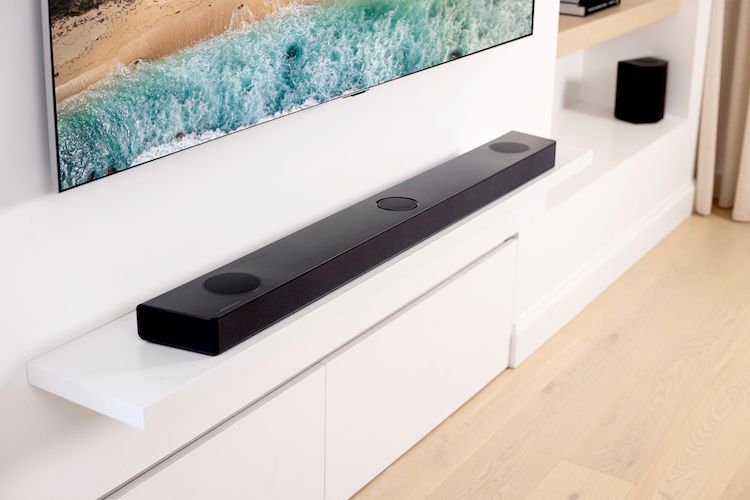 AI Powered Enhancements: as it takes note of your room's conditions, the AI Room Calibration Pro function analyses, optimises and enhances audio to ensure the best of your content can be enjoyed in your environment 4.
Gamer-Friendly: regardless of whether it's a racing, combat fighting or fantasy game, gamers will appreciate the smooth audio production delivered by this LG Dolby Atmos soundbar. The soundbar supports a range of gaming technologies, including VRR (Variable Refresh Rate) and ALLM (Auto Low Latency Mode) so that audio matches the smooth, on-screen gameplay 5.
One Remote, One Control: you can use your LG TV remote to control this LG soundbar, reducing the need to have a remote for every device in your home. With the LG TV remote, you can power on the soundbar, control the volume, sound modes and more 6.
Voice Control: no matter which smart home assistant you prefer, you can choose your voice control  as this LG soundbar is compatible with Amazon Alexa™, Google Assistant™ and Siri (for Apple AirPlay). With a simple command, you can control your audio, hands-free.
Expand Your Audio: this LG Dolby Atmos soundbar is the perfect home theatre addition as it comes with a wireless subwoofer and 6ch rear speaker kit – so that you can create an audio landscape that delivers powerful and immersive sound.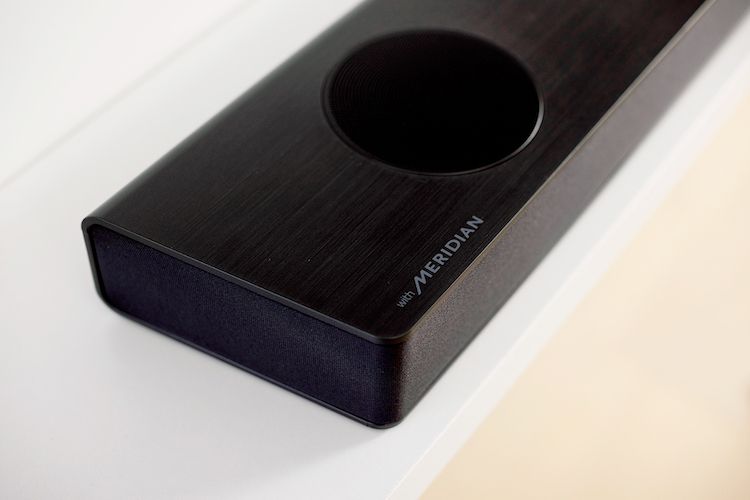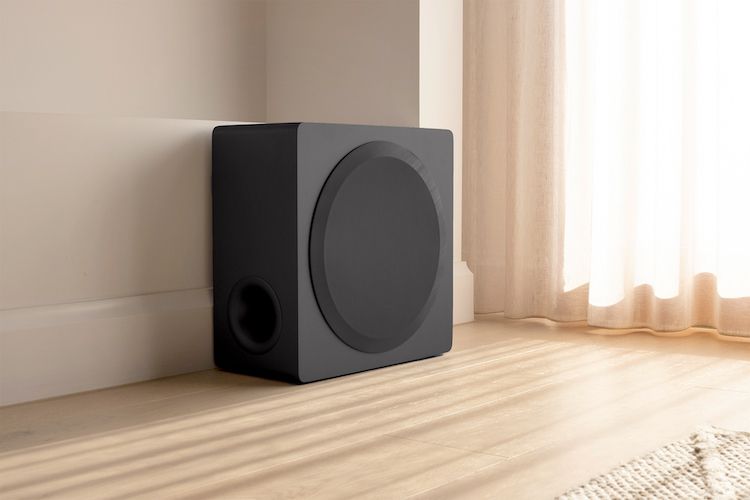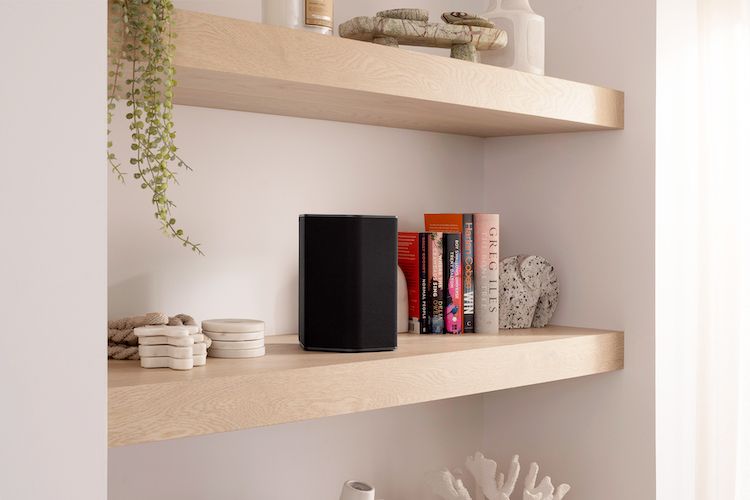 Coming Soon: The new LG Wowcast
LG's Wowcast is a wireless dongle that creates a wireless connection between your TV and LG soundbar, so that your home entertainment space can remain clean and wire-free. Wowcast works with selected LG soundbars and with all TVs with HDMI ARC or eARC. With a simple connection, you can just plug and play in next to no time. Stay tuned for more details on the Wowcast!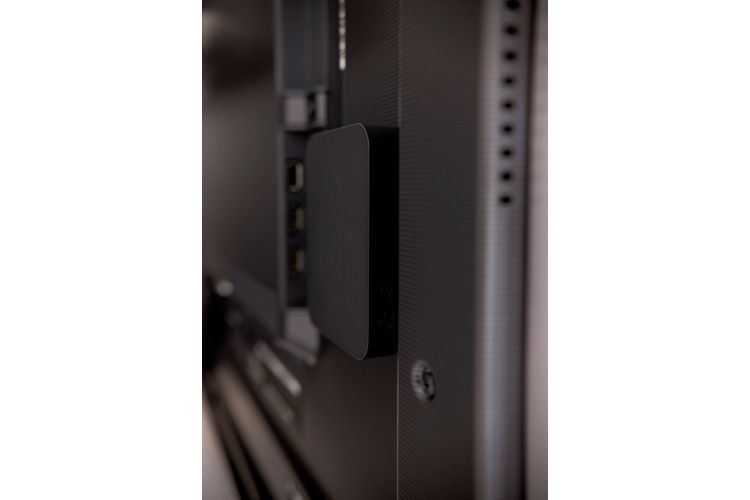 DISCLAIMERS
1 Compared to 2022 LG OLED TV non evo models and based on Full White Screen measurement.
2 Feature activated when showing HFR content and connected to a compatible gaming device with an Ultra High Speed HDMI certified cable. All HDMI ports receive up to 48Gb/s bandwidth (supporting up to 4K 120Hz 4:4:4 RGB @ 12 bits per component).
3 Internet connection required. Subscriptions and data costs may apply. Content, features and third party services will vary from time to time without notice. Compatible controller required.
4 AI Room Calibration Pro is a automatic sound tuning technology that compensates for the environment the Sound Bar is placed. Requires LG Sound Bar app (Android 5.0 or later, iOS 10.0 or later) and home Wi-Fi network.
5 Sound Bar, console and compatible TV to be connected via HDMI. VRR and ALLM support required for console and TV. HDMI pass-through supports 4K @ 60hz.