Which Heater Is Right For Me?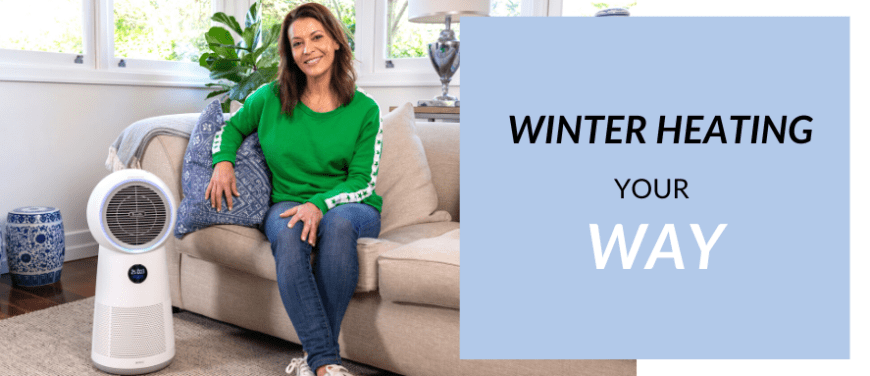 Are you in need of a heating solution to get through winter? Life at home can be unpredictable, so make sure you get a heating solution that's a match made for you. There's no one-size-fits-all when it comes to staying warm and cosy, so we've rounded up all the hottest heating solutions to keep you satisfied.
Heating
Sunbeam's Feel Perfect Reversible Electric Throw is a great portable heating option, designed for single use so you can keep yourself warm in bed, on the couch or while you're working from home. Enjoy warming functions and features including:
Fast heat up, with the throw ready to use in 10 minutes
150W power consumption, making it an energy efficient way to stay warm
Digital controller with 6 heat settings 
1/3/9-hour timer with auto off function
Reversible surface with 220g/m2 sherpa fleece and reverse layer with 220g/m2 micro fleece
Italian made control and throw elements
Machine washable and dryer friendly – just detach the controller before washing the throw
Compact Heating & Cooling
If you're after spot heating that will quickly and easily warm your space, you can't look past Breville's the Air Rounder Plus Connect Purifier. As its name suggests, this unit features air purification, with heating and cooling functions to keep your room clean and comfortable. In a compact design, this purifier is perfect for use in mid-sized areas like the bedroom, lounge and home office, delivering:
2100W power
Heating & cooling capacity for spaces between 30-40m2
3 fan speeds: low, medium and high
Whole room coverage with 60°, 120° and 360° oscillation
3-stage air purification with activated carbon & HEPA filter to remove dust, pet dander, allergens, odours and smoke
Control with the remote control or via the Breville Home Connect™ app on your smart device 
7-hour auto off timer
Smart Night Mode with ambient light detection
Sensitive Choice® approved, perfect for those with Asthma and allergies
Overheat and tip-over protection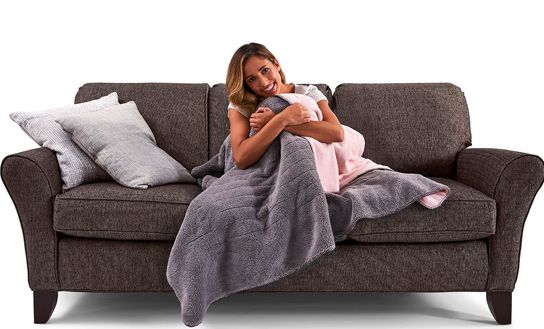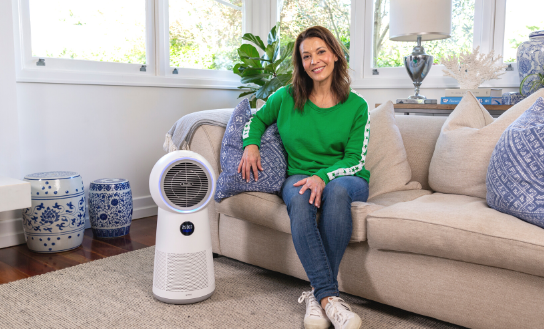 (Above): Stay cosy with Sunbeam's Electric Throw or warm and purify your air with Breville's Air Rounder Plus Connect Purifier

Large Room Heating
Ideal for warming up large spaces and big bedrooms, Delonghi's Radia S 2400W Column Heater is packed with all the features you'll need to stay warm, day or night. From the living room to the master bedroom or in a studio apartment, this column heater will delight with its:
2400W power
Heating capacity for spaces up to 75m2
'Real Energy' technology steadily increases the temperature to reach the desired heat setting without excessive energy use
Digital control panel with adjustable temperatures and power levels
0/5/24-hour timer with automatic shut off
Silent heating
Folding castors for easy wheeling from room to room
Statement Heating
In a stunning minimalist Norwegian design that will look great with any home décor, Nobo's 1.5KW Panel Heater is best suited for heating in mid-sized rooms in your home. The heater's slim design means it can be installed discreetly behind furniture if required and offers heating features like:
1.5KW power (1500W)
Heating capacity for spaces up to 15m2
Fan-free silent operation
Push-button controls with thermostat
Child lock
7-day timer for automatic power on and off during the week
IP24 rated & protected against water spray, so it can even be used in the bathroom
Can be used wall-mounted or portable with wheel castors for moving from room to room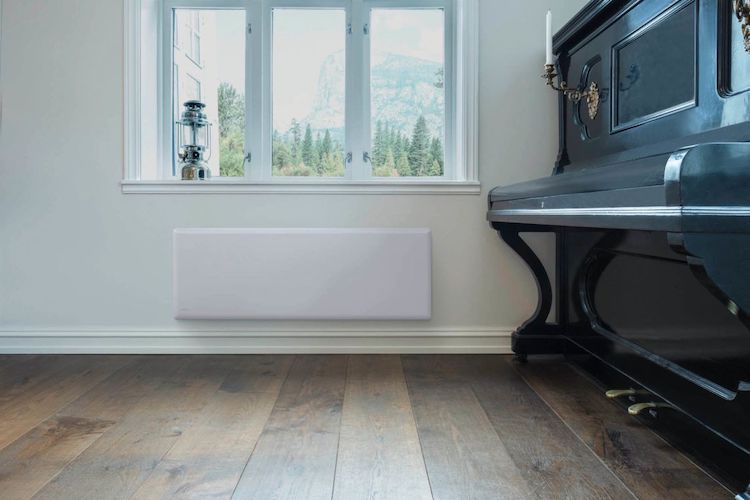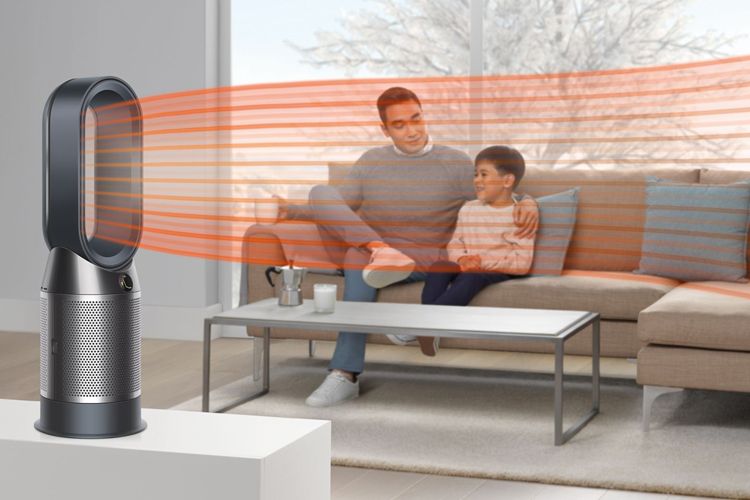 (Above): Enjoy permanent heating with Nobo's 1.5KW Panel Heater and stay comfortable all-year round with Dyson's Pure Hot+Cool Purifying Fan Heater.
Year-Round Comfort & Purification
Stay comfortable throughout the year with Dyson's all-in-one Pure Hot+Cool Purifying Fan Heater. This floor standing fan heater provides both cooling and heating with air purification to release cleaner air throughout your home. This fan heater is perfect for use in all areas of the home and delivers:
Cooling and heating functions
Purifies air as allergens, pollutants and gases are captured and removed thanks to the activated carbon1 and HEPA filters2
Wide room coverage with 45° to 350° oscillation
Remote control and LCD screen which displays vital information like air quality
Smart control via the Dyson Link App3
Diffused mode distributes purified air when cooling is not required4
Night mode with dimmed display
Sensitive Choice® approved, perfect for those with Asthma and allergies
Winter – love it or hate it, there's no denying that life at home is more pleasant with the right heating solution. From whole room heating to staying cosy at night, enjoy the warmth during the cooler months with a heating device that's best suited to your lifestyle and budget. To view more information on each heating appliance, read reviews, view it in your home and more, simply click on the links below.
DISCLAIMERS:
1Tested to JEM 1467 (acetic acid, acetaldehyde, ammonia), GB/T18801 (formaldehyde, benzene) and DTM-003282 (NO2). Capture rates vary.
2Tested for filtration efficiency at 0.1 microns (EN1822).
3Requires device to run app, Wi-Fi or mobile data, Bluetooth 4.0 support, and iOS version 10 or Android version 5 (or above). Standard data and messaging rates may apply.
4Not applicable to heating.