Why you need a smart fridge in your life!
What you need to know about smart fridges.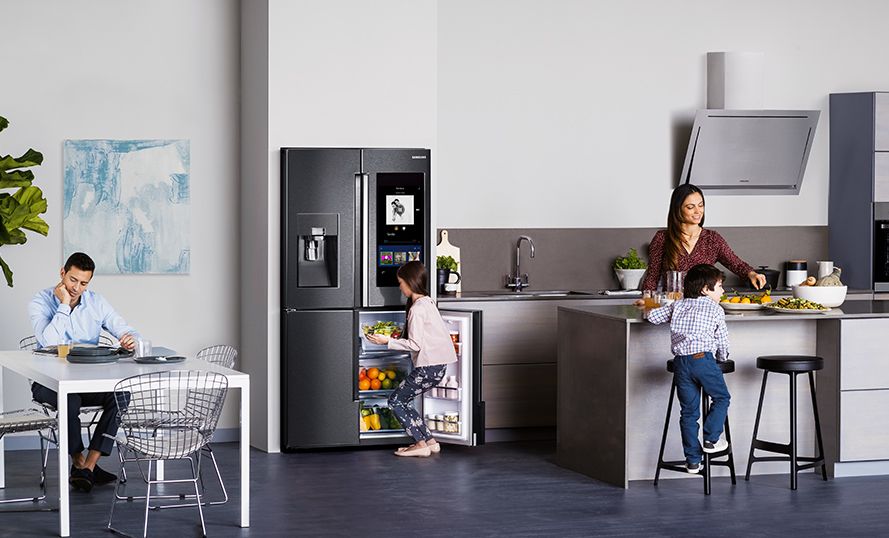 If you never imagined getting excited about shopping for new fridge, hang onto your hat. With a seductive combination of flashy bells and whistles, and hands-on practicality, these new generation kitchen appliances are thrilling enough to induce swoons in everyone from keen cooks to techno-geeks.
It's the dawn on yet another new age in technology, appropriately dubbed the Internet of Things (IoT). The IoT basically means that appliances and devices in our homes are connected and can 'talk' to each other.
Samsung has announced that by the year 2020, all of its products will be internet enabled, as we all embrace the concept of buying a 'connected' machine. And fridges are the latest appliance making our lives easier with a range of handy 'connected' features.
What is a smart fridge?
Ok, let's get back to basics for a moment. A smart fridge is designed to make our busy lives a little easier. Not only will the smart fridge run more efficiently as possible, and alert you when something may be going wrong and needs attention, it can also run events such as an auto defrost cycle at the most efficient time – such as when electricity rates are lower, which is great news for your next power bill. They can also provide more room for certain items through interchangeable areas.
What can it do?
Smart fridges are also designed to assist with your weekly shop by telling you exactly what is in your fridge and when you need to purchase another bottle of milk. They can also detect changes to temperature and alert you through a smartphone app. This can help you to keep your food fresher for longer through precise temperature control, such as Samsung's triple cooling technology, where the fridge contains separate cooling systems that assist in maintaining humidity and temperature.
The Samsung Family Hub 2.0 French Door Refrigerator aims at making your family's life even easier with the ability to order your next Woolworths shop direct from the fridge. You can even look up a collection of over 180,000 recipes, and order what you need to create a masterpiece in the kitchen.
Making your life easier
Featuring three in-built-in-cameras, the Samsung Family 2.0 French Door Fridge will show you exactly what is in your fridge through a smartphone app – wherever you are. Maybe you want to know if you have all the ingredients for your favourite meal while you're out shopping. It gives new meaning to the phrase 'there's an app for that'.
The Food Reminder function will ensure that there's less food wasting, and more food tasting. It works by entering in the expiry dates of any food that is stored in the fridge, and the fridge will do the rest – reminding you when certain items need to be eaten or used.
Need more room in the fridge for entertaining? We've all had the problem of not having enough space when visitors come over. One of the coolest features is the interchangeable fridge/freezer, which allows one side of the freezer to adapt to suit your lifestyle.
But it's not just food-focused. There's also a built-in calendar to show you what's on for your day, to-do lists, memos and a photo album to give your fridge a nice personal touch, without needing to clutter up your fridge with magnets.
And if all that isn't enough, you can also simply talk to the fridge with voice activated control built-in. Add items to your shopping list, set timers while you're cooking, search for something on the internet or play some music. It's all available with just your voice.
To find out more information on the Samsung Family Hub 2.0 French Door Fridge, you can head to the National Product Review website. Here you'll find everything you need to know in the one place.
Article originally featured in Home Beautiful Magazine.