Easter Baking with the Kids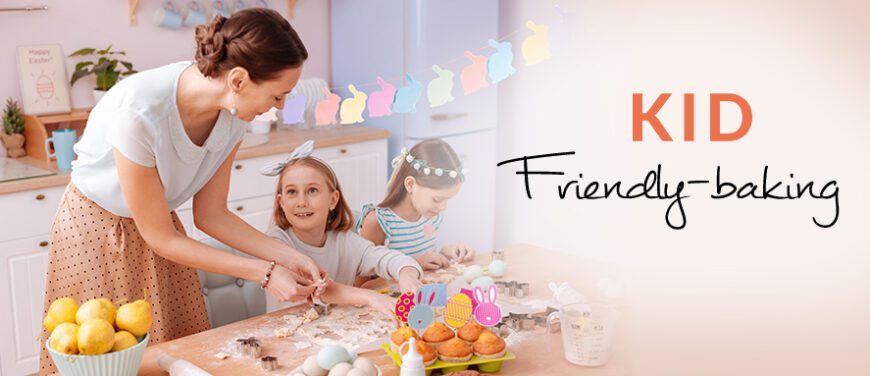 Itching for something sweet? Maybe your fridge is full of Easter Eggs or Hot Cross Buns that need some love. Reignite your passion for baking and get the kids involved with our hand-picked selection of easy Easter baking recipes.
HOT CROSS BUN S'MORES
Serves 6
Prep Time: 10 Minutes
Cook Time: 5 Minutes
Ingredients:
6 Traditional Hot Cross Buns (halved)
½ cup Nutella
24 marshmallows
Caramel sauce
Method:
Preheat the oven to 180°C/160°C fan-forced. Spread the cut-side of each hot cross bun with Nutella. Place bun bases onto a baking tray lined with baking paper.
Top each bun base with 4 marshmallows. Cover with bun tops. Gently press to sandwich together.
Bake for 5-6 minutes or until marshmallows melt. Brush hot cross bun tops with caramel sauce to glaze and serve immediately.
---
MINI EASTER CHEESECAKES
Serves 12
Prep Time: 15 Minutes
Cook Time: 20 Minutes
Ingredients:
250g Arnott's Nice biscuits
80g butter melted
500g cream cheese
2 eggs
100ml cream
½ cup caster sugar
1 tsp vanilla extract
1 handful shredded coconut (to decorate)
1 packet speckled chocolate eggs (to decorate)
Method:
Preheat oven to 180°C (160°C fan-forced). Line a 12-hole muffin tray with paper muffin cases.
In a food processor, blitz biscuits to form a fine crumb. Transfer to a bowl, add melted butter and mix to combine. Divide evenly between muffin cases and use the back of a spoon to press down firmly, smoothing the tops.
Wipe out food processor bowl and add cream cheese. Process cream cheese for 1-2 minutes until smooth. Add eggs, cream, caster sugar and vanilla and process to combine. Pour over biscuit bases to fill muffin cases.
Bake for 20 minutes, turning trays halfway, until just cooked. Turn off oven, leave door ajar and allow to cool. Transfer trays to fridge to cool completely.
To serve, carefully remove paper cases and place cheesecakes on serving platter. Top with a sprinkling of shredded coconut and speckled eggs.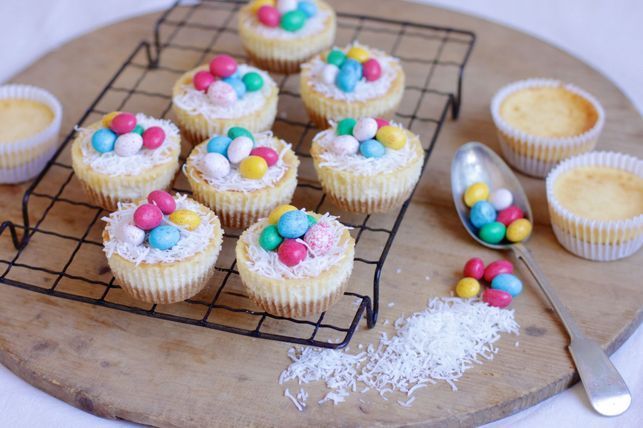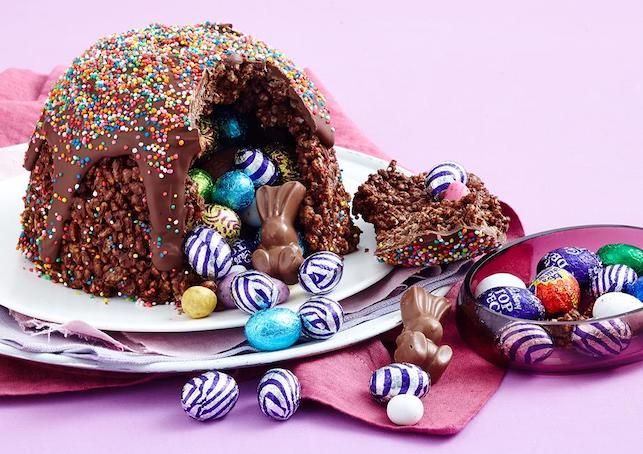 ---
EASTER EGG HUNT SMASH CAKE
Serves 4
Prep Time: 20 Minutes
Cook Time: 5 Minutes
Chill Time: 1 Hour
Ingredients:
150g dark chocolate, chopped
75g butter, chopped
1 tablespoon golden syrup
2 ½ cup rice bubbles
¼ cup desiccated coconut
Assorted chocolate easter eggs, to fill
200g milk chocolate melts, melted
1 ½ tablespoon hundreds and thousands
Method:
Lightly grease a 1.25L, 16cm wide, round bowl. Line with plastic wrap.
In a large saucepan, stir chocolate, butter and syrup together over low heat until melted.
In a large bowl, combine rice bubbles and coconut. Pour over chocolate mixture, stirring until combined.
Press mixture into the base and sides of bowl, ensuring edges are level (pack and flatten with a palette knife). Chill 1 hour to set.
Using plastic wrap to lift, remove shell from bowl. Fill with Easter chocolates, and then top with a serving plate. Invert.
Pour over melted milk chocolate letting it drizzle down on sides. Sprinkle with hundreds and thousands. Chill in the fridge until set.
Recipe by Women's Weekly Food.
What will you and the kids make? Make the most of the Easter break by spending time with your kids, creating memories and then eating the delicious home-made treats you crafted. If you're planning to have some friends or family over for dinner, why not check out our Easter Dinner Recipes below.
EASTER DINNER IDEAS