New TV Tech From CES 2022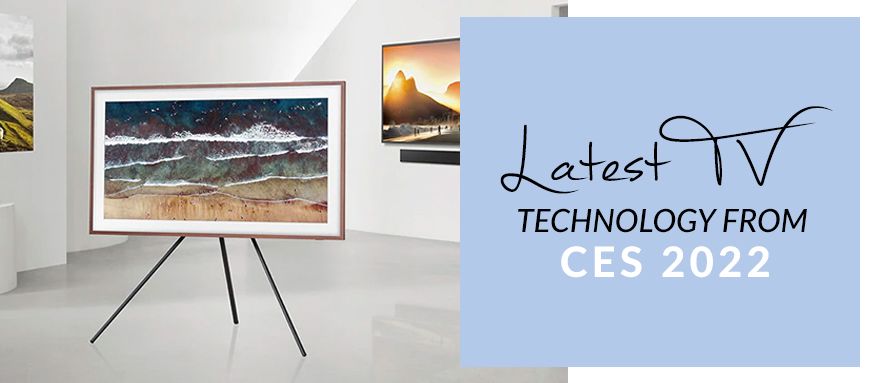 Hello 2022! The new year couldn't start on a better note than with some exciting products and technologies from CES. CES is the world's most influential annual technology event that showcases all the latest innovations across the world.
We've been following all the major developments and with our finger on the pulse, we've got the hottest TV tech from the biggest brands. Check them out below.
Samsung
With the desire to create an equitable world where there's a screen for all, Samsung's vision for the future is a sustainable one too, where people and technology can co-exist.
Large Screen Micro LED
At last year's CES, details of Micro LED were released. Micro LED have panels that contain millions of microscopic self-lit LEDs. Uniquely, Micro LED screens offer leading picture quality in an immersive ultra-large size. In 2022, Samsung's Micro LED TV will be available in an 85" screen.
Updates to the Lifestyle Range
Lifestyle TVs like The Frame, The Sero and The Serif are all getting an update with new Matte Displays. The new display boasts anti-glare, anti-reflection and anti-fingerprint properties that ensures a more comfortable viewing experience. A matte finish also allows for artwork texture to be better displayed and enjoyed on The Frame.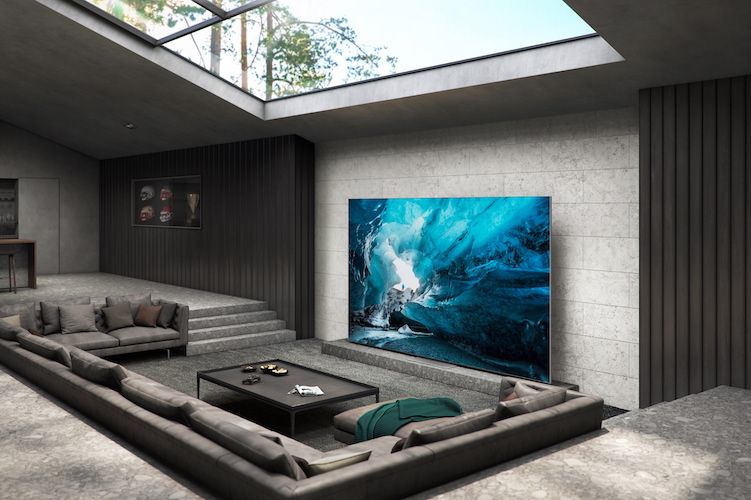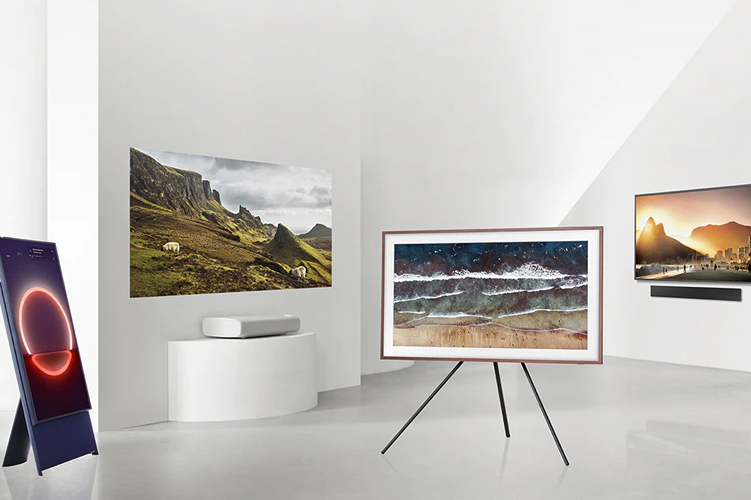 (Above): Mighty Micro LED delivers larger-than-life images while the Lifestyle range gets a display update in 2022.
The 2022 Neo QLED
This year, Samsung unveiled updates to their latest release; Neo QLED. Samsung Neo QLED TVs are powered by more LEDs, delivering a vivid image experience and in 2022, they're brighter than ever thanks to the advance back-light unit. Additionally, the new EyeComfort mode will provide a comfortable viewing experience by adjusting screen brightness and reducing harmful blue light.
New Freestyle Viewing
Watch almost anywhere with Samsung's new Freestyle Portable Projector. This compact projector projects images onto a wall surface so all your favourites can be watched anywhere. The Freestyle projects screens between 30"- 100" and has a built-in speaker with 360° omni-directional sound, delivering immersive audio with the big screen magic.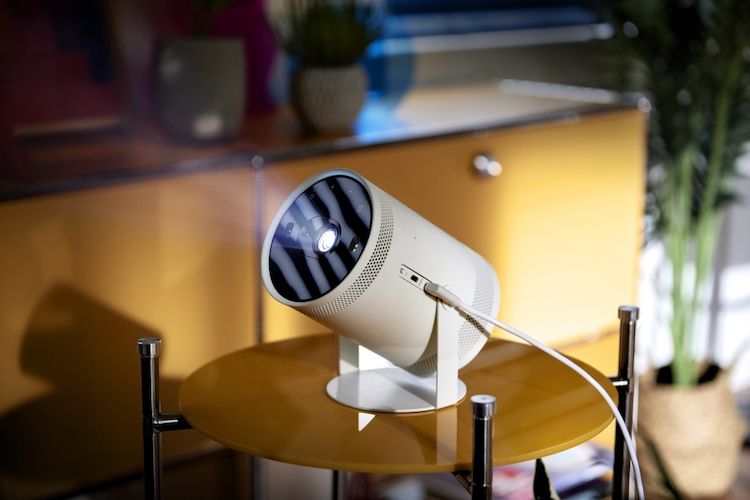 (Above): Enjoy movie night almost anywhere with the Freestyle Portable Projector.
Sustainable Operation
In 2022, Samsung will have eco-friendly packaging that can be upcycled into household items like pet houses, shelves and magazine racks. The SolarCell Remote will also dominate Samsung's TV offering in 2022. Made from recycled materials with a built-in solar panel, the remote is charged by light and radio frequency (RF) signals to eliminate the need for disposable batteries.
LG
There's so much to indulge in with LG's ever-growing range of OLED and QNED TV technologies. In 2022, the range expands with new offerings to fit every viewing lifestyle.
8K OLED In 2022
New additions to LG's OLED range in 2022 include the LG Real 8K Z2 Series, which features self-lit OLED 8K technology with an AI processor and ThinQ AI smart control; delivering an immersive 8K experience. The 88" LG Signature 88Z2 TV comes with a gorgeous open stand that instantly uplifts any space.
Rollable Reality
LG's rollable TV is finally here with! The R1 Rollable OLED TV is available in 65", boasting a rollable design with self-lit OLED panel and ThinQ AI operation. Roll out into 'Full view' to watch TV, use the 'Line view' to view vital content or the dashboard while 'Zero view' is great for when you want the TV out of sight to enjoy what's behind it – like artwork or a floor-to-ceiling window view.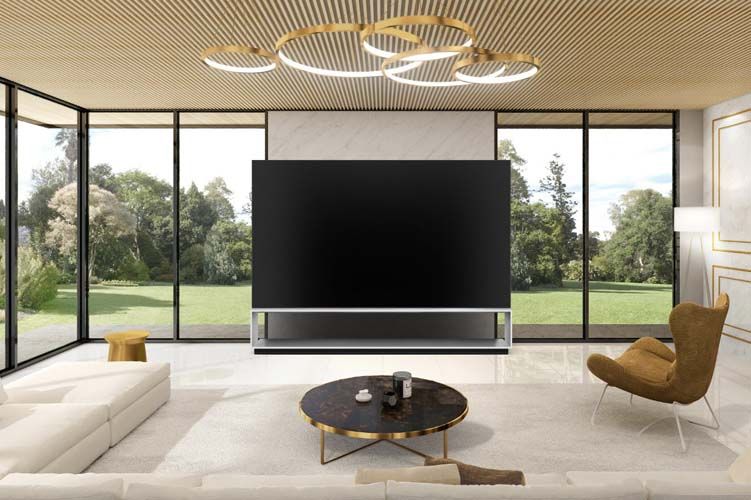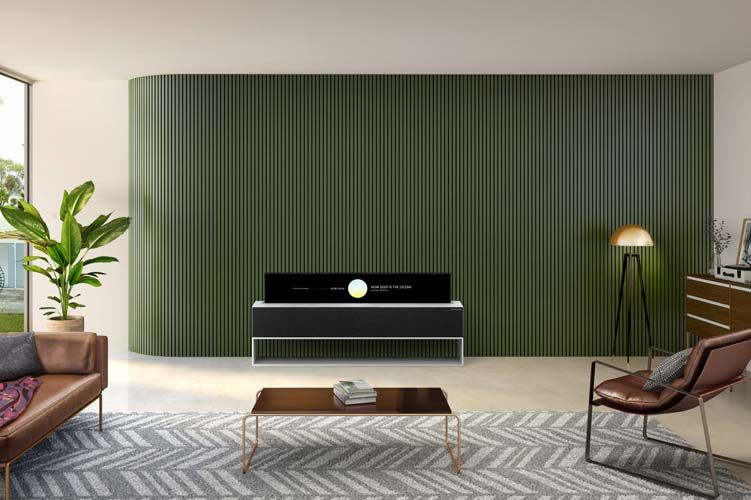 (Above): Watch in 8K with LG's Signature 88Z2 or choose your view with the R1 Rollable OLED TV.
Lifestyle OLED TVs
Enjoy more of LG's OLED TVs; now with considered designs to meet every need. The new C2 series is the 'Ultimate Gaming' OLED 4K TV. Featuring self-lit OLED evo technology, 4K processor and ThinQ AI, the TVs are available in sizes 42"- 83". The TVs come with stylish stands and can be displayed on a gallery stand (optional, availability may differ by country/region).
LG's new G2 Series Gallery TV turns your space into a stunning gallery; with the 2022 edition available in three styles: swivel stand, wall-mounted or with the artistic gallery stand (with selected models). The G2 Gallery TVs are available in sizes between 55"- 97", suited for all spaces. They feature self-lit OLED evo technology, AI 4K processor and Brightness Booster for heightened image quality.
(Below): The LG G2 Series TV with artistic gallery stand.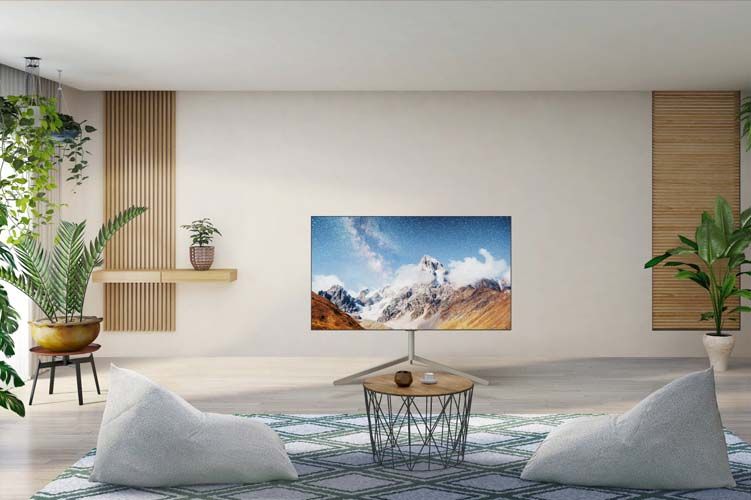 QNED For All
Last year, LG released their range of QNED MiniLED TVs which makes use of three technologies to deliver an out-of-this-world image experience. At CES 2022, LG unveiled a stellar line-up of new QNED models that will cover every entertainment need.
| | | | | | |
| --- | --- | --- | --- | --- | --- |
| QNED80 | Quantum Dot Nanocell | AI 4K Processor | ThinQ AI | Available in sizes 55"- 86" | stand and wall-mount options |
| QNED85 | Quantum Dot Nanocell MiniLED | AI 4K Processor | ThinQ AI | Available in sizes 55"- 86" | stand and wall-mount options |
| QNED90 | Quantum Dot Nanocell MiniLED | AI 4K Processor | ThinQ AI | Available in sizes 65"- 86" | stand and wall-mount options |
| QNED95 | Quantum Dot Nanocell MiniLED | AI 8K Processor | ThinQ AI | Available in sizes 65" and 75" | stand/ wall-mount/1-pole-stand options |
| QNED99 | Quantum Dot Nanocell MiniLED | AI 8K Processor | ThinQ AI | Available in sizes 65"- 86" | stand and wall-mount options |
Disclaimer: All information is correct at time of publish. Products featured are subject to change based on availability of models and sizes, depending on region.
TCL
TCL's vision for 2022 is inspiring greatness, with their CES appearance all about the display, connection and interaction. From the thinnest 8K TV to date to game-changing motion refresh rates, TCL's latest innovations are one to look out for.
XL Viewing
Bigger is better, just ask the team at TCL who have created the XL Collection of big screen TVs, which range from 85" onwards. The new range includes TCL's 98" XL Collection QLED TV which boasts 4K HDR image quality, Dolby Vision, Dolby Atmos, Game Studio Pro™ function, built-in Chromecast and Google Assistant.
(Below): Enjoy XL entertainment with TCL's 98" 4K QLED TV.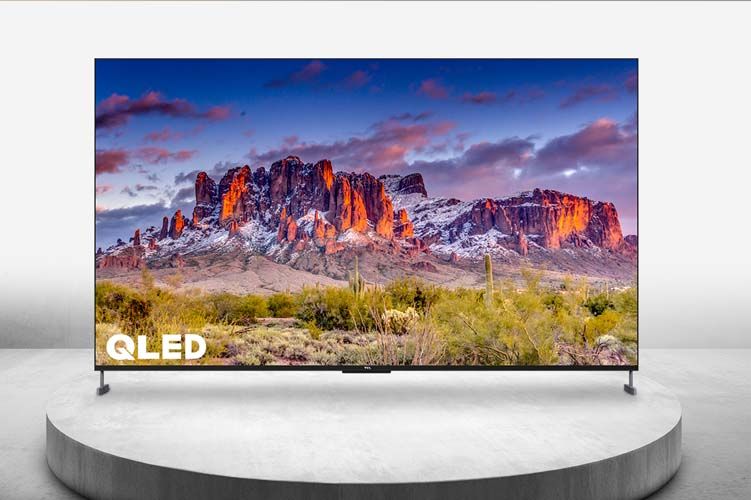 Ultra-Thin Mini LED TV
At this year's CES, TCL also unveiled the world's thinnest Mini LED TV yet! While it's only a prototype for now, the 85" 8K Mini LED TV is so thin, its body is only 3.9mm thick. This thinnest TCL Mini LED TV is said to have over 2,000 local dimming zones and a super wide colour gamut.
Faster Refresh Rates
Experience the thrill of sharper and lag-free motion when watching action movies, live sports and gaming with TCL's super fast 144Hz refresh rate. This motion refresh performance is available in this year's TCL 4K QLED TVs with Mini LED technology.
Google TV
Interacting with your TCL TV just got better! In 2022, TCL will partner with Google to bring the newest Smart TV experience: Google TV™. A TCL Google TV™ has features including hands-free voice control via Google Assistant, a curated content-first home screen, access to all apps and more!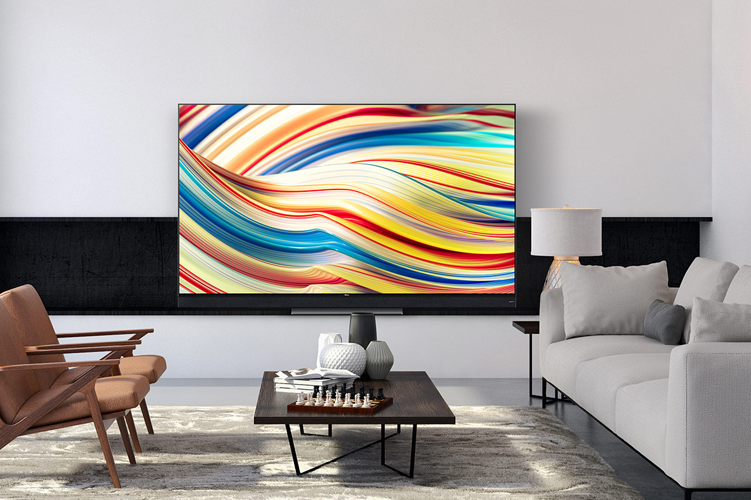 (Above): In 2022, you can enjoy more TCL Google TVs, like this 75" X925 Mini LED 8K TV
Hisense
The key focus of Hisense's 2022 offerings ensures that there's smarter everyday solutions for consumers. When it comes to TVs and entertainment, this is made possible with 8K Mini LED TVs and larger screens like the new Hisense Laser Display.
Large Laser Displays
Enjoy everything you love on a bigger screen thanks to Hisense's new range of Laser Displays. The all-new 120" TriChroma™ Laser Cinema display (120L9G) makes its mark in 2022 with spectacular colours and brilliant blacks to impress all viewers in all lights. The laser display delivers up to 3,000 lumens of brightness with cinematic technologies helping consumers get a step closer towards owning their own home theatre.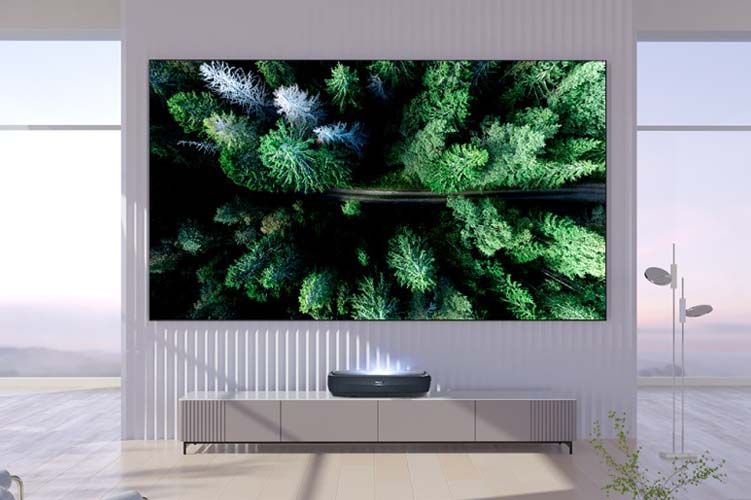 (Above): TCL's 120" TriChroma™ Laser Cinema display (120L9G).
8K Mini LED
Hisense's new premium U9H line combines all that is great about Mini LED technology. In 2022, Hisense's U9H series includes the 85U9H 8K TV, which received the CES 2022 Innovation Award Honoree. The TV itself is said to deliver impressively brighter image quality thanks to Mini LED technology, 8K processor, up to 4,000 backlit zones and 120Hz refresh rate.
Another new release in 2022 is the Hisense U80H 8K TV, available in 75". This TV boasts QLED technology with Mini LED panel and a range of features; including IMAX Enhanced, Dolby Vision, Dolby Atmos and Game Mode Pro, making it perfect for everyone.
(Below): Impressive home viewing awaits with the 75" U90G Series 8K Mini LED TV
Geared For Gaming
Gaming enthusiasts will love the new additions to Hisense's 2022 ULED TVs that are geared for gaming. All 2022 ULED TVs will feature HDMI 2.1 and standard inputs for easy plug and play. A range of other leading technologies can be enjoyed too, such as Dolby Vision, Dolby Atmos, Game Mode with VRR and ALLM, while Quick Frame Transport (QFT) is said to put each frame at a higher rate to reduce lag.
In Summary
If you've made it up to here, you would know that there's lots of new TV tech to keep up with. To summarise, 2022 is looking a bit brighter with larger screens, 8K Ultra HD and an easier and intuitive user experience that awaits us. Keep an eye out for our wrap up article which will showcase the best from CES 2022.
Please note that product availability, specifications and pricing for Australia have yet to be determined. All published information is correct at time of writing.