What's New: Sunbeam's DiamondForce Appliances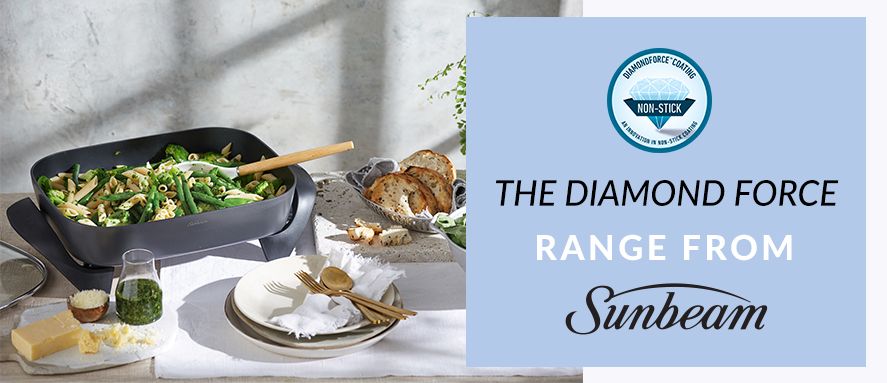 Sunbeam's newly released range of DiamondForce™ cooking appliances will bring a whole new level of cooking to your kitchen. DiamondForce™ provides a time-saving and healthy cooking advantage thanks to its advanced non-stick performance.
What is DiamondForce™?
DiamondForce™ is unique to Sunbeam's electric cookware and put simply it is a diamond infused coating which can be found on the base of the pan. The diamond infused 2-layer pan base creates a non-stick coating that is up to two times more durable <sup>1</sup> than traditional non-stick cookware.
Benefits of DiamondForce™
Sunbeam's DiamondForce™ cooking appliances have been designed to make life in the kitchen easier and helps deliver meals that are healthier. Cookware with DiamondForce™ boast a range of benefits, including:
Non-stick cooking: your food does not stick to the pan so you can easily cook up your favourite dishes.
Less oil required: since the DiamondForce™ coating is non-stick, there is little to no need of for cooking oil during cooking, meaning healthier meal creations.
Easier cleaning: as minimal oil is used during cooking and your food is less likely to stick to the pan, DiamondForce™ electric cookware are easier to clean. A simple wipe down easily removes grease. Most of the DiamondForce™ range are also dishwasher safe.
Perfect Any Time
The DiamondForce™ range of cooking appliances can be used for any meal at any time of the day: breakfast, lunch or dinner. Make simple meals for one, cook for the family or entertain friends, there are a variety of options within the DiamondForce™ range. Grill meat, fry pancakes, roast a chicken and make even a stir fry if that's what's on your mind.
Meet the DiamondForce™ Range
Grilling Brilliance
The DiamondForce™ ReversaGrill™ BBQ Grill has a reversable cooking plate with two different cooking surfaces: ribbed and flat. The ribbed grill is ideal for meat while the flat surface is great for other foods like vegetables, eggs and crepes. The removable temperature probe has 10 heat settings while the built-in drip tray captures cooking oil. Cleaning up after cooking is simple with the included cleaning spatula.
Wok with a Difference
More than your average wok, the DiamondForce™ 7.5L Wok has a 2400W heating element to manage any dish like stir fries, noodles or wok seared protein. The included steam rack turns the wok into a steamer to steam cook food like bao buns and dumplings. An adjustable thermostat, keep warm function, and dishwasher safe pan and lid makes this wok one to love!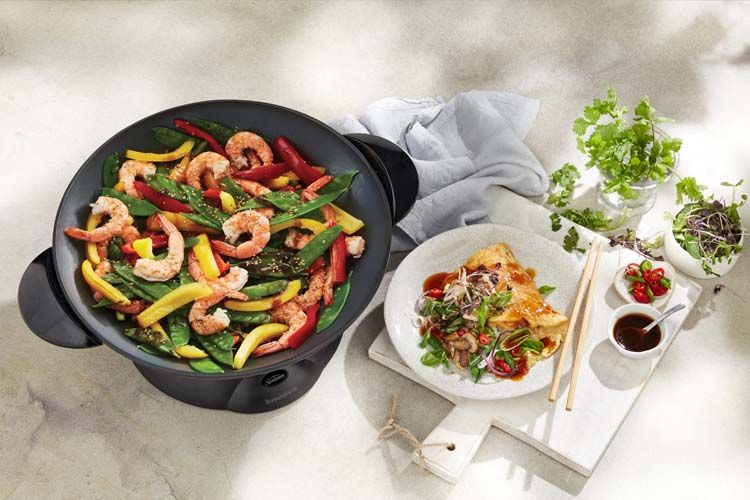 Party Perfect Frypan
The Banquet Frypan is a must have for cooking family dinners and entertaining. Its deep pan design is ideal for cooking a range of dishes like roasts, casseroles, stir fries and fried rice. The frypan's built-in tilt and baste lever lets you baste your food hands-free. The dishwasher safe pan means you can unplug the cord and place the frypan in the dishwasher for carefree washing.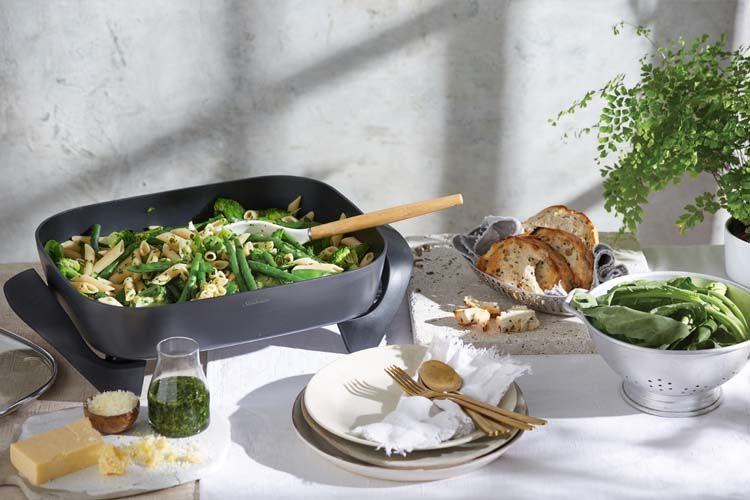 Spacious Skillet
Equipped with an adjustable thermostat, keep warm function and a high-domed lid, easily cook a range of dishes with this versatile 25cm Skillet Pan. Make favourites like scrambled eggs or pancakes and using the high-domed lid, you can effortlessly roast a chicken or transform the pan into a steamer for steaming vegetables.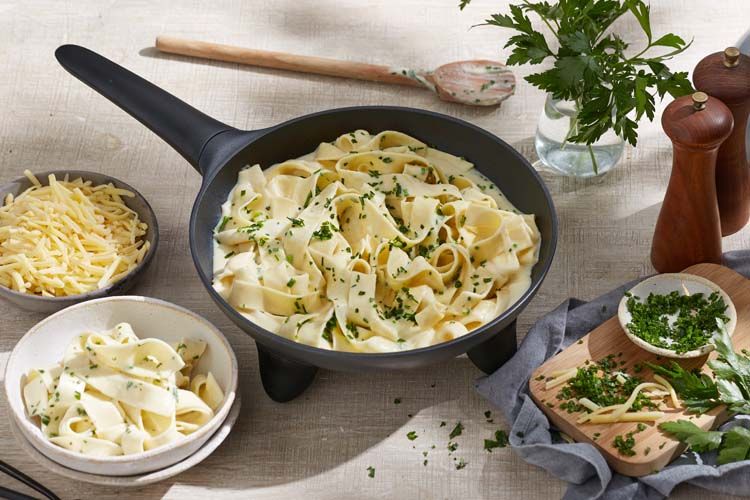 DiamondForce Bundle
With the DiamondForce™ Banquet Frypan & Skillet Set, you can enjoy many cooking methods to satisfy any craving. Scramble eggs or fry crepes for breakfast with the skillet. When you need to feed a crowd, fry favourites like stir fries or make casseroles with the spacious banquet frypan. Cleaning up is easy as both the frypan and skillet can be wiped clean, and the pans are dishwasher safe.
 Air Fried Goodness
Enjoy a different way to cook your food with the DiamondForce™ 3-in-1 Digital Air Fryer. Not only can you air fry up to 5L of food (or a whole chicken), this air fryer also offers proof, bake and dehydrate functions. The additional air fry rack lets you cook more food at once, ensuring your cooking is as efficient as possible. With this one compact unit, create a variety of dishes and snacks to suit the whole family.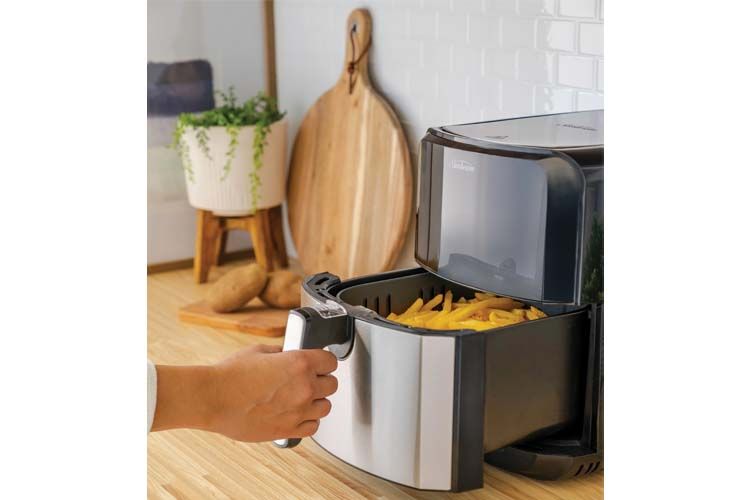 Recipes to Try with DiamondForce™
See for yourself how Sunbeam's DiamondForce™ range of electric cookware can make a difference to your cooking and entertaining. Featuring advanced non-stick pan coating, adjustable temperature control and spacious cooking capacity, your meal creation options are endless. Make a creamy Chicken Laksa, sizzle some Mongolian Lamb or Caramelise Bananas to serve for dessert. Click on the link below to view our hand-picked DiamondForce™ recipes.
1 Scratch tested and compared to traditional non-stick coating.