Crafting Fun with Instax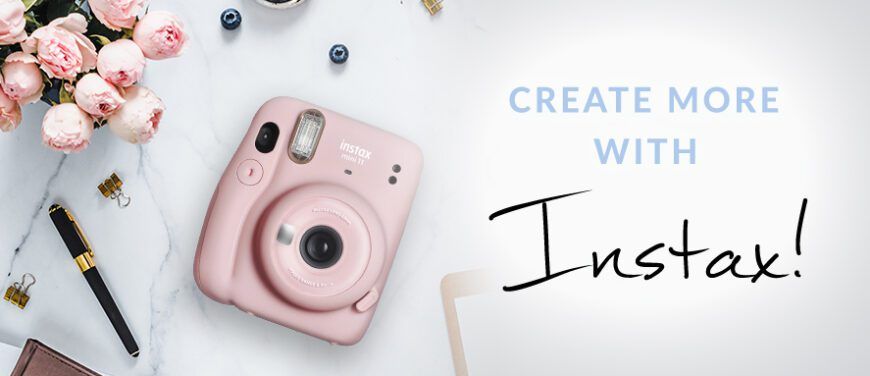 Unleash your creativity at home with your instax. From personalising craft gifts to documenting travel memories, framing special occasions and making learning more enjoyable, with instax by your side, everything's possible.
To start with, you'll need your instax instant camera and the photos you've taken and printed from your instax. If you want to maximise all the memories that are on your smartphone, you may also need a photo printer such as the SP-2 Smartphone Printer.
If you're feeling especially fancy, you may even want to try the Mini Link Smartphone Printer.
Get Crafty
With the advent of digital photography and smart phones, printing photos is a thing of the past, but it doesn't have to be with an instax instant camera. Breathe new life to your craft accessories and tools as you turn memories into works of art.
Photography scrapbook: from the family holiday to the kids' birthday party or their days at school, ensure all precious memories are kept and displayed in a
scrapbook. Simply use printed photos or print smartphone photos using the hybrid

instax LiPlay Instant Camera

, which doubles up as a smartphone printer. If you already own an instax, a photo printer like the above mentioned would be the perfect companion.
Coffee-table book: document the happy snaps you took while abroad in a hand-made coffee table book. Simply by using a new scrapbook, stick your instax images, dress them up with headers, note down the cities, landmarks and travel dates alongside memorable moments to ensure you can always re-live the memories.
Hand-made gifts: from a friend's birthday to a thank-you note, get crafty with your instax gift, crafted with love. Collate photographs of you and your friends to make an instax collage photo frame or take photos during your event and write a thank-you note on the frame which is a great party favour.
Organise your home
Customisable notice board: whether you've got a cork board, whiteboard or even a photo grid to stick all your reminders and to-do list, now you can make it even more fun by attaching your latest instax snaps or display photographs of pets and loved ones.
Home storage and organisation: make storage fun by labelling shoe boxes, storage boxes, the kids' toy buckets and shelves with instax prints. This also helps you easily find and retrieve your items when you need them.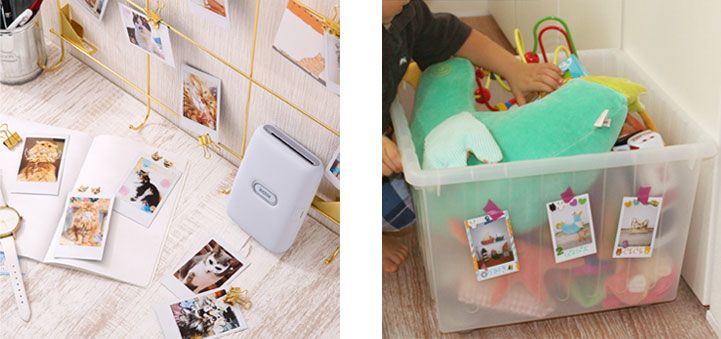 Put the fun in learning
If you and the kids are spending more time at home, incorporate some creative ways to exercise their brains with instax. Below are some fun and creative ways to use instax prints to help your kids learn.
Start with visual storytelling: let their imagination run wild with a fun writing task with help from your instax prints. Choose from 3 instax prints and ask your kids to write a story inspired by the prints. It could be a picture of a toy, food or landscape, the narrative possibilities are endless!
Explore the great indoors: when you can't roam freely outside, get the kids thinking, rhyming or putting pieces of the puzzle together with the instax camera in their hands. Encourage your kids to photograph objects around the home that start with "C" or items that are green or things that rhyme with "lock".
Fun flashcards: use instax prints to help your kids learn and test their memory. Take photos of objects and landmarks to test their memory or capture a letter in each print to help with spelling new words.
A lesson in geography: if you've got a world map, instax prints of famous landmarks or if you can print them with a smartphone printer, then you have a geography lesson. Play 'pin the monument on the map' and lets the kids guess, play and they won't even realise they're learning.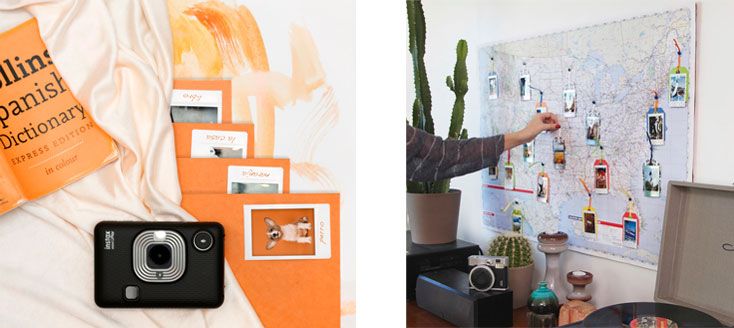 The creative and crafting possibilities are endless with your instax! Test out some of our ideas and see for yourself how your special moments and memories can be displayed and used around the home.
To get your hands on an instax best suited to you, click on button below to view the range:
VIEW INSTAX CAMERAS