The Adventure Starts with Nikon's Z 5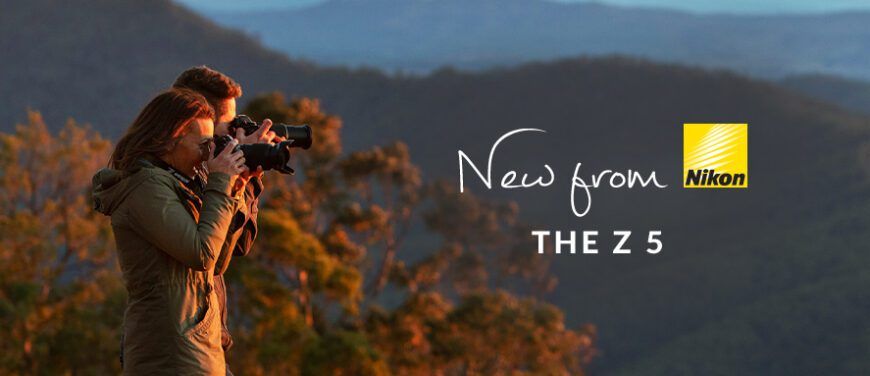 Nikon's new Z 5 mirrorless camera is lightweight, powerful and jam-packed full of features that will help photographers of all levels capture the perfect shot. A sturdy and compact camera, the Z 5 makes photography easy whether you're a novice or a seasoned hobbyist who's after a travel-friendly camera.
From landscape photography to night-time shots and everything in between, the Nikon Z 5 proves to be a handy and reliable companion on all your adventures. As Nikon's latest addition, getting through all the hype and obsession can be hard, so we've laid out all the essential must-knows, so you can quickly get onto the fun part – the photography experience.
Stunning Photographic Ability
The Z 5 features a large 24.3 megapixels sensor which helps you effortlessly capture detailed and clear results. The impressive ISO sensitivity range of 100 to 51,200 makes capturing vibrant images in low light and at night easy. Clearly focus on your subjects with the 273-point hybrid autofocus system which boasts 90% frame coverage. From portraits to photographs of your pets, never miss the moment with the face and eye detection autofocus for both humans and animals.
Easy Video Recording
Create home video masterpieces as the Nikon Z 5 offers video recording in 4K Ultra HD resolution. From your child's first steps to family holidays, birthdays, graduations and your best friend's wedding, record them all with crystal-clear detail and clarity. As you record moments in action, the Z 5 even lets you adjust the video focusing speed and sensitivity levels to achieve cinematic-like effects. Say goodbye to motion blur thanks to the 5-axis in-camera Vibration Reduction (VR) system. Recording smooth and steady footage is now easier than ever.
Simple Operation
The Z 5 lets you enjoy an easy and convenient shooting experience in a lightweight design that only weighs approximately 675g (with battery and memory card, excluding body cap). The 3.2" LCD touch monitor enables a pinch-to-zoom feature and a touch of the screen to release the shutter – it's that effortless. The monitor can even be tilted so you can capture footage at all types of angles and still keep track of your subject. The Z 5's double storage space means you can have 2x SD cards inserted at once, to keep you powering through your photography when you need it most. Once you're done with your shooting, share your results almost instantly thanks to Snapbridge Connectivity. Using the Snapbridge app, simply connect to your smartphone for quick and easy sharing.
Ideal for all Conditions
No matter where your adventures take you, the Nikon Z 5 Mirrorless Camera is fit to accompany you. You can achieve fuss-free shooting even if there's sudden rain or wind. The Z 5 is treated with a weather-seal that repels against dust, moisture and dirt for longer enjoyment in any circumstance.

Above: (Left) The 3.2" vari-angle touch monitor makes shooting all angles easy.
(Right) Perfect for all adventures, the Nikon Z 5 can be used with the Z 24-200mm Lens Kit.
Take the Perfect Shot Today
With the summer holidays and Christmas inching closer, it's no time like the present to invest in a quality camera that will make your summer break fun. Best of all, the footage you'll experiment with and capture will soon become precious memories that will be cherished for years. Whether you're looking to move away from your smartphone or you're after a lighter alternative to DSLR cameras, the new Nikon Z 5 will make any photographer happy. To find out more about the Nikon Z 5 and to see if it's right for you, simply click on the link below.
SAY SMILE WITH NIKON'S Z 5