Apple Pie With Thyme & Salted Caramel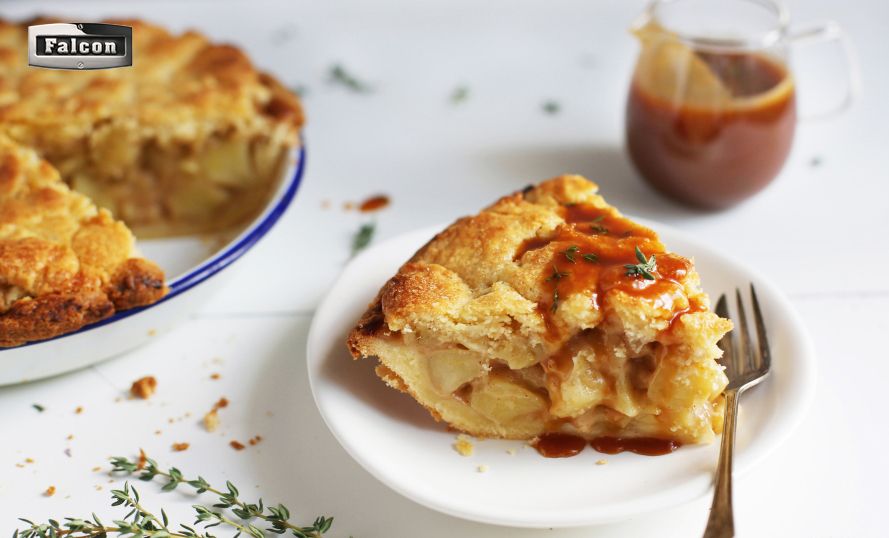 INGREDIENTS
5 granny smith apples, peeled and diced
5 pink lady apples, peeled and diced
½ tsp cinnamon
50 gm unsalted butter
¼ cup caster sugar
1 tbsp honey
1 lemon, finely zested and juiced
2 tbsp plain flour
2 tbsp cream
1 tbsp demerara sugar
Sweet Pastry
250 gm unsalted butter, softened
150gm caster sugar
1 egg
350 gm plain flour
Thyme Salted Caramel
1 cup (220gm) caster sugar
60gm butter
4 sprigs thyme, leaves stripped from stem
½ cup cream
1 tsp sea salt flakes
Serves 8 people
METHOD
Step 1.
For the pastry, beat the butter and sugar until pale and fluffy, add egg and mix, then the flour and beat until just combined. Divide dough in half, one third for the top and two thirds for the base, wrap in plastic and chill for at least 30 minutes.
Step 2.
For the filling, place the apples, cinnamon, butter, sugar, honey, lemon zest and juice into a large saucepan, mix together and cook, stirring occasionally, over medium heat for about 10-12 minutes until apples are tender but retain their shape, add the flour and cook for 1-2 minutes until the juice has thickened, cool.
Step 3.
Preheat oven to 180°C Fan Assisted function. Roll out pastry for the base and line a 22cm pie tin; refrigerate for 20 minutes. Fill the pie crust with the apple filling. For the lid, break off bits of the remaining pastry and drop onto the apples until you have the entire pie. Brush with the cream, sprinkle with demerara sugar and bake for 35-40 minutes until golden.
Step 4.
For the caramel, place the sugar in a heavy-based saucepan over a medium heat, once the sugar starts to dissolve, stir with a spoon and continue to cook until all the sugar has dissolved and turns to a smooth brown caramel. Remove from heat and carefully add the butter, thyme, cream and salt. Stir to combine and set aside to cool before serving generously with the apple pie.
Recipe by Falcon
View COOKER RANGE