Mixed Mushroom Bolognese Over Pasta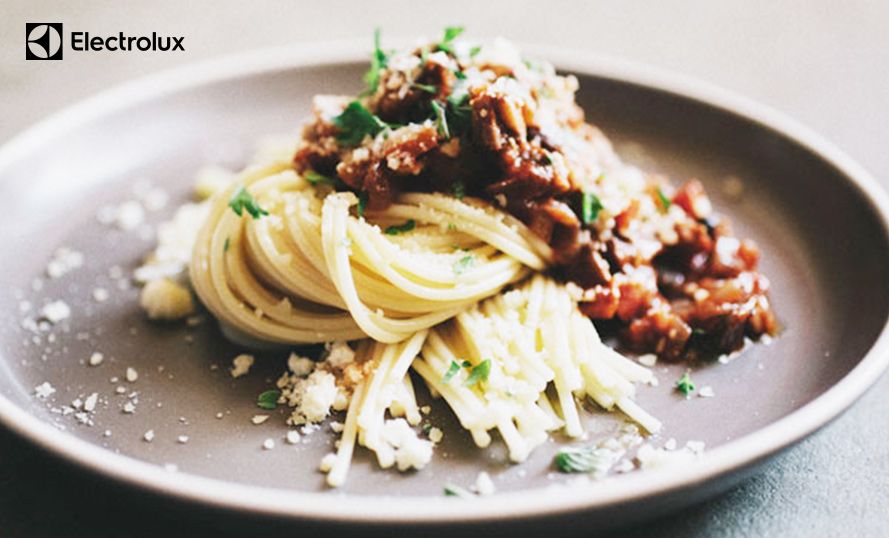 INGREDIENTS
2 Tbsp. extra virgin olive oil
1 medium yellow onion, finely chopped
2 ribs celery, finely chopped
1 carrot, finely chopped
4 cloves garlic, minced
2 Tbsp. unsalted butter
16 ounces mixed mushrooms (button, portobello, crimini), cleaned, stemmed and chopped
2 ounces tomato paste
1/3 cup whole milk
1/2 cup dry red wine
3/4 cup canned tomato or marinara sauce
1 tsp. dried Italian herbs
1 tsp. fennel seeds, chopped pinch of red pepper flakes
2-3 Tbsp. crème fraiche, optional
3/4 lb. pasta of choice (tagliatelle, spaghetti or angel hair)
fresh grated parmesan cheese, for garnish
fresh parsley and oregano, for garnish
METHOD
Step 1.
Heat a large cast iron pot over medium heat, warm the olive oil. Once hot, add the chopped onion, celery, carrot and garlic and cook for 5-10 minutes until soft and translucent.
Step. 2
Add the butter, mushrooms and a few pinches of sea salt. Stir and cook the mushrooms down, stirring occasionally, until most of their water is cooked out. About 6 minutes.
Step 3.
Add the tomato paste, milk and wine. Stir and cook again for another 15 minutes to reduce, stirring occasionally.
Step 4.
Add the tomato or marinara sauce, herbs, fennel and red pepper flakes, and taste for salt and pepper. Turn the heat to low and let it keep warm on the back burner. The texture should be saucy but not soupy, continue to cook if you'd like it thicker. Stir in the crème fraiche, if using.
Step 5.
Cook your pasta according to instructions. Drain out most of the water, leaving just enough to keep the pasta from drying out.
Step 6.
Serve each bowl with a portion of pasta, sauce, parmesan and fresh herbs.
Recipe by Electrolux
View COOKTOP RANGE