Prawn Jambalaya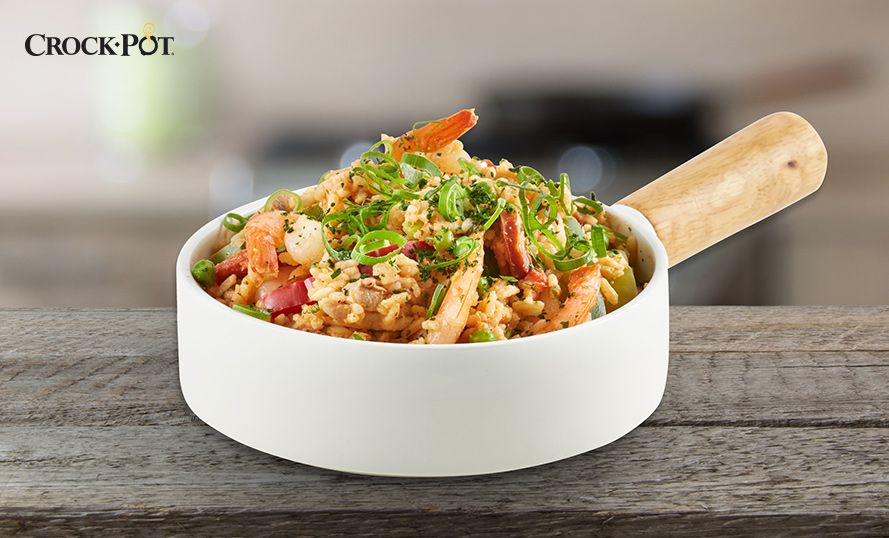 INGREDIENTS
600g skinless and boneless chicken thighs
200g chorizo, sliced
1 onion, diced
1 small green capsicum, diced
2 ribs celery, sliced
2 cups chicken stock
400g can crushed tomatoes
2 tsp minced garlic
2 tbsp cajun seasoning
300g frozen green prawns, peeled
2 cups cooked long grain rice
¼ cup sliced green onions
One bunch flat leaf parsley, finely chopped
Cooking time: 6-8 hours
Serves: 4-5
METHOD
Step 1.
Combine chicken, chorizo, onion, capsicum and celery with chicken stock, tomatoes, garlic and Cajun seasoning in the crock. Stir to combine and cook on LOW for 6-8 hours.
Step 2.
After 6-8 hours have elapsed, open the lid and stir in prawns, rice and green onions. Replace the lid and cook for a further 20-30 minutes, or until prawns turn opaque.
Step 3.
Garnish with finely chopped parsley and serve.
Recipe by Crock-Pot®
View SLOW COOKER RANGE