Steamed Chicken Salad with Nam Jim Dressing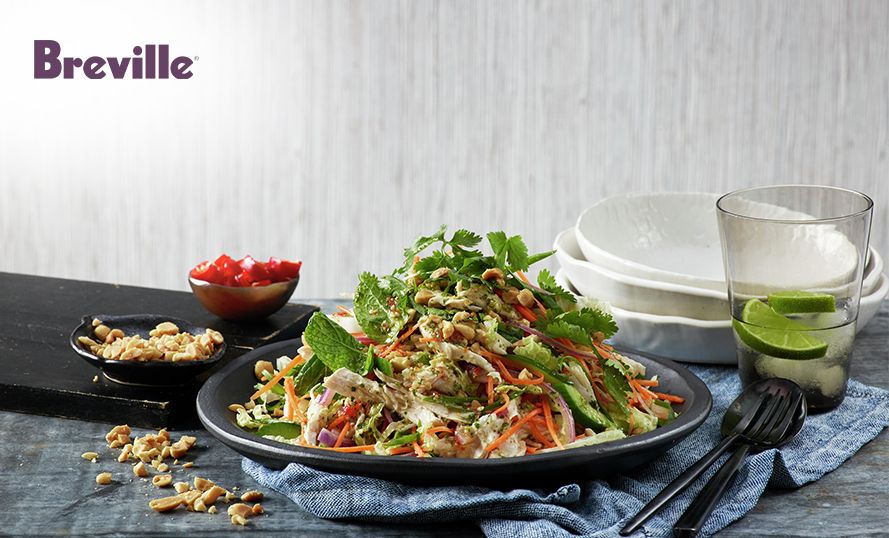 INGREDIENTS
3 skinless chicken breasts (230g each) 600g Wombok (Chinese) cabbage, finely shredded
2 carrots, cut into julienne
2 Lebanese cucumber, deseeded and finely sliced
1 small red onion, finely sliced
4 green onions, thinly sliced
1 cup mint
1 cup coriander
1 cup (140g) salted roasted peanuts, roughly chopped
Oil spray
Nam Jim dressing
2 small red (bird's eye) chillies, roughly chopped
2 garlic cloves, roughly chopped
3 cm piece ginger, roughly chopped
L cup (80ml) lime juice (approx. juice of 4 limes)
2 tablespoons peanut oil
¼ cup (60ml) fish sauce (Nam pla or Nuoc nam)
2 tablespoons grated palm sugar or brown sugar
½ cup coriander
METHOD
Step 1.
Place dressing ingredients in a small food processor and blend to a runny paste. Set aside.
Step 2.
Lightly grease steaming tray with oil. Place chicken breasts on steaming tray and cover with the stainless steel steaming lid.
Step 3.
Fill water tank up to the MAX fill line with cold tap water. Press the STEAM button to select LOW. Press the arrow up to select 13min. Press START. Check breast is cooked through otherwise steam it a few minutes longer.
Step 4.
Remove breast from the steaming tray and allow to rest until cool enough to handle.
Step 5.
Meanwhile combine remaining salad ingredients in a large bowl. Shred chicken and add to the salad. Toss with the dressing and serve immediately.
Recipe by Breville
View Breville Range