Sweet Soy Braised Pork Belly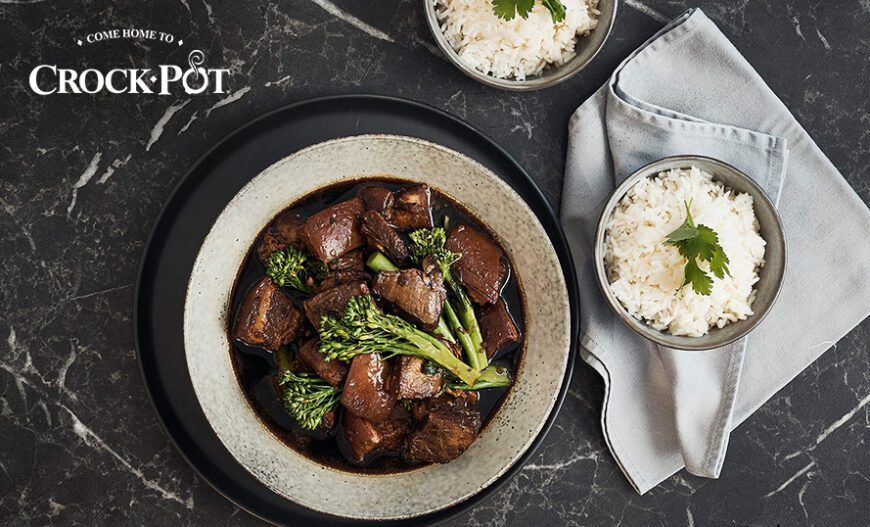 INGREDIENTS
2 tablespoons olive or vegetable oil
3 cloves garlic, peeled, chopped or crushed
5cm ginger, peeled, finely shredded
5 stalks spring onions, finely sliced
100g white sugar
4 tablespoons dark soy
4 tablespoons light soy
3 star anise
1 cinnamon stick
4 cloves
150ml Shaoxin rice wine
1/2 cup water
1kg pork belly, cut into 3cm pillars
3 bunches broccolini, cut into roughly 6cm batons
3 cups steamed Jasmine rice for serving
METHOD
Step 1.
Select SAUTÉ, then press START/STOP. Immediately combine the olive oil, garlic, ginger and spring onions in the Crock-Pot® Express Crock XL Multi-Cooker and cook until golden and fragrant.
Step 2.
Add the sugar, soy sauces, star anise, cinnamon, cloves, Shaoxin rice wine and water. Stir to ensure the sugar is not sitting on a clump on the bottom, then arrange the pork pieces evenly over the surface. Secure the lid ensuring the steam release valve is in the seal (closed) position. Press START/STOP.
Step 3.
Select MEAT/STEW. Press START/STOP.
Step 4.
Once the cooking process has finished, carefully release the pressure. When all the steam has escaped, remove the lid and nestle the broccolini through the pork, so it's submerged in the sauce.
Step 5.
Secure the lid again to allow the broccoli to blanche for 5-10 minutes in the residual heat, until crunchy but not raw.
Step 6.
To serve, garnish the pork with the sliced spring onions and serve with steamed rice
Serves 4 – 6
View The Crock-Pot Range