Air Fryer Recipes to Love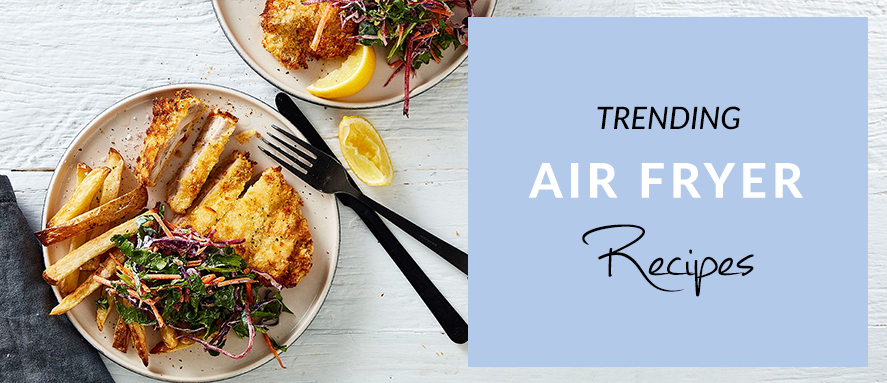 Looking to fast-track dinner or hungry for some snack recipes? With these Air Fryer recipes, you're in luck! Create a collection of Air Fryer recipes or add to your existing list with these crowd pleasers. From a no-fuss chicken schnitzel to some healthy fruity muffins, you'll find a new dish to love.
Don't have an Air Fryer? There's plenty of models available from the biggest brands like Sunbeam, Tefal, Breville and Russell Hobbs. Whether you need spacious cooking capacity, want a wide selection of functions, or if an oven-like design is more your thing, there's literally an Air Fryer to suit your needs! Check them out below.
Air Fried Chicken Schnitzel
Serves 4-6
Prep Time: 5 minutes
Cooking Time: 38 minutes
Ingredients:
600g chicken thighs
¼ cup plain flour
2 eggs, lightly whisked
¾ cup panko breadcrumbs
1 lemon zest
¼ cup parsley, finely chopped
Sea salt and freshly cracked pepper
340g hand cut or frozen chips
Serve with lemon wedges and prepacked coleslaw mix
Method:
Place thighs on a chopping board, cover with baking paper and hit with a rolling pin until flat. Season both sides with salt and pepper.
Place flour in one bowl, eggs in another bowl. Mix panko breadcrumbs in a third bowl with lemon zest and parsley. Coat each piece of chicken in flour, egg then the crumb mixture.
Line two Air Flow Racks with baking paper and place chicken on top. Place lightly oiled chips on third rack.
Press POWER. Press POULTRY. Adjust temperature to 200°C. Adjust time to 21 minutes. Press START/STOP. Allow oven to pre heat. Oven will 'beep' when preheated.
Place the Drip Tray on the bottom. Place the chicken racks in the top and middle position and chips in the lower position.
Cook the chicken for 7 minutes on each side. Swap the middle and top racks around and cook for 7 minutes on each side. Place the chip rack in the top position and cook for 5 minutes on each side.
Serve with lemon wedges and coleslaw.
Note: Use pre-cut coleslaw and serve with a garlic and lemon yoghurt dressing.
Recipe by Sunbeam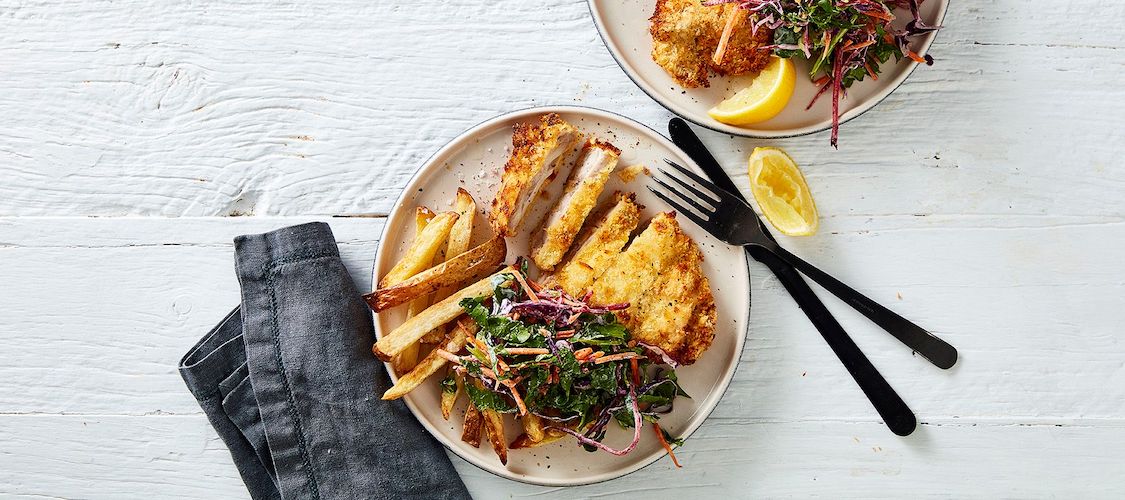 Roasted Pork with Sichuan Dipping Sauce
Serves 4
Prep Time: 5 minutes
Cooking Time: 60 minutes
Ingredients:
1kg piece of pork belly, air dried uncovered in the fridge overnight for best results
1 tsp vegetable oil
1 tsp salt flakes
Dipping sauce:
2 tbsp dark soy
1 tbsp black vinegar
2 spring onions, finely chopped
1 clove garlic, finely chopped
1 tsp sesame oil
1 tsp gochujang red pepper paste
1 tsp sesame seeds
½ tsp Sichuan peppercorns, toasted and crushed
Method:
Score the pork belly and brush oil all over. Season with salt particularly on the skin. Place into the air fryer skin side up. Set the air fryer to 180C and cook for 1 hour until completely crispy, checking halfway through. Remove and rest for 15-20 minutes.
For dipping sauce combine the ingredients together.
Slice pork belly in half lengthways and then into smaller medallions. Serve with dipping sauce on the side.
Recipe by Tefal
Juicy Fish Burgers
Serves 2
Prep Time: 10 minutes
Cooking Time: 15 minutes
Air Fryer Function: FISH
Ingredients:
¼ cup plain flour
Salt flakes & pepper, to taste
400g firm white fish fillets
1 egg, lightly beaten
1 cup breadcrumbs
Oil spray
TO SERVE
2 x burger buns, toasted
Tartare sauce & crisp lettuce leaves, to serve
Method:
Combine the flour, salt and pepper. Coat the fish in the flour, then dip into the beaten egg, then the breadcrumbs. Press to ensure each fillet is well coated.
Spray the crumbed fish fillets all over with oil spray and transfer to the Air Fryer basket. Select the FISH function on your Russell Hobbs Air Fryer and cook at the preset 175°C for 15 minutes, or until the breadcrumbs are golden and the fish is cooked through.
Serve the fish on toasted burger buns, with tartare sauce and crisp lettuce leaves.
Recipe by Russell Hobbs
Raspberry, Apple & Coconut Muffins
Makes 12 muffins
Prep Time: 20 minutes
Cooking Time: 17 minutes per tray
Ingredients:
1 cup (90g) rolled oats
2 1/4 cups (360g) wholemeal plain flour
1 tsp ground cinnamon
2 1/2 tsp baking powder
2 cups (500ml) buttermilk
3 eggs
1/3 cup (80ml) grapeseed oil
1/3 cup (120g) honey
1/3 cup (65g) brown sugar
1 tsp vanilla bean paste
250g fresh or frozen raspberries
1 red apple, cored, cut into 5mm pieces
1/3 cup (25g) shredded coconut
Method:
Combine the oats, flour, cinnamon and baking powder in a large bowl.
Place the buttermilk, eggs, oil, honey, sugar and vanilla in a separate bowl and whisk together.
Fold the egg mixture into the dry ingredients until just combined.
Fold through the raspberries, apple and coconut.
Place the wire rack in position 3.
Set the oven to BAKE > 180°C > CONVECTION > 17 MINUTES to preheat.
Line a 6-hole muffin pan (L-cup capacity) with paper cases. Divide half the batter among the prepared muffins cases.
Once preheated, place the muffins in the oven and cook for 17 minutes or until a skewer inserted into the centre comes out clean.
Repeat with the remaining batter.
Recipe by Breville