Compare the Pair: Electrolux Dishwashers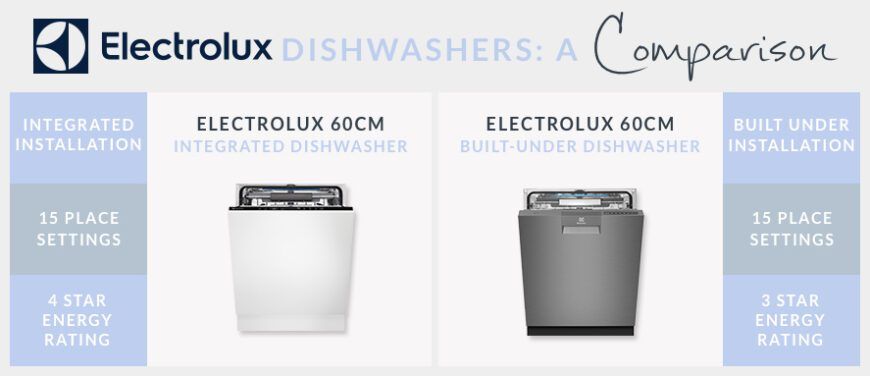 Purchasing a dishwasher is an investment that's equally important as any other household appliance. How the dishwasher functions, its capacity, and programs alongside factors such as efficiency should be top of mind when you're doing your research. To help you sail through the process, we'll collated the top things to look out for, followed by a comparison of two Electrolux dishwasher models.
Capacity
How big is your household? Do you produce a lot of dishes or is your kitchen activity quite low? Consider how many 'place settings' you might need. 'Place Settings' refers to the ability of the dishwasher to cater to a set of dishes such as a large dinner plate, side plate, cup, saucer and cutlery. On average, many dishwashers have between 14 to 16 place settings. If your kitchen has heavy washing demands, choose a dishwasher that has more place settings.
Functions
The types of functions offered by the dishwasher should be in sync with your usage needs. Popular wash programs include Automatic, Eco, Intensive and Glass Care. Having more washing programs means your needs can be met whether you have a lightly soiled load or pots and pans with heavy grease and grime.
Convenient Extras
Enjoy a range of convenient optional extras to make washing up a breeze! Some of these may include 'Delay Start' which lets you load and set when you want the dishwasher to run (and end). Other options found in Electrolux's dishwashers include 'MyFavourite program' to easily save and select your most-loved program, while the 'MyTime™' option lets you reduce the wash cycle time and still achieve great results.
Efficiency
As technology becomes more advanced, the ability to reduce consumption increases too, often making it more efficient for you to run a load in the dishwasher than handwashing. The two main things to look out for when choosing a dishwasher is the Energy and WELS (water) rating. These rating systems lets you see how efficient the dishwasher is when comparing between models, with a higher number indicating higher efficiency. Additionally, you can view the average litres of water used per standard wash and the total energy used over a year to help you shop.
Installation
As you shop for a dishwasher, it's installation type is a factor to consider, ensuring it will suit your space. Freestanding dishwashers can easily be fitted into the cavity, however a Built-Under Dishwasher will require some specialised installation. The more recent category of Integrated Dishwashers are built into your cabinetry with front panels that perfectly match your kitchen cabinets, creating the concealed look.
With the above points in mind, let's observe some of Electrolux's popular dishwashers to see which one is the perfect fit for your kitchen.
60cm Built-Under ComfortLift™ Dishwasher – Dark Stainless Steel
This built-under dishwasher in trending Dark Stainless Steel boasts the unique ComfortLift™ technology. With ComfortLift™, the lower basket can be lifted up towards you, removing the need for awkward bending, making loading and unloading easier. This is a practical solution that will be much loved by users of all ages and capabilities. The FlexiWash program utilises a range of wash settings to produce perfect results, even if you have a mixed load. Impressive wash results combine with efficiency thanks to AirDry Technology. Near the end of the cycle, this Electrolux ComfortLift™ Dishwasher opens the door to allow natural drying, providing maximum drying with reduced energy usage.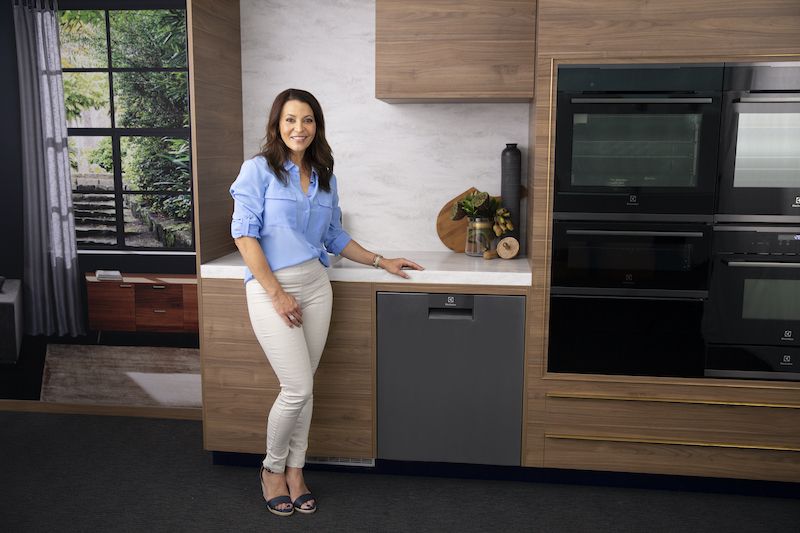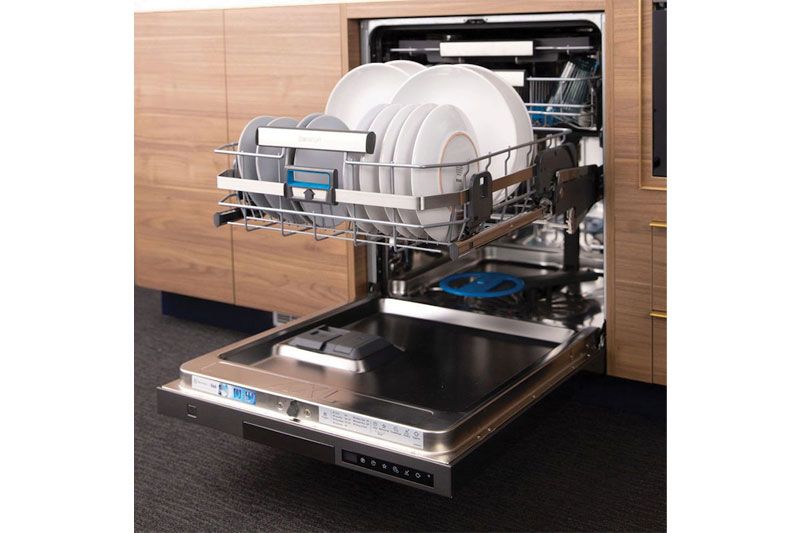 60cm Integrated Dishwasher
Seamlessly built into your kitchen cabinetry, this 60cm Integrated Dishwasher keeps your kitchen looking modern and sleek. Besides its concealed design, this dishwasher offers a flexible user experience thanks to the 'MyTime™' option, which lets you adjust the wash time of your cycle with a simple swipe of the slider display. The dishwasher's intensive SprayZone is perfect for cleaning up heavy stains and baked-on food – ideal for busy families who don't have time to pre-soak dishes. Just like the Built-Under ComfortLift™ Dishwasher, this dishwasher provides maximum drying efficiently with the AirDry Technology that opens the door near the end of the cycle, enabling natural drying.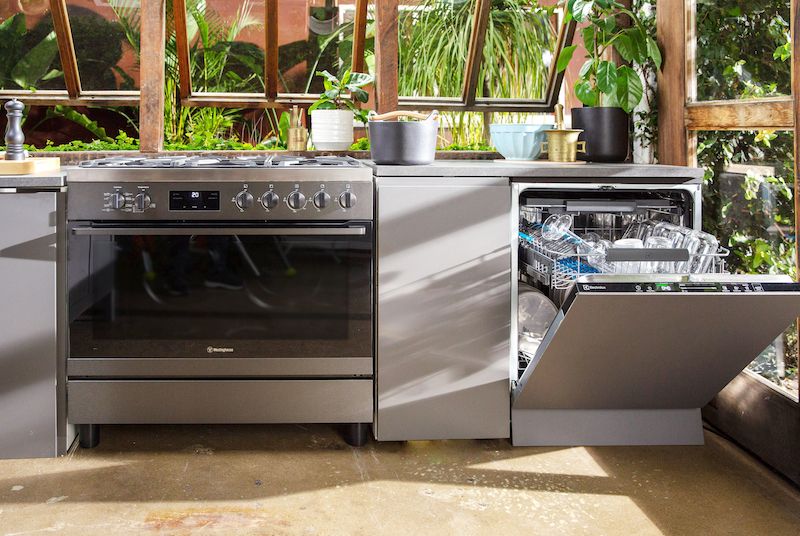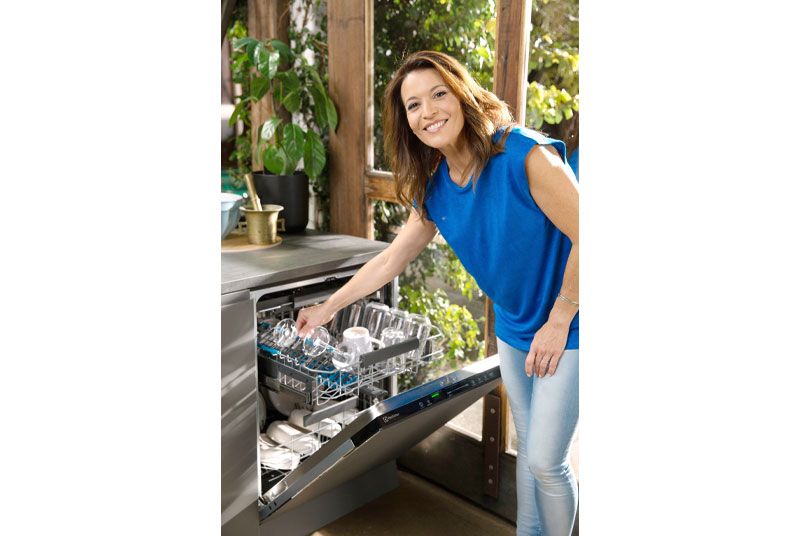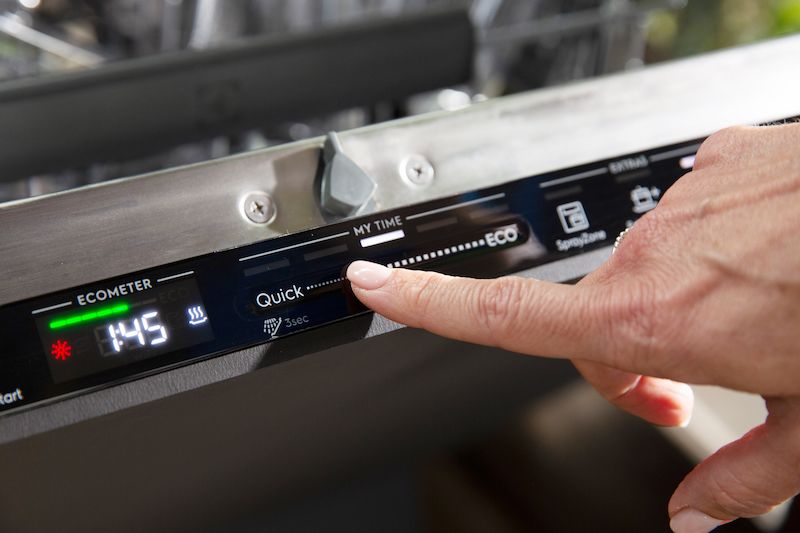 60cm Built-Under ComfortLift™ Dishwasher – ESF8735RKX
60cm Integrated Dishwasher – ESL69200RO
Installation Type
Built-Under
Integrated
No. of Place Settings
14
15
No. of Programs
7: rinse and hold, AutoFlex 45°C-70°C, FlexiWash 50°C-65°C, Eco 50°C, QuickPlus 60°C, Intensive 70°C, GlassCare 45°C
8: Quick 30 min, Pre Rinse, Light 60 min, Regular 90 min, Heavy 160 min, ECO 180 min, AUTO Sense, Machine Care
No. of Spray Arms
3
3
No. of Spray Levels
5
N/A
Drying Technology
AirDry
AirDry
Dispenser
Detergent, rinse aid
Detergent, rinse aid
No. of Baskets
2
2
Cutlery Basket or Shelf
Shelf
Shelf
Foldable Racks/Shelves
Top Basket: 4 Foldable cup shelves, Foldable glass rack
Bottom Basket: 2 Foldable Racks
Top Basket: 4 Foldable cup shelves, Foldable glass rack
Bottom Basket: 4 Foldable Racks
Control Type
LED display and top mounted control panel
LCD display, touch controls & top mounted control panel
Load Sensing
Yes
N/A
Wash Options
Delay start (1-24 hours), XtraDry, TimeManager, ExtraHygiene, My Favourite
SprayZone, GlassCare, ExtraPower, MyTime™, Delay start (1-24 hours)
Child Lock
N/A
N/A
Inverter System
Yes
Yes
Noise Rating (dbA)
44
44
Energy Rating
3 Stars
4 Stars
Energy Consumption
287kWh/year (cold water)
246kWh/year (cold water)
WELS Rating
4.5 Stars
5 Stars
Water Consumption (L)
12.5
12.2
Have you found the perfect dishwasher for your needs? Regardless of what you get up to in the kitchen or how your kitchen is styled, Electrolux's range of contemporary dishwashers come jam-packed with leading technologies and functions to suit all modern kitchens. To view more information on these dishwashers, read reviews, add to your wishlist and more, simply click on the links below.