Laundry Day: Smarter with Samsung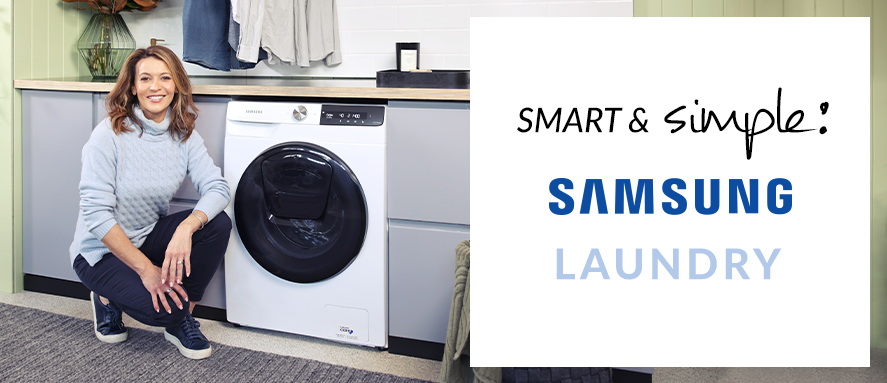 As our lifestyles become more demanding, technology has kept up, even in the laundry. In the past, doing the laundry meant mindlessly loading and washing your clothes. Washing machines of today are more intelligent with specially designed functions and programs to meet all your needs and make garment care, simple.
Samsung's range of AI-powered laundry appliances removes the guesswork out of washing and drying, providing a user experience that is effortless and enjoyable. Plus, they're also stylish by design, perfect for uplifting any laundry. Check them out below.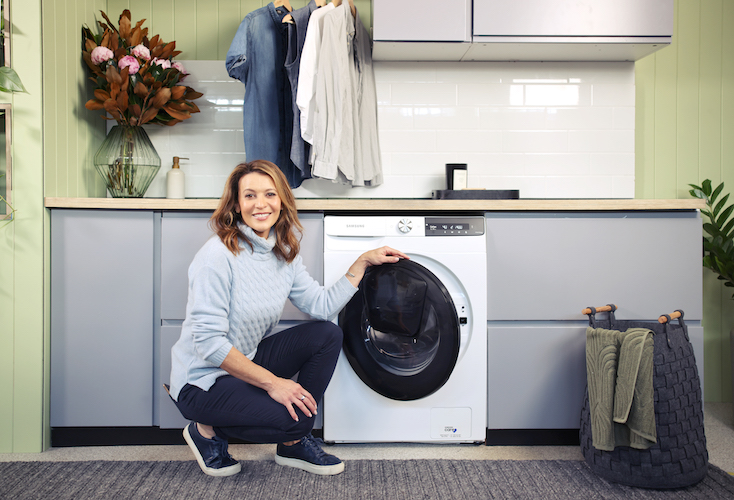 8.5kg Front Load Washing Machine
Smarter & Personalised Washing
Get assistance with and optimise your washing with this Artificial Intelligence (AI) controlled front load washing machine. Enjoy a smarter washing experience as the AI takes note of your habits to suggest cycles that are designed to deliver perfect results for any load.
App Control
Control your washing from your smart device via the SmartThings app 1. Use the app to get advice, schedule and troubleshoot your laundry. This is smart laundry care, simplified.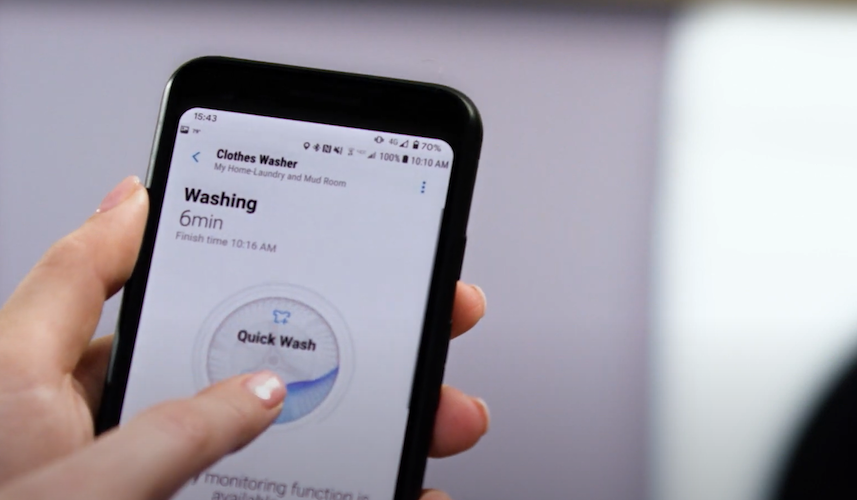 Family Friendly
This washing machine features a large 8.5kg capacity and 22 wash cycles to meet the family's washing needs. Find a wash cycle for any garment with programs like BabyCare, Towels, Bedding and Delicates/Hand Wash. Other laundry concerns like allergies and hygiene can be met with the Hygiene Steam Cycle which removes bacteria and allergens.
Greater Convenience
Enjoy the time-saving benefits of the Super Speed cycle which can wash 5kg loads in just 39 minutes. Forgot to add an item to the wash? This Samsung Front Load Washing Machine boasts an AddWash™ door so you can pause and add those last-minute items. After all those loads of washing, give the washing machine some tender loving care with the Drum Clean+ function.
Perfectly Matched
Pair this front load washing machine with the Samsung 8kg Heat Pump dryer to enjoy a range of benefits that's beyond aesthetics. When the washing machine and dryer are connected to each other, the SmartThings app can be used to select the ideal drying cycle 2, thanks to the Auto Cycle Link function. Before you even move your washing to the dryer, the Samsung dryer already knows which cycle to use.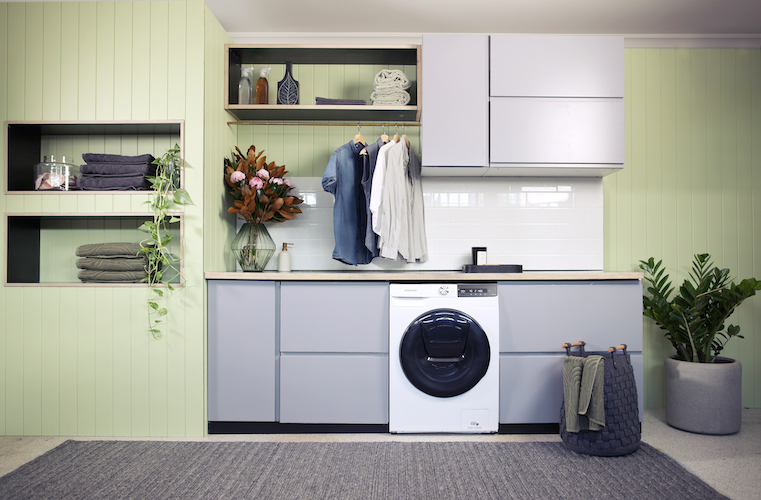 8kg Heat Pump Dryer
Machine-Powered Drying
Achieve impressive drying results with this Samsung Heat Pump dryer that's powered by Artificial Intelligence (AI). Featuring eight sensors, the dryer's drum can measure your load's temperature and humidity to apply optimal drying conditions.
Smart & Personalised
Drying your clothes has never been easier. Like the front load washing machine, this dryer also remembers your habits via the AI to suggest customised drying cycles best suited to your load and needs.
App Control
Experience connected dryer control, made possible with the SmartThings app 1. Using the app, this AI dryer suggests cycles, displays information, and even selects the perfect drying cycle for the load for you. On the app, you can also seek advice, schedule and troubleshoot your laundry.
Paired Up
When this dryer is paired up with compatible Samsung AI washing machines, the optimal drying cycle can be chosen even before your load is transferred to the dryer's drum. This is possible with the Auto Cycle Link function 2 on the SmartThings app.
For Every Need
This Heat Pump Dryer is a great match for the Samsung 8.5kg Front Load Washing Machine (WW85T754DBT). From coupled households to growing families, the spacious 8kg capacity means every item can be dried effectively. 14 drying cycles will meet every need, including Iron Dry, Outdoor, Bedding, Wool and Shirts. Time-poor households will love the Quick Dry 35-minute cycle 3 that can dry loads up to 1kg – getting you out the door faster.
Efficient
While user convenience is high on the list, so too is efficiency thanks to the dryer's efficient technologies. This Samsung 8kg Heat Pump Dryer uses a 'refrigerant' instead of electricity to heat the air, and it recycles the air to reduce energy usage, meaning the carbon footprint associated is as low as possible. Rated with an eco-friendly 9-Star Energy Rating, dry your laundry with peace of mind.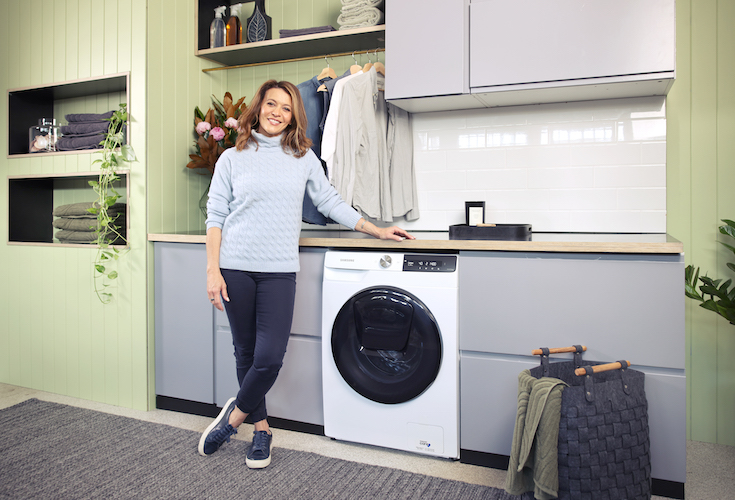 Remember how difficult laundry day was? With Samsung's range of AI-powered laundry appliances, it doesn't have to be. By harnessing the power of machine learning, washing and drying your garments is easy – you don't even have to decide which cycle to use as the washing machine and dryer can choose it for you. Check out these time-saving, efficient and user-friendly laundry appliances today.
DISCLAIMERS
1 Available on Android and iOS devices. A Wi-Fi connection and a Samsung account are required. Mobile GUI images may vary by country, environment, etc.
2 Auto Cycle Link is only available when both the washer and dryer have AI Control and Wi-Fi connected.
3 Designed for small, lightweight loads up to 1kg. Results may vary depending on the type of fabric.